Advancing Canadian trade and women's interests in Pakistan
For Margaux McDonald, the position as Canada's senior trade commissioner to Pakistan serves a dual purpose.
Managing the trade program means that McDonald and her team of five in the Canadian Trade Commissioner Service (TCS) promote Canada's trade and investment interests in this high‑potential market. At the same time, she says that representing Canada through the TCS has allowed her to "champion Canadian values in an amazing part of the world and further the interests of women in business."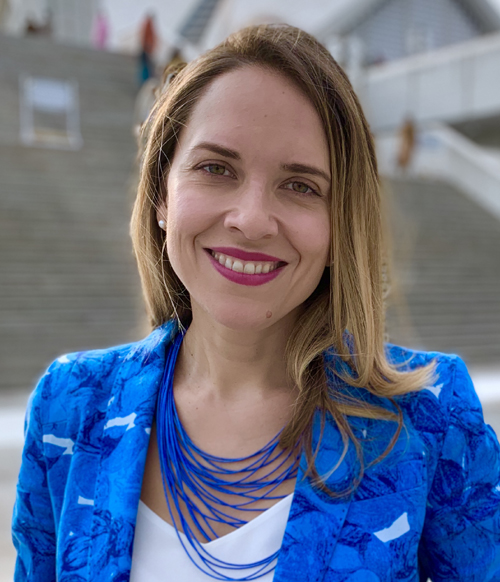 Margaux McDonald, Canada's senior trade commissioner to Pakistan
Photo: Katherine Grimshaw
Now leading the TCS effort in Pakistan amidst the COVID‑19 pandemic, while stationed temporarily in Canada, she says the TCS is more important there than ever in helping businesses maintain their presence in the country.
Very much a developing market
McDonald finds that Pakistan today is "very much a developing market." While in her job she gets to meet with young communities of entrepreneurs who are tech‑savvy and digitally engaged, "not enough has changed. I still see rampant poverty, crumbling infrastructure and great inequality between men and women."
Canada and Pakistan enjoy annual bilateral trade worth more than $1 billion, with Canadian exports primarily driven by agricultural commodities such as canola seed, which she calls "a bedrock of our economy," as well as pulses and forestry products. McDonald meanwhile enthuses about evolving export sectors such as clean technology and renewable energy. These are especially critical to the country of 200‑plus million, which is struggling with energy dependence and is extremely sensitive to climate change.
"I don't just promote Canadian exporters, I help them find partners to develop sustainable and inclusive prosperity in both countries," she says. "It's energizing when you can see the connectedness of the Canadian government investing in research and development domestically, then we can export those technologies and capabilities to countries that can benefit from them."
A "comparative advantage"
McDonald says that being a woman in a senior trade role is considered novel by some Pakistanis. "It affords me a huge amount of respect," she explains, and offers a "comparative advantage" for the Canadian businesses she promotes.
As Canada's Trade Commissioner Service (TCS) celebrates its 125th anniversary, the dedication of its staff through the years and around the world continues to be its greatest strength. This article is part of an occasional series profiling some of the 1,000 members of today's TCS Family.
"I'm often—way too often—the only woman in the room. And when you're the only woman in the room, you're often given the floor and everybody listens," she says. "But it also comes with a great deal of responsibility."
When she is the only woman, "I often call that out," she says. "I talk about how women make companies better, and we need to be thinking how to integrate more of us, especially into leadership positions." This was the point McDonald was making when she attended an all‑male meeting of the Karachi Chamber of Commerce & Industry in 2018. The response from the men surprised her.
"There are women here. They're just in another room," she recalls them saying. Indeed, business women from the organization were having a parallel meeting down the hall, and they were summoned.
"They were so excited to see that I was there and they came running in. The president of the Women's Chamber of Commerce grabbed my hand and said, 'You're coming to our meeting,'" McDonald remembers. They fed me lunch and took what felt like a hundred selfies with me. These were smart, engaging women who are succeeding in business."
Moving the needle
She especially sees the challenges for women in a social structure that often doesn't support them working outside of the home. Canadian companies in the country are "doing their part to move the needle," she says, by encouraging women's empowerment in the workforce, while women entrepreneurs have found success there.
Second Cup, the Canadian coffee chain, which is now in its eighth year in Pakistan, with 27 stores across the country and another eight under development, endeavours to build an organizational culture among its 500#8209;plus employees that it says is "inclusive, eliminates biases and promotes and advocates equal opportunity for all."
Contour Software, a Pakistan‑based subsidiary of Constellation Software Inc., Canada's largest software company, promotes the recruitment and retention of women, for example by providing daycare facilities for all 900 staff, as well as higher allowances for women to commute to work. "While such policies stem from the values of the company, they have also shown to be good for business, as we look to attract and retain the best of the best," it says.
McDonald comments that "Canadian companies are bringing progressive, egalitarian values to Pakistan and spreading them through the way they work." Canadian women‑owned businesses there also lead by example, she says, such as Spirit of Math, a company headed by co‑founder and CEO Kimberley Langen that offers after‑school math enrichment programs in Pakistan.
McDonald says the Canadian High Commission's own math also reinforces the message of women's empowerment. The High Commissioner is Wendy Gilmour, and the majority of Global Affairs Canada program managers are women.
"These are smart, hard‑working women leaders who present Canada's values around equality every day," says McDonald, who is proud of the fact that half of all Canadian heads of mission around the world are women.
"I do think that we're making a lot of headway," she says. "It's important that Canada is not just talking about a feminist foreign policy; this is one of the ways that we live it."
In Pakistan, she's inspired by women business leaders such as Kasloom Lakhani, founder and CEO of Invest2Innovate, a technology accelerator that provides early‑stage entrepreneurs with access to mentors and investment. The organization reported recently that the total investment raised by women‑led businesses in Pakistan increased from 0% in 2015 to 12% in 2018. "There is movement there," McDonald says.
Invest2Innovate prepared a report in collaboration with the Canadian High Commission noting that Pakistan has the lowest rate of women's entrepreneurship in the world—only 1% of women are entrepreneurs, compared with 21% of men, according to the World Bank. But it says that Canada has an opportunity to explore and invest in high‑growth sectors and expand its bilateral relationship through the country's burgeoning startup ecosystem, especially through the contribution of Canadian women‑owned businesses and support for women‑led Pakistani businesses there.
McDonald says that women entrepreneurs in Pakistan are working not just to enhance their own empowerment but to "spread those values more broadly," and young women activists are "pushing the envelope." While there are "disappointingly few" women business leaders today, she expects that to change. "We're going to see a lot of gains for women in business in Pakistan in the next few years."
Canada's eyes and ears in the pandemic
Margaux McDonald, Canada's senior trade commissioner to Pakistan, talks with CanadExport about the challenges of the COVID‑19 pandemic for Canadian businesses there and how Canada's Trade Commissioner Service (TCS) can help.
1) What are the biggest COVID‑19 challenges that Canadian companies in Pakistan are dealing with? How is the TCS helping?
Businesses are facing major logistical and human challenges. Depending on their product or service, managing the supply chain and maintaining sales and cash flow are major hurdles. But at their core, businesses—especially small and medium‑sized enterprises—are just collections of people trying their best to navigate their way through unprecedented circumstances. They are dealing with transitioning their employees to safer work environments, the child care needs of staff, health concerns of employees, including mental health—the same challenges and concerns we've all been facing these last many months.
Although the TCS can't help with all of these issues, the pandemic has put to the forefront the TCS's problem‑solving abilities. We can help our clients avoid costly mistakes and troubleshoot situations amidst a rapidly evolving environment. Given that business people can't travel like before, the value of trade commissioners abroad has risen over the last few months. My team in Pakistan has quickly become the sole set of eyes and ears on the ground that Canadian businesses rely on for support.
2) How has the way you help companies changed because of COVID‑19?
Some of our service offerings have changed. For example, we began helping Canadian companies with their supply‑chain challenges even when they were seeking inputs for their products—that is brand new. Additionally, in certain markets, the TCS helped source personal protective equipment manufacturers for Canadian demand, which is also novel for us. There was one Canadian manufacturer who exports to Pakistan who reached out to me to see if I could help his company send the sanitizer that it had just retooled to make to frontline workers or those in need in Canada. This is beyond what we normally do, but we all pitched in to support Canadian businesses and the community.
3) What are some pandemic challenges the TCS has faced?
A lot of trade commissioners are working from home right now, and many are working from Canada, often in different time zones than our teams, which is difficult. I'm in Canada now and I juggle calls at odd hours to accommodate contacts and colleagues in Pakistan. We've had to shift to an almost entirely digital work environment very quickly. It was actually amazing how smoothly that has gone, but of course there have been ongoing challenges. Pre‑COVID, trade commissioners spent a lot of time attending large trade shows and events, going to meetings and shaking hands—it's fundamentally a relationship‑based job. As we can't do that these days, we have had to adapt quickly to a new way of connecting with businesses. There are a lot of webinars and video calls rather than in‑person meetings, for example.
4) What is your advice to companies doing business in Pakistan in the context of COVID‑19?
Try to adapt your business and your communications to digital platforms; even businesses and government in Pakistan have adapted rather quickly, and Canadian businesses will want to evolve to keep in the game. Also, leverage the resources available to you. For example, the TCS is hosting an array of activities, such as virtual trade shows and webinars, to provide Canadian exporters with access to new markets. Take advantage of what's out there—business and international trade is still happening and the TCS is here to support you!
Subscribe to: E-magazine and RSS Feed

Use #CanadExport