Paradigm shift: Small‑businesses pivot to e‑commerce to reach new customers and increase their sales
Even before the pandemic pushed many firms to adopt digital technologies, 24.7% of all Canadian businesses were already making online sales in 2019, and of those, almost a quarter had international customers. Furthermore, of the $20 billion worth of services exports surveyed by Statistics Canada, up to $16.4 billion (or 82%) were potentially delivered remotely (primarily through digital means) in 2018. Since the onset of the pandemic, Canadian businesses have expanded their plans to make increased use of digital sales channels to sell their goods and services.
While it is good that Canadian firms were using digital tools to generate international sales and deliver international services even prior to the pandemic, there is still much room for growth among Canadian small businessesFootnote 1 when it comes to leveraging these tools for exporting. For example, among businesses that made online sales, only 22% of small businesses had international customers, while 28% of medium businesses and 39% of large businesses exported online to international customers.
The social distancing measures adopted in 2020 have led to a doubling of e‑commerce sales between February and May, disproportionately benefiting firms with experience in this sales channel, which are more likely to be large businesses. To meet the surge in e‑commerce demand, Canadian businesses indicated their plans to ramp up their use of digital sales channels. However, the disparities in plans by business size continue to persist. For example, only 18.3% of small businesses planned to increase the use of own websites the serve customers while 25.6% of large businesses planned to do the same. Already having a lower uptake than larger businesses in e‑commerce, smaller businesses were less likely to report plans to increase the use of digital sales channels than larger businesses during a time period where online sales channels are becoming more critical.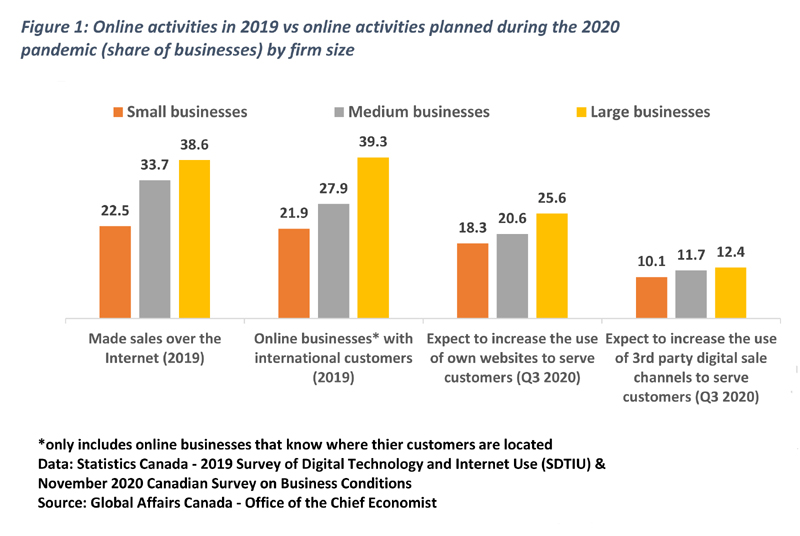 Figure 1: Online activities in 2019 vs online activities planned during the 2020 pandemic (share of businesses) by firm size

Made sales over the Internet (2019)
Online businesses* with international customers (2019)
Expect to increase the use of own websites to serve customers (Q3 2020)
Expect to increase the use of 3rd party digital sale channels to serve customers (Q3 2020)
Small businesses
22.5
21.9
18.3
10.1
Medium businesses
33.7
27.9
20.6
11.7
Large businesses
38.6
39.3
25.6
12.4

*only includes online businesses that know where thier customers are located
Data: Statistics Canada – 2019 Survey of Digital Technology and Internet Use (SDTIU) and November 2020 Canadian Survey on Business Conditions
Source: Global Affairs Canada – Office of the Chief Economist
Upshot
Even before the pandemic, many Canadian exporters were already utilizing digital tools to sell goods and services to international customers, but small businesses especially have room for growth. Data shows that many small businesses planned to increase the use of e‑commerce to serve customers during the pandemic, and the experience in this sales channel will likely be beneficial in the future.
Grow your online business in international markets with CanExport SMEs. Apply for funding to help cover the costs of search engine optimization, online advertising, translating marketing materials and more.
Find more information and resources on growing your global presence with e‑commerce.
Subscribe to: E-magazine and RSS Feed

Use #CanadExport