Canadian medical training and education improving healthcare worldwide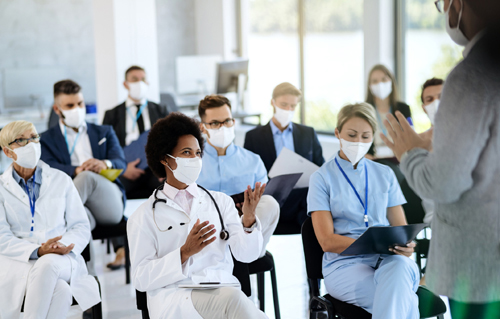 Canada's healthcare system is renowned for its excellent integration of multi‑disciplinary research into clinical practice, high standards of care and a uniform approach to the training and accreditation of healthcare professionals and facilities. This combination helps explain why thousands of foreign nationals receive training from Canadian health experts and educators each year.
Healthcare professionals and entrepreneurs continue to improve the quality and accessibility of their medical training by incorporating new applications of existing and emerging technologies, and by developing fresh ideas.
CAE Healthcare
Founded in 1947, CAE achieved initial success in communications equipment and aircraft simulators. Thanks to a commitment to continuous innovation, the company grew into a leading developer of training and operation‑support solutions for multiple sectors, including healthcare. With operations in more than 35 countries, CAE currently employs a total of more than 10,000 people across multiple business lines.

Erick Fortin, Director of Engineering, Research Development and Program Management for CAE Healthcare

Hélène V. Gagnon, CAE's Senior Vice President, Public Affairs, Global Communications and Social Corporate Responsibility
"CAE succeeded in healthcare by leveraging our expertise in training pilots," says Erick Fortin, Director of Engineering, Research Development and Program Management for CAE Healthcare. "A major reason that airline travel is safe is that pilots train in simulators, where they learn to communicate effectively and make sound decisions when faced with stressful, difficult situations. Our training for healthcare workers follows essentially the same approach."
As digital technologies have grown more functional and sophisticated, so too have CAE's products and services. Today, the company develops a wide range of simulation technologies and training systems for clients around the world.
"We consider Canada's Trade Commissioner Service (TCS) a valued partner," says Hélène V. Gagnon, CAE's Senior Vice President, Public Affairs, Global Communications and Social Corporate Responsibility. "I personally worked with the TCS on a medical‑device project, and they proved to be a great asset, helping us find the right connections in strategic countries and relevant markets."
Innovation continues to drive the company's success. The latest CAE Healthcare simulators, for instance, feature mannequins capable of displaying three‑dimensional imagery of human anatomy. A current focus for Erick Fortin is the integration of simulation, hands‑on practice and live data.
"As we train individuals, we continually gather and analyze data about how people learn," says Fortin. "That enables us to further improve our training technologies, which in turn improves the skills of healthcare workers. We all benefit."
Royal College Canada International
Canada is well respected internationally for the excellence of its healthcare system. A key factor in this excellence is the exceptional quality of training that Canadian physicians receive on an ongoing basis. A growing number of healthcare providers worldwide are tapping into this training, thanks in part to the export of educational programs organized by the Royal College Canada International (RCI).
RCI delivers customized educational products and services that improve the practice of medicine around the globe. RCI is a non‑profit organization and the international contracting arm of The Royal College of Physicians and Surgeons of Canada, the national professional association that oversees the medical education of specialists. Active in more than 30 countries, RCI establishes academic collaborations with organizations and institutions abroad that seek to improve the quality of postgraduate medical education and training. To deliver its programs, RCI relies on both staff and Royal College Fellows — certified medical specialists recognized as experts in their field.

Craig Ceppetelli, Royal College's Executive Director (interim) of the Office of International Collaboration
"We have a workforce of about 1,000 fellows," says Craig Ceppetelli, Royal College's Executive Director (interim) of the Office of International Collaboration, "and up to 350 are involved internationally in any given year. Due to the pandemic and travel restrictions, we currently deliver our programming online."
The cornerstone of Royal College training — and of Canada's expertise in medical training — is CanMEDS, a proprietary framework based on empirical research, education principles and stakeholder consultation. CanMEDS identifies and describes the roles a physician must fulfill to effectively meet the needs of patients. A competent physician must be not only a medical expert, but also a communicator, collaborator, manager, health advocate, scholar and professional. Adopted in 1996 and twice updated, CanMEDS is the most widely accepted and applied physician‑competency framework in the world.
"RCI aims to strengthen the abilities of local educators in other countries," says Ceppetelli. "CanMEDS, along with cultural‑awareness training for our Fellows, enables us to accomplish this while respecting local contexts."
RCI has long worked with TCS to succeed in international markets. TCS provides a range of support, including intelligence about local regulations and healthcare systems, and introductions to potential clients.
"Our model is to establish long‑term relationships and foster continuous improvement in medical education and training," says Ceppetelli.
A contract signed in 2019 with the organization responsible for training and certifying physicians in Minas Gerais, a state in southeast Brazil, reflects RCI's approach. The first phase of the contract involves a needs assessment, largely conducted through virtual workshops due to the pandemic. Five Royal College Fellows work alongside approximately 45 faculty in Brazil who oversee the training of hundreds of medical residents. Eventually, many Brazilian patients will benefit from the project.
"Continuous improvement is an essential part of medicine," says Ceppetelli. "RCI helps physicians access the education and training they need to become better practitioners."
MDBriefCase
MDBriefCase Group Inc. also helps healthcare professionals worldwide become better practitioners. Based in Toronto, Ontario, the company specializes in accredited, online continuing professional development programs, tailored to specific international markets. Approximately 270,000 healthcare professionals in Canada, Europe, Australia, Africa and the Middle East subscribe to MDBriefCase online training.

Janet Kimura, MDBriefCase's Senior Vice President
"Internationally, we work with local partners and institutions to tailor accredited content to the educational needs of healthcare practitioners," says MDBriefCase Senior Vice President Janet Kimura.
Much of the company's online content is free, thanks to partnerships with sponsor companies, health authorities, regulatory bodies, professional societies and manufacturers. In recent years, MDBriefCase has expanded significantly across the Middle East, thanks in part to the support of the TCS.
"TCS knows who the players are in each country and region," Kimura says. "At Arab Health in Dubai, for instance — the region's largest medical trade show — trade commissioners introduced us and matched us to potential partners with similar goals of improving healthcare decision‑making and patient care."
During the pandemic, Kimura has noticed an uptick in demand for online training.
"COVID‑19 has driven many of our partners to feel either paralyzed or energized," she says. "By helping them transition from the former to the latter, we've proven to be a trusted healthcare partner. And we've attracted more opportunities to make positive impacts on patient outcomes that will last well beyond this extraordinary time."
Subscribe to: E-magazine and RSS Feed

Use #CanadExport