5 tips for designing your online store
The COVID‑19 pandemic has created uncertain conditions for brick and mortar stores, encouraging many Canadian businesses to use digital channels to reach new and existing customers. E‑commerce can help entrepreneurs build resilience with additional revenue streams in domestic and international markets, but there is a lot of competition online.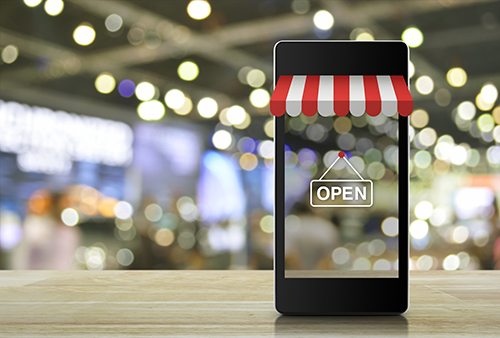 Designing and marketing your online store in a way that builds trust and tells your brand story can help you stand out and reach your target audience, especially if you are selling consumer products. Understanding your customer base is a critical first step to ensuring your website design targets the appropriate audience. With a clearly defined target audience, you can encourage sales by providing your customers with a positive user experience, and communicating with them in an authentic and relatable way.
E‑commerce and web design platforms have made it easy to create your own website, but there are still key elements to consider. Here are our 5 tips to help you design your online store.
1. Design a store that encourages trust
Trust is an important factor of any online purchase. Whether your product is listed on an e‑commerce marketplace or on your own online store, consumers require a certain amount of trust in a product or brand to make a purchase.
While trust is intangible, it can be encouraged on your website in a number of ways:
Ensure your website protects customer information through an SSL certificate. Some e‑commerce platforms, like Shopify, provide free security certificates.
Offer preferred and trusted payment solutions. Different markets and demographics have different preferred methods of payment. Find out how your target audience likes to pay, and include that option on your site.
Offer multiple currency options. If you sell to customers globally this is another way to build trust in your brand.
Provide a clear return policy to set expectations and give customers peace of mind.
Make your contact information readily available. Be sure to mention any physical locations, as this can increase brand credibility.
Include customer reviews of previous purchases. This is typically referred to as building "social proof" by industry experts. Numerous surveys have found that digital shoppers worldwide rely heavily on reviews and brand honesty, including how well the company addresses negative feedback and engages with their customers online.
2. Have strong visual appeal and consistent branding
Marketing tip
Purchase confirmation and product tracking emails receive the highest open rates.
This provides a good opportunity to offer specials and promotions to encourage repeat customers.
Another way to build trust in your brand is through a visually appealing website that communicates a relatable and desirable brand to your audience.
Building brand awareness and a loyal customer base requires consistency. This includes consistency in the quality of the product or service delivery itself, and consistency in the visual appeal of your messaging and branding. When it comes to e‑commerce, a valuable strategy for communicating your brand's quality is the visual appeal of your website.
If you are selling a product, then you should include two different types of photographs on your virtual store:
Lifestyle shots – Help customers see what they would look like wearing or using your product. Try to use models or influencers that your target audience will find relatable.
Product shots – Showcase the details of your product and can include multiple shots from different angles. If you have a brick and mortar store, try to emulate the in‑person experience on your website. How would customers be able to interact with the product in a physical store?
If you are selling on an e‑commerce marketplace like Amazon, your photos may be subject to certain specifications, such as white backgrounds. Consider investing in a light box to help you take quality product photos for whatever platform you are selling on.
3. Make sure your online store is easy to navigate and goal oriented
An effective website is easy to navigate and points customers to a desired action, usually a purchase. Having a goal for your homepage is critical, as it is the first landing point for most potential customers.
The part of your website that can be seen without having to scroll down is considered to be 'above the fold.' If possible, you should try to convey who you are (brand), what you are offering (product or service) and what makes it special (unique selling proposition), all 'above the fold'. These three themes should also inspire the tabs or pages on your website. For example, if you are selling clothing, the tabs on your homepage may be as simple as: Men, Women, Unisex, About us.
If you are selling a product, showcase it quickly. Consider making your product images and clear calls to action (i.e. "Shop now" or "Trending now") the focal points of your store, while offering easy access to the shopping cart.
4. Ensure you offer a seamless mobile experience
Most e‑commerce platforms offer a wide range of templates or themes to help entrepreneurs create professional online stores themselves. Because it is common to design websites on a computer, we often forget about the consumer expectation of a fluid mobile experience.
Make sure to test your site on smart phones and tablets to ensure webpages expand and contract properly on different devices. A smaller screen means less space above the fold. Prioritize what you want your customers to see and do before having to scroll further.
When designing your virtual store layout, consider adding an announcement bar that includes your shipping costs or policy. Unexpected shipping costs are the #1 reason for shopping cart abandonment and including a message along the lines of "Free shipping on orders over $100" can help set customer expectations for better conversion and encourage a larger basket of goods.
5. Create content that tells your brand story
Creating content that tells your story and communicates the unique aspects of your brand is a great way to connect with existing customers and drive new traffic to your online store.
Blogs are an organic way to personify your brand and contextualize your product or service. When planning content, think about your mission, vision, values and what your brand helps achieve. Writing and promoting blog posts through your social media channels will also increase your digital footprint and improve search engine optimization for your website.
Another way to grow your brand and increase the reach of your store is by building relationships in relevant online communities and social media groups.
TCS Support and Resources
The Trade Commissioner Service helps Canadian businesses grow by connecting them with its funding and support programs, international opportunities, and its network of Trade Commissioners in more than 160 cities worldwide.
All global markets all have their nuances, and a successful strategy in one country may not work in another. We can help Canadian businesses that are currently selling or prepared to sell their products online in international markets in a number of ways:
We help brands access an online channel, such as an online retailer or marketplace, or we can guide them on how to create their own sales portal.
We increase the number of Canadian products on targeted platforms in international markets.
We build global awareness of Canadian brands online. The TCS does Canada-branded events to help Canadian companies gain traction in foreign markets.
We address critical market intelligence gaps that exist in the e‑commerce ecosystem across TCS markets. For example, we may introduce a company to a local contact working for a major online marketplace, or help you to better understand how to tackle shipping and logistics.
Learn more about growing your global presence with e‑commerce.
You're ready to grow. We're ready to help! Contact us with your e‑commerce questions.
Subscribe to: E-magazine and RSS Feed

Use #CanadExport