Canadian companies benefit from free trade agreement preferences during the pandemic
Under a free trade agreement (FTA), products eligible for FTA preferences can receive duty‑free access or pay lower preferential duties. The proportion of products eligible for FTA preferences that actually claim these preferential duties when entering the FTA partner countries is measured by the utilization rate of a FTA.
Recent data shows that even as global trade was ravaged by the COVID‑19 pandemic, Canadian exporters continued to benefit from utilizing the multiple FTAs that are currently in force. For trade with the United States, the utilization rates remained steadily high under the Canada–United States–Mexico agreement (CUSMA), which replaced the North America Free Trade Agreement (NAFTA) on July 1, 2020. About 68.6% of Canadian goods exports to the US eligible for CUSMA preferences actually claimed the preferences in the second half of 2020; similarly, about 79.4% of US goods exports to Canada claimed the CUSMA preferences.
Additionally, utilization of the Canada–EU Comprehensive Economic and Trade Agreement (CETA) continued to improve in both directions of trade. About 57.0% of Canadian goods exports to the European Union (EU) that were eligible for CETA preferences actually claimed them in 2020, a noticeable improvement from 51.9% in 2018. On the other hand, the utilization rate of CETA preferences of EU goods exports to Canada improved significantly, up from 38.4% in 2018 to 55.5% in 2020 (Figure 1).
Canada's Trade Commissioner Service (TCS) has tools and resources to help Canadian businesses take advantage of FTAs. Find tariff information for your product in just a few clicks with the Canada Tariff Finder. Learn how to claim preferential treatment for your goods and expand globally with Canada's free trade agreements.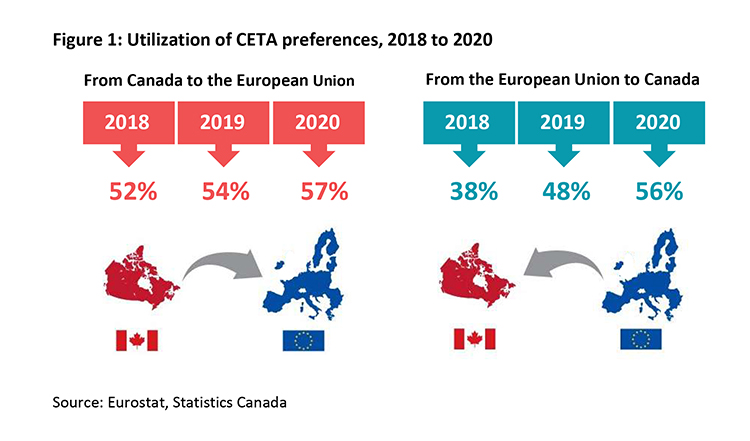 Figure 1: Utilization of CETA preferences, 2018 to 2020

| | From Canada to the European Union | From the European Union to Canada |
| --- | --- | --- |
| 2018 | 52% | 38% |
| 2019 | 54% | 48% |
| 2020 | 57% | 56% |

Source: Eurostat, Statistics Canada
Subscribe to: E-magazine and RSS Feed

Use #CanadExport