Small Edmonton company is a serious contender in the hi‑tech world
When she started Convenient Business Solutions Inc. (CBS) in 2006, Audrey Charles immediately opened a branch office in Tokyo for the Edmonton‑based company to sell its software development, optical engineering, marketing and design products and services. When she opened her next branch office in Dublin, it was in 2020 at the height of the COVID‑19 pandemic.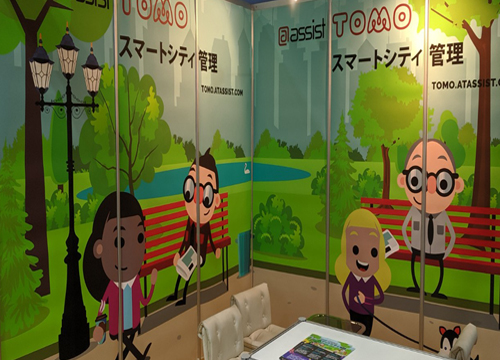 Entering the challenging Japan market established the entrepreneur's international business credentials and gave CBS, as it's known, a key presence in Asia. The Ireland office supported its growing European market. Meanwhile the pandemic shift to virtual business has been a perfect fit for CBS, which has become a successful technology company that helps businesses design optical products and develops software for smart‑city management.
"I am always moving the goalposts in terms of success," says Audrey Charles, CEO of the private company, which has operations in 50 countries on five continents.
She founded CBS as an international firm primarily because she loved to travel. At the time she was living in Japan, where she learned the language, immersed herself in the business culture and made important connections for her new company.
Its early focus was on providing services, which "limited our reach and our potential," she says. CBS began embracing technology and automation in 2009 and converted fully into a technology company in 2018, she says. "Since then, we have experienced significant growth year over year and have expanded our operations globally," she adds, with exports now representing 90% of revenues.

Audrey Charles, CEO of Convenient Business Solutions Inc.
Leveraging TCS support
Another important milestone in 2018 was encountering Canada's Trade Commissioner Service (TCS), beginning with its regional office for Alberta and the Northwest Territories. The advice and programs of the TCS "have been instrumental for market research," says Audrey Charles. She calls Lauren Hoschka, a trade commissioner based in Calgary whose responsibilities include diversity‑owned businesses and Martha Rogalski, who is based in Edmonton and covers the smart grid and infrastructure sectors, "huge cheerleaders for us. We're excited to have them backing us and pushing us forward."
Rogalski says that Hoschka has connected CBS to trade commissioners in Japan, Taiwan, Vietnam, UK, Austria, Germany, France, Spain and Ireland, as well as to various partner trade organizations in Canada.
"Audrey and her team work hard to keep the company going and are well equipped to do business virtually," Rogalski says. "They are good planners, and they have staff dedicated to international expansion."
Audrey Charles says the TCS has "been quick to support us when we're looking at new markets." Trade commissioners in each country and region have helped CBS attend conferences, as well as participate in business‑to‑business matchmaking sessions and webinars, she says. "They also provide important insight into the country's focus and business culture."
CBS in focus
Audrey Charles, founder and CEO of Convenient Business Solutions Inc., explains a few things about the company, its global expansion and her leadership.
The technology: CBS helps companies develop products that use LEDs, lasers and lenses. This includes cameras, sensors, lighting systems, satellites, microscopes, telescopes and projectors, as well as more specialized applications such as nanophotonics, quantum computing, silicon chips and semiconductors. It also develops its own information and communications technology software under the name @Assist, including a smart city management platform called Tomo.
The international expansion strategy: One of the company's approaches to international growth has been the use of branch offices over subsidiaries. A branch office is tied to the head office, which means the two share finances and resources. This way, the company can appear as both a Canadian company and a local company. It's not a popular approach by any means, but it has been instrumental for a number of reasons, the main one being that Canada is really supportive of its entrepreneurial community and provides a lot of resources and support to small businesses. The TCS is a great example of this.
Her advice to other businesses like hers: Never be complacent; always push for something bigger and better. And when it comes to exporting, make sure you understand the business culture of the country you're selling to. Take advantage of TCS programs for beginners to a country or region. Contact individual trade commissioners to talk about your specific progress and let them know how they can help. And don't forget to keep the TCS updated!
CBS has joined TCS trade missions and attended events such as the Alberta Smart Cities Trade and Investment Attraction Mission to Asia in 2019, the Innovation Leadership Summit in Japan in 2019 and the 2020 Consumer Electronics Show in Las Vegas. More recently the missions have moved online, including the Virtual Smart Cities Mission to Europe in November 2020 and the Canadian International Innovation Program's 2021 Canada‑Korea Collaborative Industrial R&D Program in March 2021.
"By taking these events and matchmaking opportunities virtual, rather than pausing them altogether, we've been able to continue to meet companies and find out how our products and services fit into the world stage," Audrey Charles says.
The pandemic hasn't slowed the company down, in fact it accelerated its growth into new markets.
"With everything happening virtually right now, we've been able to turbocharge our sales and growth without the need to travel," Audrey Charles comments. "We can literally be in two countries at once by clicking on a meeting link."
Planning future growth
CBS redefines the "small" in small and medium‑sized enterprise (SME), with just seven team members, "but we have proved that we're a serious contender in the world of tech," she says. By keeping overhead low, CBS has been able to bootstrap its growth and development without the worry of running out of funds. It converted to remote work and pulled the plug on its expensive and largely unused office space in Edmonton before the pandemic began, she says, and plans to expand to 16 team members by the end of 2021.
In hiring, as a black woman Audrey Charles considers diversity important, and "will consider anyone with the right skill‑set for the role."
For Audrey Charles herself, "there have been hurdles to jump over, for sure." Women entrepreneurs who face adversity in business should "just push forward and do it," she advises. "You need to be prepared to fight for your company every day, because no one else will."
CBS's future plans include getting more involved in smart and advanced manufacturing for optical engineering, especially in the flourishing European and Asian markets. "This could open a huge new opportunity for our company," Audrey Charles says. Agreements such as the Canada–European Union Comprehensive Economic and Trade Agreement (CETA), and the Comprehensive and Progressive Agreement for Trans‑Pacific Partnership (CPTPP) will help CBS expand on this business direction.
The TCS CanExport SMEs program has also been "extremely helpful" in expanding into new markets, she comments. CBS has had three successful CanExport applications that have "allowed us to grow our company at a faster pace."
In fact, CBS is ahead of schedule internationally. It created a five‑year plan in 2019 and, notes Audrey Charles, "we have already achieved the majority of our goals in just two and half years."
CBS is proud and excited by this growth, and there are many opportunities waiting to be uncovered, she says. As an innovative company that is always searching for new ways to solve problems, think outside the box and reach various audiences, Audrey Charles looks forward to "tomorrow's challenges and paving the way for future entrepreneurs."
Subscribe to: E-magazine and RSS Feed

Use #CanadExport