A team effort makes the difference for Canadian exporters
David Tsui is a good example of how far Canada's Trade Commissioner Service (TCS) extends.
Tsui, 43, has worked for more than five years at the TCS regional office in Vancouver, which covers British Columbia and the Yukon. But much of his career has been spent in related federal government positions in fields from entrepreneurship to innovation.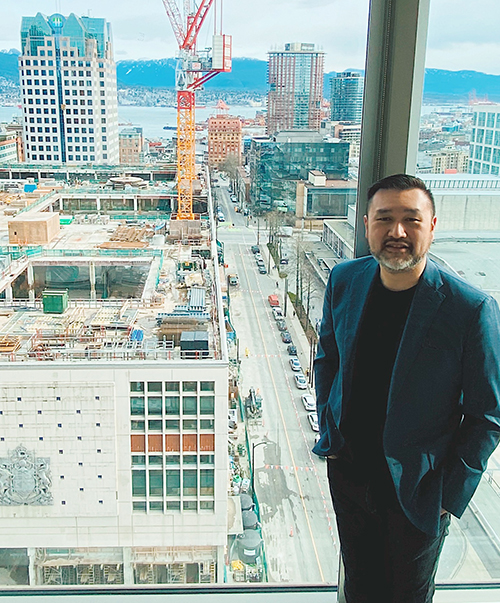 Trade commissioner David Tsui stands in the Trade Commissioner Service regional office overlooking the old Canada Post heritage building in Vancouver, which is being redeveloped by Amazon for its offices there.
"A lot of that took on international dimensions," says Tsui, who is passionate about advancing Canada's trade ties around the world by enhancing individual Canadian businesses abroad. He has collaborated with colleagues from a wide range of departments, institutions, agencies and different levels of government—as well as trade commissioners in Vancouver, across Canada, in Ottawa and at missions abroad—to help these companies make global connections, sales and investments.
Tsui has a lot of international experience both professionally and personally. He was born in Canada but at the age of nine moved to Hong Kong with his family. He returned here for the end of high school and for university, studying economics and political science, then he worked for Société Générale in Hong Kong in investment banking. Tsui finally settled in Vancouver and joined the government, because "I wanted to do something that had a bigger impact than myself."
He's worked in strategic, high‑level macroeconomic roles as well as in more practical positions. For four years, he helped companies directly as a trade commissioner in Vancouver covering technology. Today, he's a deputy director overseeing a team comprised of eight people who help companies involved in technology and life sciences.
"Trade commissioners can be in day‑to‑day contact with companies and have a genuine ability to make a difference and provide advice. It's very tactical in that sense, really nitty‑gritty," explains Tsui, who has also applied this "invaluable experience" to working on larger policy issues.
Tsui says the six regional TCS offices across Canada are on the front line for businesses looking to export. "We run pretty hard in order to speak with as many clients as possible," he comments. "We prepare the company and we do our best to understand their global business goals, and then we play a translational role with our colleagues throughout the TCS."
These include trade commissioners at more than 160 Canadian missions around the world, who make critical connections for such clients and provide practical assistance in markets abroad, he says. Tsui is also mindful of the importance of the companies themselves and the impact that they have at home when they take the initiative to go global. "These are real Canadians, real lives," he says. "When a company is successful, it makes revenues and that becomes salaries and success for the country as a whole."
The critical role that the TCS plays has especially been reinforced with the COVID‑19 crisis, Tsui says. In the early days of the pandemic, he and his team members "worked to leverage different expertise in response to the unknown," operating virtually and taking on new responsibilities to help repatriate Canadians, source personal protective equipment, monitor the economic impacts of the virus and help companies find domestic support. They then helped companies pivot to e-commerce platforms, rethink their strategies, pursue new opportunities and prepare for the recovery ahead.
All in all, "we didn't skip a beat," says Tsui, for example helping companies understand, adjust to and take advantage of the renewed Canada–United States–Mexico Agreement (CUSMA) that came into effect last summer. He credits a team that's spirited, hard‑working and highly adaptable. "The results are showing," he says, noting that "requests for client support are as high as they've ever been." Among these are companies that have been directly involved in technology and health‑care applications focused on dealing with the pandemic and its aftermath.
He encourages entrepreneurs to reach out to his TCS team, which is eager to help address their challenges and help them make worldwide export connections. "At the end of the day these businesses have class‑leading technologies, life sciences initiatives—and major ambition," he says.
Canadian companies, especially following the pandemic, are operating in an "uncertain world," Tsui allows, with ever‑higher levels of competition, greater demands and shifting needs. He advises entrepreneurs to "push the quality and edge of innovation," but to never forget that business strategy is just as important, which is why the TCS is so valuable.
"No matter how good the product or service, it still doesn't sell itself," Tsui adds.
Subscribe to: E-magazine and RSS Feed

Use #CanadExport