Immigrant‑led SMEs fuel Canadian exports
Canada has a large, diverse, and highly educated immigrant population that makes an important contribution to the Canadian economy. Moreover, immigrants are a vital element of Canada's entrepreneurial and export landscape. Recent research from Global Affairs Canada's Office of the Chief Economist has found that businesses led by immigrants, despite being smaller on average, are much more likely to export and derive a greater share of revenue from exporting.
The recent study on immigrant‑led SMEs in CanadaFootnote 1 found that between 2014 and 2017, the number of Canadian SMEs that exported increased by 17.2%. In fact, the rate of immigrant‑led exporters' growth (26.5%) was twice the rate of Canadian‑born exporters (13.7%).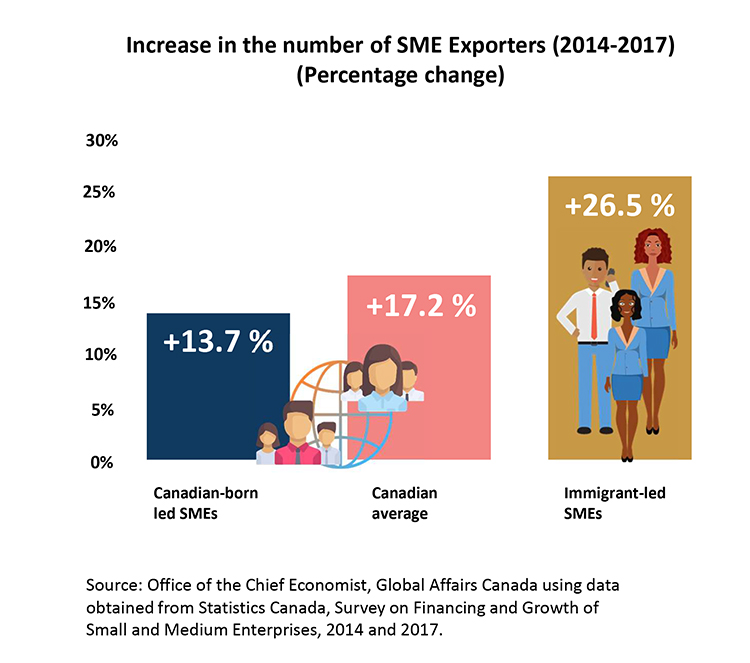 Increase in the number of SME Exporters (2014‑2017)
(Percentage change)

| Canadian‑born led SMEs | Canadian average | Immigrant‑led SMEs |
| --- | --- | --- |
| +13.7% | +17.2% | +26.5% |

Source: Office of the Chief Economist, Global Affairs Canada using data obtained from Statistics Canada, Survey on Financing and Growth of Small and Medium Enterprises, 2014 and 2017.
One of the major contributors to this rapid growth in exporting is the corresponding increase in immigrant entrepreneurship. Growth in the number of all SMEs between 2014 and 2017 was much higher for immigrant‑led (24.7%) than Canadian-born led SMEs (15.8%). This increase resulted in an all‑time high in 2017 of one in four SMEs being led by an immigrant in Canada. Similarly, Green et al (2016)Footnote 2 studied the cohort of immigrants who filed tax returns between 2001 and 2010 and found that the tendency of immigrants to own a private business surpassed that of the Canadian‑born population after they have been in Canada for a decade or more.
Another important finding in our study was that immigrant‑led SMEs are more likely to export (14.3%), compared to both the Canadian average (11.7%) and the Canadian‑born led SMEs (10.8%). To a significant extent, immigrants tend to export to their region of origin. The high proportion of permanent residents admitted to Canada from emerging countries such as India, China, or the Philippines, combined with the economic boom in these regions over the past two decades, will likely have contributed to the growth in the propensity to export among immigrant‑led SMEs.
Ultimately, the increase in the number of SMEs led by immigrants combined with a greater tendency to export and to export to more diverse international markets, has most definitely contributed to the growth and diversification of Canadian exports.
---
1 Blanchet, N., "Immigrant‑led SME Exporters in Canada", Office of the Chief Economist, Global Affairs Canada, 2021.
2 Green, D., Liv, H., Ostrovsky, Y., Picot, G., 2016. "Immigration, Business Ownership and Employment in Canada". Analytical Studies Branch Research Paper Series, Cat.no 1F0019M – No. 375, Statistics Canada.
Subscribe to: E-magazine and RSS Feed

Use #CanadExport