Trade deal paved the way for global expansion into Canada
When it went looking for a place outside of the United States (U.S.) to begin its global expansion, the High Reliability Organization Council (HROC) of Pittsburgh set its sights on Winnipeg, under the benefits of the Canada–United States–Mexico Agreement (CUSMA) and with the assistance of Canada's Trade Commissioner Service (TCS).
The not‑for‑profit corporation does pioneering research that helps companies, governments and other enterprises mitigate risk, improve safety and accelerate performance. It develops process‑improvement tools in healthcare facilities, industry and public agencies such as the U.S. Department of Defense that help them reach "high reliability organization" (HRO) milestones.
Terry Rajasenan, inventor and lead scientist for HROC, says the think tank began in 2015 and decided in 2020 to create a Canadian headquarters "as U.S. trends threatened our ability to do research into politically sensitive topics." It looked for havens where its operations and research into areas such as COVID‑19 pandemic safety measures, anti‑extremism and disarming disinformation could continue unimpeded, and chose Canada.
Rajasenan last year contacted the TCS regional office in Atlantic Canada and was referred to the TCS New York office. Trade commissioners Matt Duong, who covers foreign investment in Canada and Ryan Wall, who works in the TCS Pittsburgh presence office, offered Rajasenan information on different Canadian agencies and programs that provide support to help HROC set up and do its research, such as Canada's Global Skills Strategy and Mitacs, a national innovation organization.
Rajasenan says the TCS has been "immensely helpful" in his efforts to find Canadian opportunities. For example, the contact he made at Mitacs put him in touch with a research‑and‑development partner that has proved invaluable.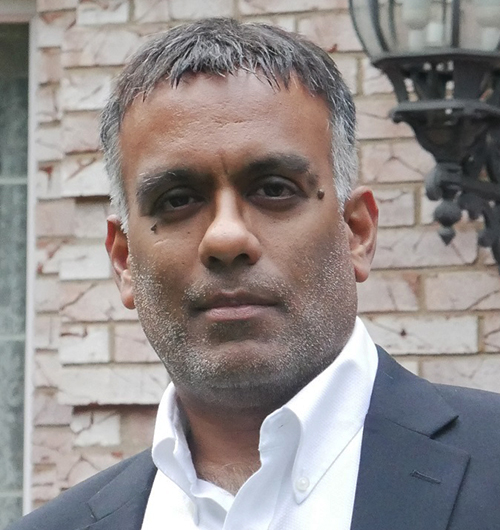 Terry Rajasenan, inventor and lead scientist of the High Reliability Organization Council.
When Rajasenan expressed interest in locating in Winnipeg, where he had lived as a child, Duong and Wall coordinated with Deborah Boyce at the Manitoba TCS regional office and connected him with Economic Development Winnipeg. With the help of Boyce and that organization, HROC established a company and an office in Winnipeg in October 2020.
Wall, who covers sectors like technology associated with energy, transportation and artificial intelligence, says the investment brings important financial benefits to Canada, including more jobs for Canadians. This investment especially demonstrates that cities outside of Canada's main hubs, like Winnipeg, offer opportunities to U.S. organizations looking to relocate or expand. "It's very important for Canada to make these connections as we have so much to offer," he says.
HROC is aided in its international collaboration by CUSMA, which Rajasenan says "creates synergies via the exchange of both teams and ideas between the two countries." This summer, the trade agreement's temporary entry provisions should allow the HROC team to work in the Canadian market to study subjects that are not supported in the U.S., he says, and Canadian researchers involved in joint HROC initiatives can travel to the U.S. for joint projects.
Wall notes that with CUSMA, "There's greater freedom of movement and freedom of access. Without a trade agreement, investments like this would be less likely." CUSMA also brings harmonization of intellectual property rights, Wall points out, which is important for a think tank like HROC. "It makes international business more feasible."
HROC, which currently has a staff of five in the U.S. and dozens of collaborating researchers, has begun to partner with Canadian organizations to pursue its research, Rajasenan says. It hopes to use its models to improve reliability in a host of applications that protect critical infrastructure, enhance public safety and help organizations increase their workforce reliability and productivity.
For example, HROC has developed a partnership with a Winnipeg data analytics company called ioAirFlow that focuses on ventilation systems and air quality, with a goal of reducing the spread of COVID‑19 and other microbes in buildings.
HROC is working with ioAirFlow's specialists in commercial building health and performance efficiency to identify and provide solutions that reduce the risk of airborne respiratory infections in specific building types. Rajasenan says the project will provide a blueprint for building managers to mitigate the risk of aerosol transmission of viruses, bacteria and spores, both in the current pandemic as well as any future crises. He notes that respiratory infections are the third-largest cause of death in Canada and the fifth-largest killer in the U.S.
He says that once the current travel restrictions are lifted, HROC and ioAirFlow teams will cross the border for research and training. HROC plans to set up a small office in a location closer to Pittsburgh, such as St. Catharines, while the Canadian headquarters remains in Winnipeg, beginning with a staff of two.
Rajasenan considers Canada a "safe harbour" for research in public health and safety.
"We see Canada as a bridge where we can ensure that we have the time and freedom to translate our research into something transformative for cooperation," he adds. "The goal should not be just to save people's lives but to also make them better people. That is what ultimately makes the world a better place."
Subscribe to: E-magazine and RSS Feed

Use #CanadExport