Your global business journey begins in Canada
Canadian Trade Commissioner Service (TCS) extends to more than 160 offices around the world, with a vast network of trade professionals specialized in helping eligible Canadian companies succeed abroad.
But the journey abroad for these companies usually begins at home. The TCS network includes regional offices (ROs) in Vancouver, Calgary, Winnipeg, Toronto, Montréal and Halifax, with satellite offices in additional locations covering every Canadian province and territory. They offer companies assistance in everything from establishing international business strategies to finding the right markets to sell their goods and services.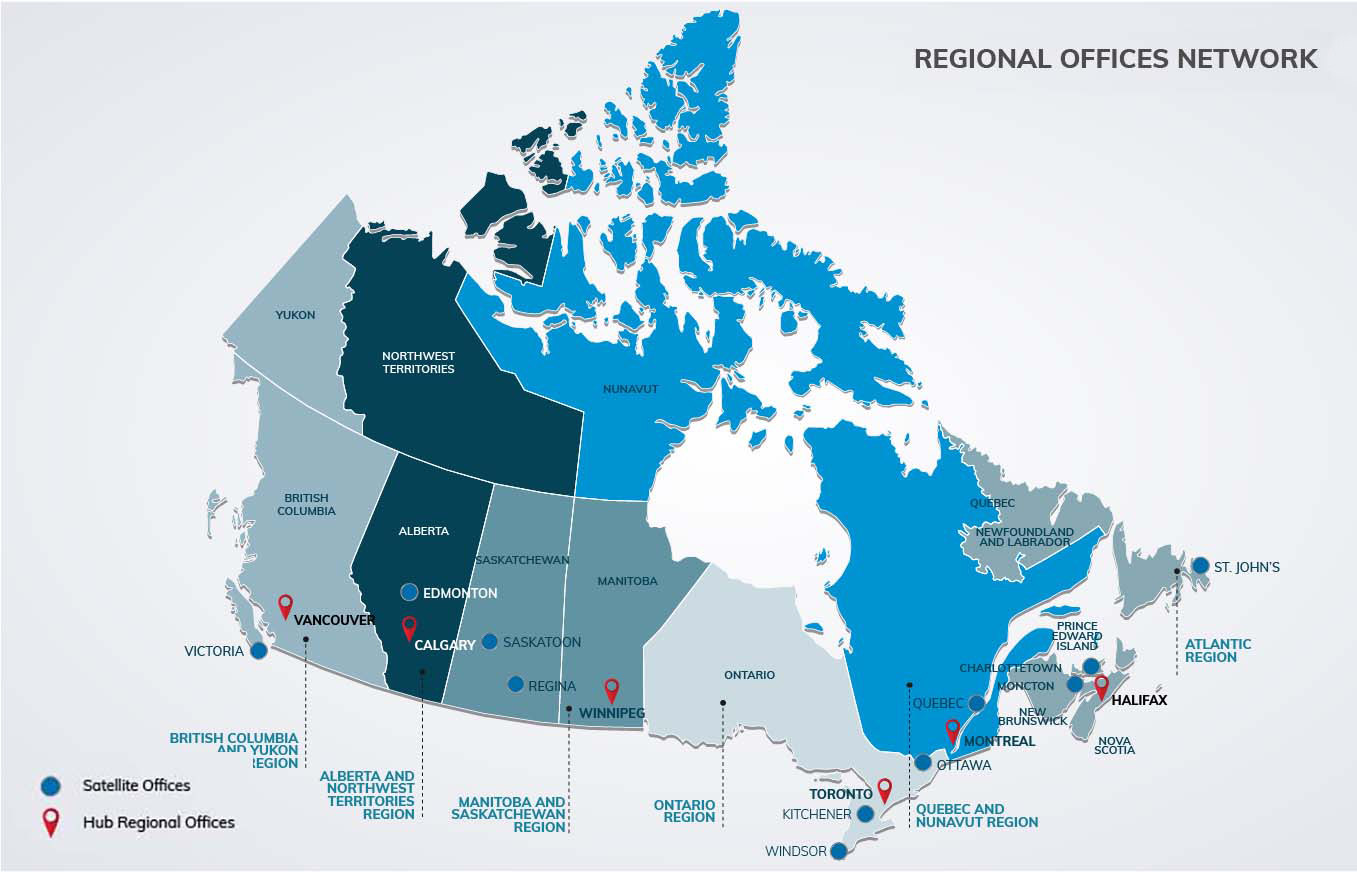 Contacting an RO is a critical first step for would‑be exporters and high‑potential companies alike looking to make the right moves and connect with global customers.
"The greatest value of the TCS is in our network—which begins right here in Canada and extends all around the world," says Sara Wilshaw, Canada's Chief Trade Commissioner. "We're across the country helping companies small, medium and large to leverage all of the services the TCS and the Government of Canada has to offer."
As the domestic arm of the TCS, the ROs house front‑line trade commissioners who can provide direct access to the global TCS network. They also have a wealth of knowledge to help companies get ready—or enhance their capacity—to export, expanding minds and markets through their expertise in international trade and business development, Wilshaw says. "We provide practical advice and on‑the‑ground intelligence to help companies make better, more timely and more cost‑effective decisions to achieve their international goals."
TCS ROs contact info
Getting companies into the pipeline
Chris Thornley, who heads the TCS Canada Bureau as director general of Intergovernmental Relations and Regional Trade Operations, says that as the "main point of entry into the TCS," trade commissioners seek to understand the products and services of Canadian exporters, their value propositions, needs and priorities to expand internationally.
They offer personalized services, according to their abilities, that help companies achieve their global goals. For example, they may direct entrepreneurs to TCS programs such as CanExport funding or the Canadian Technology Accelerators, invite them to trade missions or provide problem‑solving support. Trade commissioners take a no‑wrong‑door approach—if a company's needs fall outside the support provided by the TCS, they will connect them with a trusted export partner or a specialized service provider to ensure help is on the way.
"They get our clients into the pipeline," Thornley says. With direct, face‑to‑face contact, companies develop relationships with these regional trade commissioners, who introduce them to the wider TCS network "so they don't have to keep telling their stories over and over again," he explains.
Serving diverse exporters at different stages

Chris Thornley heads the TCS Canada Bureau.
Photo: Catherine Thornley
Trade commissioners provide qualified and export‑ready clients with four key services including:
Preparing for international markets
Accessing potential markets
Finding qualified contacts
Resolving business problems
The initial step trade commissioners take in a client's journey is to understand their product or service and consider a viable market for it, Thornley says. If it has potential, "there's a whole lot of work to do," including making contacts with trade commissioners abroad, who are often experts in specific sectors. "Then we start helping them to establish contacts with potential buyers or partners and to work through all the necessary steps they have to go through to get their product into that market."
Trade commissioners also provide export‑ready clients that have high potential for international expansion with customized and sustained services. Trade commissioners at ROs work closely with such high‑impact companies to help support their international business development plans and walk them through the stages necessary to be successful in a market. "It's almost like priming the pump," Thornley remarks, noting that these are often small companies but they have "tremendous potential".
The regional offices also include a dedicated network of champions who guide the export journeys of underrepresented businesses owned by Indigenous, women, youth, visible‑minority and LGBTQ entrepreneurs. They can connect these companies with the global TCS network for an assessment of potential markets to help them succeed internationally.
Furthermore, as Canada has a number of helpful free trade agreements in key markets worldwide, trade commissioners also provide expert advice to help companies learn how to take advantage of preferential access to these markets. The TCS also delivers in‑person information sessions, seminars and trade missions to help companies understand opportunities.
Keeping the momentum going
The TCS regional network across Canada has provided a "lifeline" for Canadian exporters dealing with the impact of the COVID‑19 pandemic, Thornley says. "We didn't miss a beat," he comments, with trade commissioners reaching out to provide resources and help companies pivot and find new ways to market and sell their goods and services. "I think that helped keep a lot of companies going."
In response to the COVID‑19 crisis, the TCS has continued to enhance its own tools and services to help more Canadians explore business opportunities in increasingly digital environments.
The TCS's digital‑first approach helps companies access its offerings virtually, including a wealth of online resources to build knowledge. The TCS Canadian regional offices, for example, have transitioned from supporting traditional in‑person business meetings to offering more virtual initiatives and events, a cost‑effective and time‑saving tool for companies preparing to sell their products or services to new and exciting markets.
"We're keeping the momentum going," says Thornley. He notes that trade commissioners at ROs work closely with partners at agencies such as Export Development Canada and the Business Development Bank of Canada to ensure constant connection to facilitate introductions which help companies get closer to their goals—and they're busier than ever as international trade opportunities increase.
"They're out there dealing with companies directly, and they have a lot of enthusiasm about the work they do," says Thornley, who encourages companies to work closely with the ROs and "take advantage of what we have to offer. We're a free resource and we provide a lot of value. We're everywhere you do business, and we're here for you now."
Subscribe to: E-magazine and RSS Feed

Use #CanadExport