CETA continues to pave the way for Canadian business success in the EU
While most people might think of free trade agreements (FTAs) as simple agreements to reduce tariffs, Canadian business owners know there's much more to them.
Gaining and maintaining international sales can be a complex undertaking with many potential barriers along the way, including cumbersome customs checks, regulatory requirements, and finding staff who are eligible to work abroad.
Luckily, some FTAs are developed to address these various barriers to trade. While reducing tariffs on goods and making products more competitive is certainly one important aspect of FTAs, some comprehensive trade agreements go further allowing for businesses to do things like obtain temporary entry permits, address trade in services, and enable access to bid on government procurement projects. Put simply, these FTAs aim to reduce many of the barriers to entry into the foreign market for Canadian goods and service‑based enterprises.
September 21, 2021, marked the fourth anniversary of the provisional application of the Canada‑European Union (EU) Comprehensive Economic and Trade Agreement (CETA) — Canada's most ambitious and inclusive FTA.
Key CETA benefits
Preferential Tariffs: Learn about how the Canada‑European Union Comprehensive Economic and Trade Agreement (CETA) helps Canadian companies export products to the EU — duty‑free! Watch the video to find out how your company can access a preferential tariff.
Rules of Origin: If your product is certified as "made in Canada", you can benefit from duty‑free exports to the EU under CETA. Watch to learn how!
Temporary Entry: Let CETA open doors! Learn about the many ways CETA reduces barriers to entry for Canadian SMEs exporting goods and services to EU markets.
CETA facilitates trade for Canadian companies with their European partners by:
providing preferential access to one of the world's largest economies;
offering access to new opportunities and new clients, in both the private and public sectors;
providing transparency and stability in terms of product standards, regulations, investment, professional certifications, just to name a few;
decreasing tariffs on goods; and, as you will read below,
increasing access for service providers and establishing temporary entry opportunities of business persons.
While there has traditionally been a focus on trade in goods, trade in services, such as the exchange of advice or expertise, plays a vital role in the Canadian economy and our trade relationship with the EU.
In fact, Canadian companies exported $15.8 billion in services to the EU in 2019, a 20.6 percent ($2.7 billion) increase since 2016.
The intangible nature of trade in services means tariffs and tariff quotas are not barriers to market access like they are for trade in goods. Instead, service‑based businesses can face licensing requirements restrictions, limitations on foreign investment and burdensome work‑permit processes.
CETA supports Canadian companies that export services by addressing and reducing those barriers. The Agreement includes provisions that allow Canadian firms to compete on equal footing with local and international companies without regulatory measures impeding their ability to offer services in the EU. CETA provides transparency with respect to the European market and predictability when it comes to how regulations affect specific sectors.
The provisional application of CETA saw trade in services between Canada and the EU trend steeply upward, with total two‑way trade in services increasing by 39 percent between 2016 and 2019.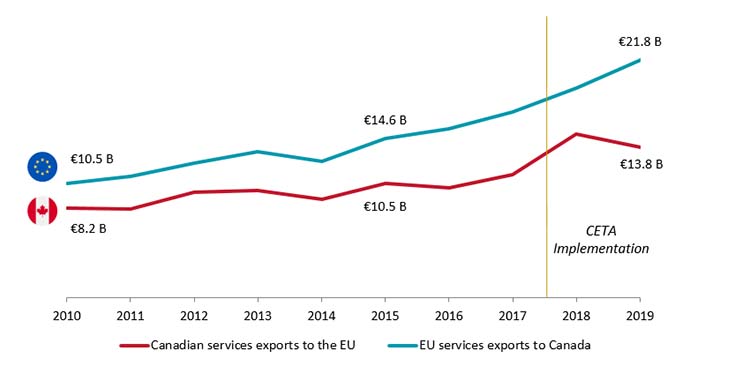 Canada‑EU Services Trade, 2010‑2019, in €billion

| | Canadian services exports to the EU | EU services exports to Canada |
| --- | --- | --- |
| 2010 | 8.2 | 10.5 |
| 2011 | 8.1 | 11.1 |
| 2012 | 9.7 | 12.3 |
| 2013 | 9.8 | 13.4 |
| 2014 | 9 | 12.5 |
| 2015 | 10.5 | 14.6 |
| 2016 | 10.1 | 15.5 |
| 2017 | 11.3 | 17 |
| 2018 | 15 | 19.2 |
| 2019 | 13.8 | 21.8 |

Source: Eurostat
In an increasingly integrated global economy, doing business abroad can often require the mobility of business persons and professionals to respond to clients' needs quickly and expand sales accordingly.
That's why CETA also contains provisions to address barriers to travel and temporary visits for business purposes. It provides greater certainty and predictability regarding the administrative requirements needed for businesses seeking the temporary movement of employees into EU countries.
For example, temporary entry provisions in CETA prohibit economic needs testing, which can cause significant delays and impose high costs on Canadian service providers seeking a foreign work permit to fulfill a contract abroad. The provisions also ensure that the requirements for the temporary entry of business persons are clear and freely available. In addition, professionals covered by CETA are guaranteed entry for up to one year to the EU. It's also important to note that immigration requirements, like visas or proof of local licensing, still apply.
Clément Thiébault, a Canadian Trade Commissioner in Paris, sums it up by saying that "with CETA's temporary entry provisions, it is incredibly easy for Canadian companies to come to Europe to provide services, in a way that was much more limited before CETA."
CETA is a comprehensive, ambitious, and inclusive free trade agreement that covers virtually all sectors and aspects to reduce or eliminate barriers to trade between Canada and EU countries.
Thanks to CETA, Canadian companies can enjoy duty‑free access to the EU for their goods exports, provide services in the EU with fewer restrictions, and travel to EU countries with more ease, all of which will help them be more competitive and successful in the EU market.
Selling online
The global e‑commerce market is expected to reach $39 trillion within the next three years. For retail businesses across both Canada and the European Union (EU,) the COVID‑19 pandemic revealed the importance of e‑commerce, and data shows that the transition to e‑commerce is here to stay post‑pandemic.
How can Canadian companies, including small and medium‑sized enterprises (SMEs), tap into opportunities in the EU's rapidly growing e‑commerce market, sell online and reach customers? A few tips:
Know your market. The trends in consumer preferences across EU Member States can vary a great deal. Consumers in Denmark may be willing to pay more for sustainable products and/or packaging, but that's not necessarily the case in Romania. Likewise, there's a diversity of languages spoken across the EU, as well as a range of local currencies. There's no one‑size‑fits‑all strategy for the EU market as a whole, so Canadian SMEs must adapt their strategies to suit each target market.
Know the local legislation and regulation requirements. Trade Commissioners in local markets are familiar with local legislative and regulatory requirements and will use this knowledge to advise Canadian SMEs on the details so that they can comply.
Decide where to sell your products. Will you use a marketplace, like eBay or Amazon, or will you set up your own web shop? There are benefits and challenges to each. Know which is right for you and your business strategy.
Have a strong online presence. Businesses that are active online have higher profits and sales growth, and export more, than similar businesses that don't sell online. In fact, businesses that are active online are 2.8 times more likely to serve international markets.
Learn more about opportunities to sell to the EU via e‑commerce channels and how the Canadian Trade Commissioner Service (TCS) can support Canadian companies looking to sell their products and services online: E‑commerce opportunities in the EU | Opportunités de commerce électronique dans l'UE – YouTube