Did You Know? The world's tallest building was developed with Canadian know‑how
Toronto's CN Tower held the title of the world's tallest free‑standing structure for more than 30 years. While its height has been surpassed by other buildings and towers in recent years, Canadians can take pride in knowing that several of Canada's innovative companies in a number of fields have made significant contributions to the development of the current record holder, the Burj Khalifa in Dubai.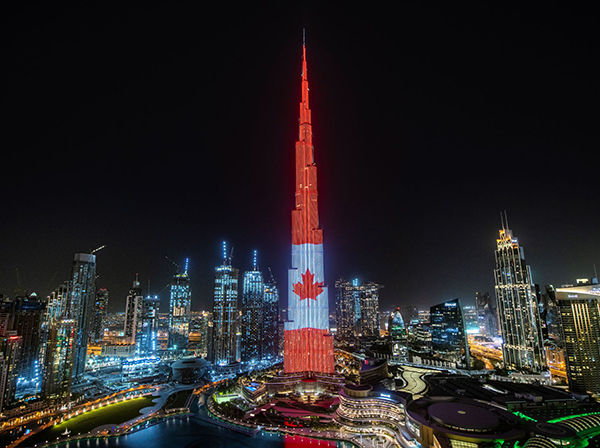 The world's tallest building, Dubai's Burj Khalifa, is lit up with the Canadian flag in honour of Canada Day in 2019.
In 2021, the United Arab Emirates (UAE) celebrated its 50th anniversary, and there are ambitious goals for the next 50 years. Recent reforms and economic development initiatives are opening up many opportunities in Dubai and the rest of the UAE for Canadian companies in the fields of infrastructure, urban planning, engineering and construction. In addition, many companies use the UAE as a hub for their operations throughout the Middle East and South Asia region, offering access to three billion potential clients with a combined GDP of C$8.7 trillion.
Are you an architecture, design or engineering firm interested in the opportunities that the UAE has to offer? Contact the Canadian Trade Commissioner Service (TCS) team in Dubai to learn more.