Canadian Christmas tree exports brighten the holiday season
For many Americans, the Christmas tree that they bought last year, drove home with, decorated with ornaments and lights, and put presents under, originated in Canada. In 2020, the merchandise value of Canada's Christmas tree exports to the world was $78.8 million, or 2.60 million trees (averaging $30.3 per tree). Of these, $76.1 million, or 2.55 million trees (96.6 percent) were destined for the United States (U.S). After the U.S., the remainder of Canada's Christmas tree exports were to Panama (1.6 percent) and Curacao (0.4 percent). Compared to 2019, however, Canada's 2020 Christmas tree exports dropped by 8.5 percent.
The U.S. is, by far, Canada's largest export destination. The two countries share close cultural ties, geographic proximity, and the integration of several industrial sectors. In 2020, Canada's total merchandise exports to the world were $522.6 billion. Of these, $383.2 billion (or 73.3 percent) went to the U.S.
Along with Canada's main exports to the U.S. of mineral fuels and oils, motor vehicles and parts, and machinery, Christmas trees also crossed the Canada–U.S. border. While roadways were the main mode of transport for almost all the trees, a very tiny number crossed the border via waterways.
As seen in the chart, within the U.S., New York State was the leading export destination with 18.8 percent of the trees headed there, followed by Massachusetts (16.6 percent), New Jersey (11.9 percent) and North Carolina (10.6 percent). Other states made up the remainder (42.0 percent). Within Canada, the vast majority of the trees originated in Quebec (71.8 percent), New Brunswick (14.1 percent) and Nova Scotia (11.0 percent).
Upshot
In 2020, the world shared the hardships of a global pandemic and international trade slowed down. This holiday season, as we reflect on the past year, we can appreciate how Canadian Christmas trees brightened the holidays during these challenging times.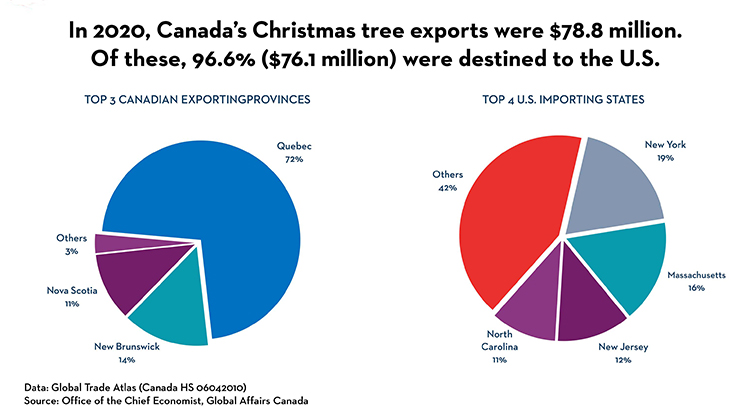 In 2020, Canada's Christmas tree exports were $78.8 million.
Of these, 96.6% ($76.1 million) were destined to the U.S.

| Top 3 Canadian Exporting Provinces | Top 4 U.S. Importing States |
| --- | --- |
| Quebec (72%) | New York (19%) |
| New Brunswick (14%) | Massachusetts (16%) |
| Nova Scotia (11%) | New Jersey (12%) |
| Others (3%) | North Carolina (11%) |
| | Others (42%) |

Data: Global Trade Atlas (Canada HS 06042010)
Source: Office of the Chief Economist, Global Affairs Canada