Uncorking export opportunities for Canadian wine, beer and spirits
The holiday season is traditionally a time of festive cheer, gift giving and get‑togethers with friends and family. That normally means increased sales of wine, beer and spirits at shops and in bars and restaurants. Canada is fortunate to have a vibrant and thriving wine, beer and spirits industry. Producers in all corners of the country are not just supplying the domestic market, but also gaining recognition and sales on the international stage with the help of the Canadian Trade Commissioner Service (TCS).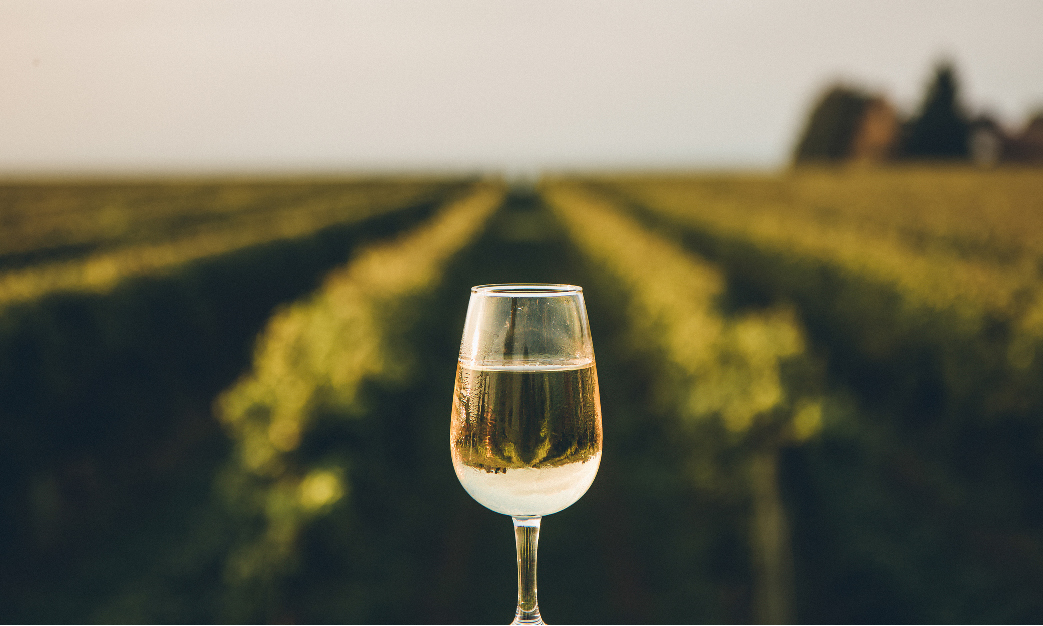 Janet Dorozynski has been the TCS's expert on this industry since 2004. Dorozynski holds the Diploma in Wine and Spirits and is a certified educator with the United Kingdom (U.K.)‑based Wine and Spirits Education Trust, and the Canadian content contributor to the fifth edition of the Oxford Companion to Wine. She also worked in the Canadian and international wine industries before joining the TCS. Her extensive business and product knowledge and experience has proven to be invaluable in her role as Trade Commissioner. CanadExport recently sat down with Dorozynski to discuss the industry, how it's doing in the age of COVID‑19, and how the TCS is supporting and promoting Canadian producers abroad.
We began by asking Dorozynski if she's seen any differences in the way Canadian products have been viewed on the world stage over the years. She says a lot has changed since she joined the TCS in 2004. At the time, Canada was primarily known for two things: its beer, and especially its whisky, which she calls a "unique product" with a protected geographical indication. Canadian whisky remains the number one export among alcoholic beverages, with $250.4 million worth of whisky exported in the first eight months of 2021 alone.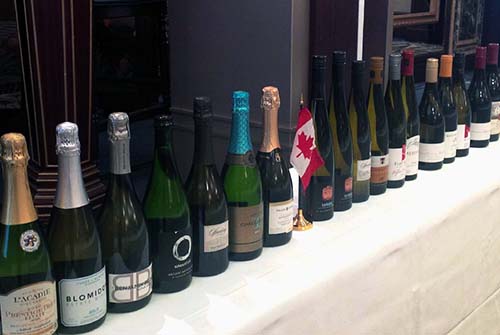 Canadian Wine Trade and Media Masterclass, Hong Kong
Photo Credit: Janet Dorozynski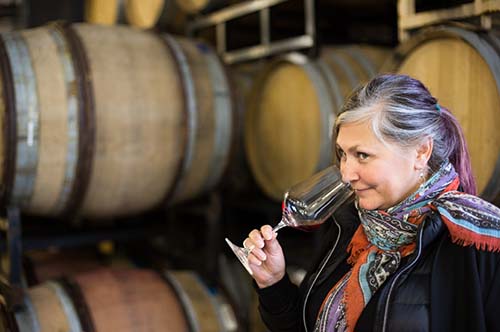 Janet Dorozynski, DipWSET, PhD,
Trade Commissioner, Canadian Wine, Beer and Spirits
Photo Credit: Jason Dziver Photographer
The challenge for Dorozynski and her TCS colleagues: getting people to know that Canada also makes wine. And for those who only know about our Icewine (which accounts for less than five percent of our overall production), getting them to know that we also make other kinds of wine, such as still and sparkling wine. That's why promotional efforts have been stepped up and they're working. Today, "still wine is becoming more significant in terms of export. We're becoming better known for table wine," Dorozynski says.
Canadian sparkling wine is also enjoying success abroad. When people taste our sparkling wine, "they've been very impressed with it. And we can make great sparkling wine in all parts of Canada," Dorozynski says. When she joined the TCS in 2004, "there were certainly not as many companies in Canada making sparkling wine …as there are now." According to data from Canada's regional wine associations, almost a third of the more than 650 wineries in the country are making sparkling wine. And just as with still and Icewines, it's being showcased in our international initiatives and export promotion activities more than it was before.
Dorozynski explains that she works hand in glove with her colleagues in the field to help companies make connections that will lead to international sales. She says the role of Trade Commissioners in the TCS's global network of offices is to know the market they are in and to assist companies who want information on importers and distributors. The value of the TCS, she says, is "when a Trade Commissioner at post really knows their market and who the key players are, and can make the right introductions so that a producer can meet the right distributor, get that working arrangement and an agreement signed, to get sales in a foreign market." She adds that a Trade Commissioner can also troubleshoot throughout the export process, and help with regulatory procedures that can often differ from market to market.
Her job also involves following the global alcoholic beverages industry as a whole, as well as keeping an eye on trends and the potential in existing and up‑and‑coming markets. "Because I'm working with Canadian trade offices from all over the world, I have a bird's eye view of which market is easier and which market is more complicated than others," whether that's in terms of tariffs or how business is conducted from one market to the next.
Markets that present important opportunities for Canadian producers
According to Trade Commissioner Janet Dorozynski, most countries that have sizable and strong domestic wine, beer and spirits industries and can produce at a low price do not, as a rule, present the best opportunities for Canadian producers. "So we try to focus on markets that not only have consumers with a high level of disposable income, but also a wine, beer and spirits‑interested consumer base." She points to a few markets that present particularly attractive opportunities for Canadian exporters.
The United States (U.S.), especially New York City, with its huge population and relatively small production capacity in New York State, and Chicago, which has always been "very open to foreign wine and different kinds of wine and niche products."
The United Kingdom, which is "basically the shop window of the world" for any alcoholic beverage, and the world's second‑largest import market for wine after the U.S. "They're a trend‑setting market. People go there not just to sell. They go there because they want the top writers in the world to taste their product and write about their product," and want the trend‑setting sommeliers and restaurants to list their products.
Scandinavian countries, especially Denmark, where Copenhagen's innovative food scene continues to excite, and where natural, sparkling and cool‑climate wines have taken hold. "I was on a seminar a while back and one of the speakers on the global market said, 'If you want to look at the next thing that's happening in wine, then look at what they're serving in restaurants in Copenhagen'," Dorozynski says.
Japan. Tokyo has the most Michelin‑starred restaurants (more than 225) of any city in the world, and the Japanese "are starting to drink and appreciate the kind of cool‑climate wines that Canada makes." Dorozynski mentions a recent virtual tasting for buyers hosted by the Canadian embassy in Tokyo in September of 2021. Twelve different Canadian wines were featured, with 10 table wines and 2 Icewines. Dorozynski gave a presentation on Canadian wine and the industry and answered questions during the event, and says she "could see from the comments in the chat that people were really impressed. They didn't know that Canada made such a range of amazing wines."
"I work with certain offices in target markets that are important for Canadian wine, beer and spirits companies. And when we've put together trade events such as the Canadian wine sommelier competition in Hong Kong or table‑top tastings where key trade and media are invited to an event at the Ambassador's residence or the chancery, we can focus in and …get the right people in the room to facilitate introductions for Canadian companies in a targeted sector‑specific way. I think that's the real value and how we can help Canadian producers and companies succeed internationally."
The TCS, for example, has been organizing an annual trade and media tasting in London since 2010. Participation in the event is open to any Canadian producer, big or small, that is in or wants to access the U.K. market. And while the event is wine‑focused, spirits and cider have also been featured.
Dorozynski says that when the event first started in 2010, only three Canadian wineries had distribution deals in the U.K. Today, there are more than 20, and that's "because we've been doing this event every year. People know that when it's May, you go to Canada House, to the High Commission. At previous events, trade and media have been able to sample products and speak with owners and winemakers from up to 40 different companies there, which has helped companies meet distributors, buyers, sommeliers and writers in this influential wine market. We have also organized masterclasses, or a feature table to highlight a product category, or a specific grape variety like cabernet franc or chardonnay, for example, to really give people a better understanding and a sense of what we make in the various regions across Canada."
Events like that are not the only way the TCS is supporting the industry and helping Canadian producers get attention and recognition in international markets. Dorozynski also oversees the Canadian Wine Initiative (CWI), a Global Affairs Canada program through which our offices abroad, such as embassies and high commissions, can purchase Canadian wine, beer and spirits to serve and showcase at official functions with high‑level contacts and heads of state.
Currently, nearly 100 suppliers from across Canada participate in the program, which is unique in the world and a support to Canadian industry and companies. In fact, Dorozynski points out that she "has had requests from other governments on how we set up the system and deliver this service to posts."
Creating the CWI, and expanding it over the past several years to include beer and spirits, was one of her greatest achievements, Dorozynski says. The program "helps our offices abroad to showcase Canadian products from across the country at high‑profile events and during visits by the Prime Minister, Governor General and other high‑level officials." Every year, she also conducts a training session for outgoing Canadian ambassadors and high commissioners on Culinary Diplomacy or on how to feature Canadian wine and food as part of their role in promoting Canada internationally. She says it's been rewarding to see their growing knowledge and enthusiasm about serving Canadian wine, beer and spirits. "When I first gave the session in 2005, the level of knowledge of Canadian products was far less than it is today, similar to the Canadian public in general."
The COVID‑19 pandemic has obviously had an impact on the CWI, given the restrictions on travel and in‑person gatherings around the world for much of 2020‑21. But while the number of orders made by embassies and high commissions has declined since the start of COVID‑19, Dorozynski notes that product sales through the channel continued throughout the pandemic.
One reason for that is some countries re‑opened more quickly and were not subject to the same kinds of restrictions as other places. Another reason is that even though in‑person receptions and events weren't happening to the extent that they were before, offices abroad could still order products to send out as gifts or for use at virtual events hosted by Canadian embassies and high commissions, "similar to how we have always used this channel for that," Dorozynski notes. Over and above trade promotion and supporting Canadian companies, Dorozynski says, Canadian officials can send a Canadian product to their counterparts in the country they're in as a little piece of Canada, and as a way of showing their appreciation for assisting Canada's commitments in diplomacy, trade, security, development and consular services.
As for exports in general, the pandemic has been a challenging period due to the closure of restaurants and bars, which are the major sales channels for many Canadian wines, beers and spirits abroad. "Restaurants and bars were not buying as before" as a result of lockdowns and closures, "so importers weren't reordering." But the good news is that we're now starting to see an uptick with exports starting to resume again. In the first eight months of the year, total exports of wine and spirits in 2021 were on pace to exceed the value of exports not only in 2020, but every year since 2016.
Dorozynski's advice to anyone wanting to be a successful exporter: make a serious commitment and approach export in a sustained and long‑term way. "Companies really have to be dedicated to export. They have to make it part of their business plan and have an annual allocation for export," which also means having the staff and infrastructure in place that international business and sales require.
She also cautions that "you can't expect to go to a market once and find a distributor and get sales after the first time. You often have to be prepared to go once on an exploratory mission …and be sure to follow up with whom you meet. You may also have to go back a second time if you haven't found a distributor, and, again, continue to follow up. And it's not over once you land a distribution agreement, as you'll need to return to the market periodically to support your representative in the market and sales." She also says that "just because you think your product is great, or your product sells well in Canada, it doesn't necessarily mean that it's going to be the right fit or successful in another market. So being prepared for export really comes down to having the commitment, doing the research, having the allocation and, above all, being persistent."
Luckily, Canadian producers do not have to undertake that export journey alone. The TCS is here to guide you and help you make the right decisions. "That's the role of the Trade Commissioner Service, to identify opportunities and help [exporters] meet the right people, to make the introductions."
For help in choosing the right market, understanding the export process, and connecting with potential distributors and buyers, contact a Trade Commissioner today.
Subscribe to: E-magazine and RSS Feed

Use #CanadExport