Canadian multinational enterprises seeing sales growth abroad
Canadian multinational enterprises (CMNEs) and their operations abroad actively participate in the process of regionalization and globalization. In the last decade, the stock of Canadian direct investment abroad (CDIA) — the investments that CMNEs make in their foreign operations — increased at an average annual rate of 9.0 percent, from $675 billion in 2011 to $1.469 billion in 2020. Just like exporting, establishing and expanding foreign operations is a means to take advantage of new and growing business opportunities abroad, and to address the need to gain access to foreign markets. The success of CMNEs' operations in foreign markets can be gauged by looking at various dimensions including sales, the number of employees, as well as total assets and liabilities. The analysis below looks at CMNE sales performance in various markets.
As with exports and imports, CDIA linkages with the United States are very strong, with the latter being the largest host country for CMNEs. In fact, the U.S. represented more than 57 percent of CMNE sales in 2018, growing at an average annual rate of 5.6 percent between 2015 and 2018. This growth is slightly above the 4.6‑percent rate for all countries. Looking at the countries where CMNEs' had a presence in 2015, the top five with the average annual fastest sales growth between 2015 and 2018 were Costa Rica (151 percent), Antigua and Barbuda (115 percent), Ecuador (90 percent), Guyana (67 percent), and Aruba (65 percent). However, in some of these countries, CMNEs had very low sales during the period (e.g., less than $10 million annually), and the results might have been driven by the establishment of one new foreign affiliate by one CMNE. If we consider a threshold of $500 million for the 2015 CMNE sales in market to ensure a relatively strong presence at the beginning of the period, then the top five growth markets are very different: Spain (average annual growth rate of over 33 percent between 2015 and 2018), Zambia (33 percent), South Korea (27 percent), Denmark (20 percent) and Austria (17 percent). In total, these five countries accounted for 3.4 percent of Canada's CDIA stock in 2018, but were growing at significantly higher annual rates than the 2015‑2018 overall growth rate of 4.6 percent (see chart).
Opportunities for growth, including in exporting, may lie in unsuspected countries such as the top five markets with fastest sales growth shown here. The Canadian presence through CMNEs' foreign operations may signal that doing business in a given market is more accessible than one may think.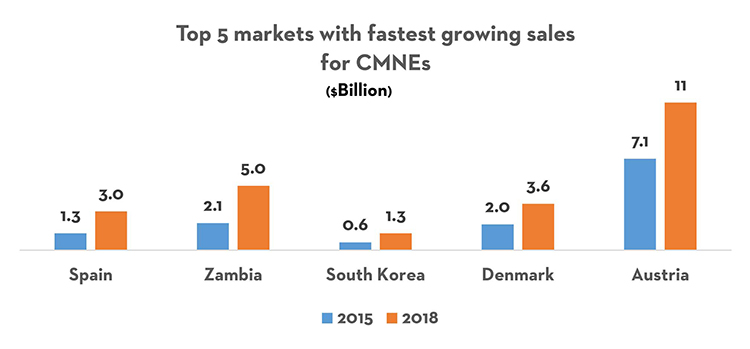 Top 5 markets with fastest growing sales for CMNEs ($Billion)

| | Spain | Zambia | South Korea | Denmark | Austria |
| --- | --- | --- | --- | --- | --- |
| 2015 | 1.3 | 2.1 | 0.6 | 2.0 | 7.1 |
| 2018 | 3.0 | 5.0 | 1.3 | 3.6 | 11 |