Spotlight from the Field: The TCS in Bogota
With a population of more than 51 million people, a strategic location at the entry point into South America, and as one of the best economic performers in the region, Colombia presents rewards to Canadian companies looking to export or invest abroad.
The country offers a welcoming climate for business, especially given its recent accession to the Organisation for Economic Co‑operation and Development (OECD), and it has made a strong economic recovery following the COVID‑19 pandemic. A free trade agreement (FTA) with Canada gives our goods and services a competitive edge in the country, while a strong team at the Canadian Trade Commissioner Service (TCS) office in Bogota ensures that our companies get help and get noticed.
"Colombia provides unique attributes that make it one of the most attractive emerging markets not only in the region but also globally," says Claudio Ramirez, the Senior Trade Commissioner in the capital of Bogota. He notes that total merchandise trade between Canada and Colombia was valued at $2.3 billion in 2021, "and the consensus forecast is that Colombia's economy will be the fastest‑growing in South America in 2023 and 2024. Canadian exports are poised to reach new heights over the next few years."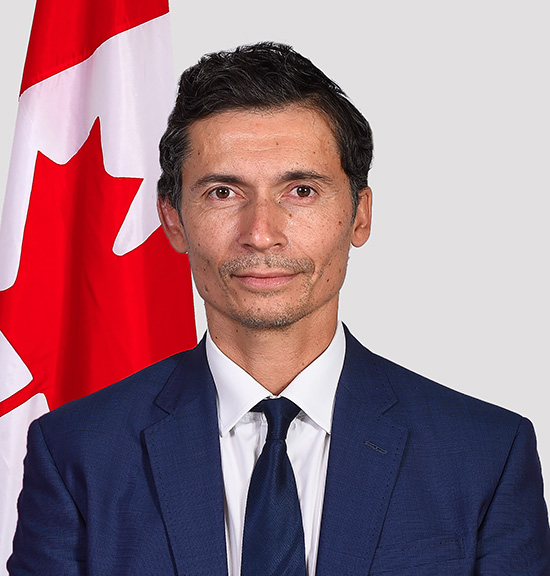 Claudio Ramirez, Senior Trade Commissioner in Bogota
Ramirez manages a team of 10, the second‑largest TCS office in South America, with more than 125 Canadian companies operating in the country. He notes that Colombia is the second‑largest Spanish‑speaking market in the world after Mexico. It offers access to both the Pacific and Atlantic oceans and has the largest air cargo hub in South America, through Bogota.
Colombia has never defaulted on its debt, he says, and until the COVID‑19 pandemic hit in 2020 had never registered a recession. The country recently joined the OECD, ensuring it will remain on a path of economic reforms in key areas such as tackling corruption, improving infrastructure and further liberalizing trade.
"A first mover"
"Canada was in many ways a first mover in the Colombian market," Ramirez says. It was the first G7 country to have an FTA with Colombia, the Canada–Colombia Free Trade Agreement (CCoFTA). It came into force in 2011 and today has one of the highest utilization rates among Canada's FTAs.
A study of the agreement's impact by Global Affairs Canada's Office of the Chief Economist in 2021, its 10th anniversary, found that Canadian merchandise exports to Colombia grew by 20 percent, exports of services grew by 133 percent and direct Canadian investment in Colombia increased by 512 percent.
"In terms of goods exports, some sectors saw explosive growth," Ramirez remarks. These included pharmaceutical products (492 percent), milling‑industry products such as malt and cereal grains (7,695 percent) and dyeing extracts (606 percent).

Claudia Gutierrez, Trade Commissioner in Bogota
Photo: Juan Pablo Forero

Juan Carlos Navia, Trade Commissioner in Bogota
Photo: Claudia Giraldo
The TCS office in Bogota assists a diversified group of Canadian exporters, he says, the bulk of which are small and medium‑sized enterprises (SMEs). They pursue a variety of opportunities in emerging fields such as creative industries, artificial intelligence, blockchain, Internet of Things, e‑learning, cybersecurity, e‑commerce and clean technologies.
In 2021, Canada's top exports to Colombia were cereals, vegetables, fertilizers, machinery, and electrical machinery and equipment. During the same year, Canadian merchandise exports to Colombia reached a record high of $1 billion, representing a 27.1‑percent jump from 2020.
In services, education has been booming in Colombia, which is poised to overtake larger countries like Mexico and Brazil to become the largest international student market for Canadian colleges and universities.
Sectoral opportunities
Claudia Gutierrez, the Trade Commissioner responsible for infrastructure and cleantech in Colombia, notes that major Canadian engineering firms have established large operations in Colombia. She expects to see growth in the power industry, which represents opportunities for equipment and service providers.
The country is developing a number of renewable energy projects, "and the need to connect them into the grid is imminent," she says. Colombia's commitment to emission reductions brings opportunities in clean technologies, and the country's infrastructure program will require the kind of engineering expertise that Canada can provide.
Gutierrez's advice to companies is to have a long‑term strategy in the country. There is a tendency for Colombian firms to do business with friends, she notes, and contracting processes can be long. "Canadian companies must be willing to dedicate resources, not only financial, but human—as well as time." It's important to speak Spanish, visit the country regularly and have a local representative who can build and maintain relationships with clients. "You must be able to provide face‑to‑face service, especially after‑sales support."
Juan Carlos Navia, a Trade Commissioner who covers the agriculture, agri‑food and life‑sciences sectors, agrees that "face‑to‑face relationships generate dividends in building connections with local buyers." And efforts to develop communications in Spanish, such as brochures, social media and technical materials, are well received.
Navia says Canadian agricultural products like wheat, grains, pulses and meats have shown consistent growth there in the past two years. In the life‑sciences area, most of the activity is linked to medical cannabis, while other opportunities such as precision agriculture and agri‑tech are promoted by the TCS in Bogota.
A long‑term approach
Ramirez says Canadian companies have been successful in Colombia by taking a long‑term approach. "Quick and easy wins are few and far between when doing business in emerging markets like Colombia. Fortune rewards not only the bold but also those who wait," he comments. "This means engaging early with local communities, gaining their trust and obtaining a social licence to operate, which is just as important as getting the proper permits from regulatory agencies."
TCS‑supported successes in Colombia
The team at the Canadian Trade Commissioner Service (TCS) office in Bogota has played a key role in or facilitated several Canadian export successes in recent times. A few examples:
In January of 2021, Calgary's Hatch was awarded a contract by the Colombian national oil and gas company Ecopetrol for the provision of engineering services. It is the culmination of a two‑year effort on the part of the TCS office in Bogota, in partnership with Export Development Canada, to support Hatch, which included facilitating a visit by Ecopetrol to Hatch's corporate offices in Calgary.
In May of 2022, 126 undergraduate students from 34 universities in Colombia undertook three‑month applied‑research internships across 44 Canadian universities in nine provinces. This program, which will strengthen bilateral cooperation in science, technology and innovation, was undertaken through a memorandum of understanding signed in September 2020 between Mitacs, a Canadian not‑for‑profit research organization, and Colombia's Ministry of Science and Technology. It includes a financial contribution of $180,000 from the Mitacs Globalink Research Internship program. The MOU was the result of proactive work by the TCS office in Bogota in introducing these partners and supporting the negotiation of their landmark agreement.
Bell Helicopters Canada and its local Colombian partner Helicentro signed a contract with the Colombian National Police in October of 2019 for a Bell 407 helicopter. The agreement was the result of continuous efforts throughout 2018 and 2019 by the TCS team in Bogota, in collaboration with the Canadian Commercial Corporation (CCC). This included regular advocacy with the Colombian Police through meetings and support for the sale process.
Some Canadian companies doing business in rural Colombia, where socio‑economic needs are greatest, have made a deliberate decision to contribute to the well‑being of local communities through social investments, Ramirez says. Sometimes that approach has entailed co‑investing with the Government of Canada's cooperation program in the country through a blended‑finance mechanism. This innovative approach "reflects the convergence between Canada's inclusive trade agenda and our feminist international assistance policy," he says.
In terms of diversity and inclusion, in March of 2021 the TCS in Colombia hosted a virtual LGBTQ2+ business delegation, the first to an emerging market, and it hopes to host an Indigenous‑focused one in October.
Major Colombian cities like Bogota, Medellin, Cali and Barranquilla are modern and offer one of the best options for quality of life and low cost of living in the region, Ramirez says. They are well connected by air to other business centres domestically and internationally. In addition, personal security has notably improved over the past decade, particularly with the signing of a peace agreement in 2016.
Setting up a new business in Colombia requires less time and fewer procedures than the Latin American average, according to the World Bank's ease of doing business rankings, he points out. Access to credit is easy in most sectors. Running a business there has distinct advantages like low‑cost labour, access to foreign markets and political stability.
In investment, Colombia is a major target for Canadian pension funds and companies looking to establish a foothold through asset acquisitions, given its political stability and strong macroeconomic fundamentals. With the country's wealth in natural resources and push toward energy transition, Ramirez sees opportunities for Canadian investors in these areas.
Challenges to be aware of
While Colombia has made strides in improving its business climate, there are risks and challenges that Canadian companies should be aware of, he cautions, such as higher corporate tax rates than the OECD average. Bureaucratic red tape, delays in getting approvals from regulatory agencies, inconsistent application of policies, as well as corruption, especially at lower levels of government (municipal and departmental), may add to the cost and hassle of doing business over time. Security can still be an issue, particularly for companies that operate in regions where the presence of armed groups jockeying for power and control over illicit activities can pose a threat to both human and physical assets.
"None of these challenges is insurmountable," Ramirez remarks, noting that the key to success is to be aware of risks and have mitigation and avoidance mechanisms in place. The value of working with the TCS is that Canadian companies are able to "know before they go," and enter the market with their eyes wide open.
Trade Commissioners can discuss the challenges of doing business there in individual market assessments or market briefings, if a company is part of a larger business delegation, for example. "On issues like corruption, our advice is unequivocal and equal to a zero‑tolerance policy," Ramirez says. Navigating regulatory hurdles and sidestepping legal landmines often calls for specialized consulting services from lawyers, accountants or others to whom the TCS can connect clients.
Following the pandemic, the country has witnessed a gradual return to normalcy, with in‑person business fairs and conferences resuming, as well as business travel. There are currently no barriers to entry into the country other than being fully vaccinated.
Looking to the future
On the economic front, "things augur well for Colombia, which is good news for Canadian companies," Ramirez says. Its GDP grew by almost 11 percent in 2021 and is estimated to expand faster than Colombia's Latin American peers in 2022 and in 2023, according to the International Monetary Fund.
The country recently elected a new president, Gustavo Petro, and the new administration will take office in August. "A change at the top like that can always bring uncertainty and a shift in the direction of trade and economic policies," says Ramirez. "There is confidence that Colombia will remain a highly attractive market for Canadian companies."
He encourages businesses to use the free services of the TCS office in Colombia. "We can quickly assess if your company's offerings are a good match for this market," he says. Trade Commissioners can offer guidance on leveraging TCS funding opportunities, help companies avoid common pitfalls and assist in understanding the local business culture.
"The evidence is clear that SMEs that work with the TCS have a better chance of success than those who go it alone," Ramirez adds. "We have a team of professionals that is dedicated to serving your company and to ensuring that you can thrive in this blossoming market."
Subscribe to: E-magazine and RSS Feed

Use #CanadExport