Chile FTA a "golden nugget" for Quebec firm
For more than 15 years, Canadian companies, such as Quebec-based Wildfire Environmental Inc., have credited the Canada-Chile Free Trade Agreement with their success in the South American country.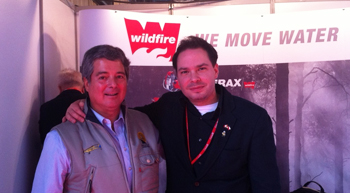 Marcello Iacovella (right), President and CEO of Wildfire Environmental Inc., and Ricardo Rivera, Director of Chile's Forestal Mininco, at a conference in Concepción, Chile.
Marcello Iacovella, President and CEO of Wildfire Environmental Inc., says his company's success in Chile is a "direct result" of the agreement.
The Quebec-based company, which designs and sells water handling equipment for wildland firefighters, has been working in Chile for more than 40 years. But Iacovella says the company got a major boost when Canada signed the free trade agreement on December 5, 1996.
"Since signing that agreement, our sales have been a direct result of that reduction in tariffs," he says, calling Chile the company's "golden nugget."
Wildfire's business in Chile now makes up a quarter of the company's export sales, says Iacovella.
The company, which was founded in the 1920s, has a
long-term contract with the government of Chile, making Wildfire's pumps the standard for all the forest fire suppression efforts in the country.
"As a result of the standardization of Chile's forest firefighting equipment, we've had a base there that is quite substantial and more importantly recurring sales," says Iacovella.
Chile continues to be a good destination for Canadian exports because of the country's approach to trade, he says.
"Chile has been very proactive when it comes to setting the platform for trade and economic reforms," says Iacovella. "Chile was way ahead of the curve when they signed the bilateral trade agreement with Canada. They saw early on the advantage of synergies between both countries and they decided to lower trade barriers and tariffs so we can facilitate trade between our countries."
The agreement, which reduced tariffs in both goods and services, was Canada's first free trade agreement with a South American country. The agreement came into force on July 5, 1997, and also includes a bilateral investment relationship.
Since the agreement was implemented, trade between Canada and Chile has more than tripled to reach $2.7 billion in 2011. Canadian direct investment in the South American country also grew to $13.3 billion in 2010, making Canada the largest source of direct investment in Chile over the last decade.
Canada's relationship with Chile continues to expand. On April 16, 2012, both countries signed an agreement to amend the Canada-Chile Free Trade Agreement to include financial services. Canada and Chile have also agreed to explore the possibility of expanding the agreement in the future.
For more information, visit the Canada-Chile Free Trade Agreement and the Canadian Trade Commissioner Service.
Subscribe to: E-magazine and RSS Feed

Use #CanadExport