A business built on moving on
Basing an enterprise on something that's temporary would seem to be a challenging proposition. But ATCO Structures & Logistics has turned its expertise in mobile structures into a strong, sustainable international business, well known in areas from construction sites and mining camps to disaster relief and military deployments in global hot-spots.
ATCO began in 1947 in Alberta, when father S.D. and his son R.D. Southern started Alberta Trailer Hire to provide housing to workers during Canada's first oil boom.
Started in 1947 by a Calgary father and son as a trailer-for-hire business for workforce housing, ATCO has had operations in more than 100 countries around the globe and is part of a multinational corporation with nine operating subsidiaries and assets of some $16 billion.
It is all built on entrepreneurialism spanning generations, with ATCO searching for new opportunities for its unique structures and specialized services with companies and governments in ever-more places, especially with assistance from the Canadian Trade Commissioner Service (TCS).
"We're always looking at new geography; we've had a fantastic relationship with the TCS over our history," says George Lidgett, president of ATCO Structures & Logistics in Calgary, part of ATCO Group. He notes that his company is an internationally recognized brand, with more than 40 sales offices, 11 manufacturing facilities and 3,000 employees worldwide. It has major operations in Canada, the United States and Australia, a major hub for its logistics services in Hungary and further business in countries such as South Africa and Mozambique. "It continually evolves and changes."
ATCO's 67 years of history offers clues to its international strategy and operating success. The company started when Samuel Southern returned home from the Second World War and resumed his work at the Calgary Fire Department. With just a grade six education, he was looking for a way to raise funds to further his son Ron's formal education. The two founded Alberta Trailer Hire, investing the $4,000 they had pooled together into a fleet of 15 utility trailers, finding a market for them at work camps in the province's booming oil industry.
Ron was able to go to university in Edmonton and the company prospered. Renamed the Alberta Trailer Company, then ATCO, it imported mobile homes from the U.S. for sale in Canada in the 1950s. It soon had its first export order with the shipment of equipment to Alaska. Its first overseas contract was to supply housing for the Mangla Dam project in Pakistan.
It found more and more prospects internationally, from extractive industries that needed worker camps to natural disasters that required temporary shelter, such as the devastating 2010 earthquake in Haiti, where ATCO's structures provided a temporary administrative base for the Haitian government.
Lidgett says that the company's goal of "long-term sustainable growth" means it is constantly looking "at what is happening in the world and where the opportunities could be." The Trade Commissioner Service has especially been helpful in "giving us the lay of the land," he stresses, helping ATCO to explore new markets and business lines.
He says the service assists with meetings and improves access to ATCO's target audiences in various countries. It is also helpful for its "superb local knowledge and introduction to culture and customs, as well as sensitivities," on both business and cultural fronts.
"We really appreciate when we go to Europe or other locations to be able to sit with our trade commissioner there and look at business opportunities and how to engage in the local economy," Lidgett says.
He notes that ATCO is opening an office in Washington, DC, for example. This will give it a chance to do further work with international organizations involved in disaster relief efforts such as the United Nations and World Bank, as well as the U.S. Government.
Alia Dedhar, a trade commissioner in Washington who specializes in government procurement, homeland security and infrastructure, says the TCS in Washington helps facilitate introductions to key contacts in the challenging and competitive markets of the International Financial Institutions and government agencies.
"There are opportunities for Canadian companies here; you just have to be patient and persistent," she says, adding that ATCO has a "proven track record" in the field. "They come with reputable experience. That has a lot of weight when you're dealing with this market."
ATCO Group, which today has more than 9,800 employees worldwide, remains in the Southern family. Nancy Southern, Ron's daughter, is chair, president and chief executive officer of ATCO Ltd. and Canadian Utilities Limited.
From its position as a pioneer 67 years ago, ATCO Structures & Logistics faces competition from hundreds of other manufacturers of modular workforce housing, Lidgett says, as well challenges from rising shipping costs to narrowing price-points.
"You have to be very entrepreneurial, you have to look at what's next," he adds. "You need to continually innovate and improve, to know that you have the products and the services that your client needs."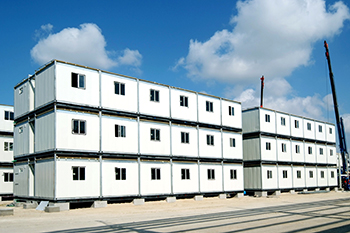 Subscribe to: E-magazine and RSS Feed

Use #CanadExport