Small business, big impact
They are the smallest parts on an aircraft, as thin as one-thousandth of an inch, just one‑quarter the thickness of a human hair. Yet the shims and spacers made by Canada's Shimco have a big impact, filling gaps in parts critical to the assembly of components from landing gear to cockpits and aircraft wings.
With the assistance of the Canadian Trade Commissioner Service (TCS), Shimco, which has annual revenues of $6‑million and a staff of 37, is itself becoming critical to the international aerospace market, finding a place among the world's leading aircraft and parts manufacturers.
President and CEO Peter Voss, who bought Shimco four years ago, has rebranded and refocused the company on aerospace, targeting the handful of global original equipment manufacturers (OEMs) and the so‑called Tier‑1 and Tier‑2 companies that supply them. Indeed, almost overnight he has built tiny Shimco into a Tier‑1 company itself, although he says that a good deal of the credit for its remarkable international showing goes to representatives of the TCS in key markets.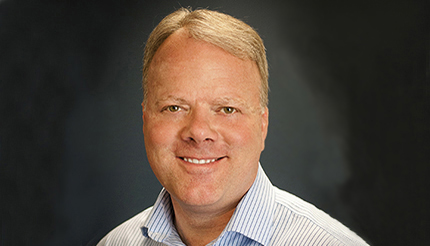 Peter Voss, President and CEO of Shimco
"This service is truly irreplaceable," he says, noting for example that help from trade commissioners on four continents at the Paris Air Show in June made it "the best trade show in Shimco's long history." Deals and contacts made there have the potential to elevate Shimco to become the number‑2 shim supplier in the world within the next two years, he suggests. "Our future has never been brighter, and the Trade Commissioner Service has been a huge part of our success."
Shimco, which is currently located in Markham, Ontario, and next year will relocate to a new state‑of‑the‑art plant being built in Cambridge, began 25 years ago making precision parts in materials including aluminum, titanium, synthetics and composites. Voss, a chartered professional accountant, physicist and economist, had a background working in corporate finance for firms that acquired other companies. He decided in 2011 to buy Shimco, which was then operating as "a glorified machine shop" that didn't market itself at all, albeit with potential for international growth.
The company was "trying to be everything to everybody, and not really focusing on any particular market," he says. It primarily sold its products in Canada, which is of course home to Bombardier and Bell Helicopter, with just 10 to 15 percent of its market in the United States. Indeed its formal name is Shimco North America Inc. "We dropped all the stuff after Shimco in our marketing and in the business meetings we have," says Voss, who estimates that one-third of the company's current sales are outside of North America. The company's aerospace business has increased from about 65 percent of its market when he bought Shimco to a whopping 97 percent today.
"You have to really focus on what you're good at," he advises, noting that Shimco's niche is "as a problem-solver, fixing other companies' problems and their allowable errors." This means it helps to fit pieces that have been machined with plus-or-minus tolerances. The 5,000 different parts (totalling about one million pieces a year) that Shimco makes can be quite large, such as the giant ring that goes into a helicopter rotor assembly, but are often incredibly thin. They are also usually adjustable, made in layers that can be peeled away as necessary, so the overall part, when it's bolted together with the shims included, ends up being exactly the right size. Voss calls these "gap management solutions" for "everything that flies," noting that while the "big boys" like Boeing and Airbus are $100‑billion+ companies, "they cannot finish the plane without us," and the volumes involved can be huge.
With a goal of becoming "a strategic supplier to every OEM and Tier-1 that provides parts to fly," Voss learned quickly that the way to make contacts and get contracts among the major players was to get in touch with the TCS. It provided Shimco with strategic guidance and tactical support in working with giant OEMs such as Embraer in Brazil, Boeing in the U.S., Mitsubishi Heavy Industries in Japan and Airbus in France.
"It became very, very obvious very, very quickly the kind of value the trade commissioners could bring," he says, from providing logistics support to "making introductions to extremely senior people, because they're so well connected and so well respected as well," something that's necessary given the nature of the sector.
"People really underestimate how difficult it is to get into aerospace; it can take years and years to even get your first break. It's not an overnight process," he says. Especially outside of North America, while cost and delivery are important, "the industry is all about trust and relationships."
Over his first few years at Shimco, Voss got to know each of the "star players" in the TCS who have now become "invaluable" to the company. Before each international trip he contacts them to find out the companies to visit, the people to see there and the best strategies to use in his pitch.
One of his first stops was Brazil. Trade commissioner Alex Krell, who is based in São Paulo and assists Canadian companies in the aerospace market, says there are abundant opportunities in Brazil for those doing business in the aviation, space and maintenance, repair and overhaul (MRO) fields. Some 40 Canadian firms have positioned themselves as part of the lucrative value chain of Embraer, which buys some $500 million every year in goods and services from Canada.
Shimco is a significant supplier of laminated materials to Embraer, he notes, and Voss has introduced new products to it. He frequently visits Brazil, with the support of the TCS, and recently appointed a local agent to boost his company's presence there. "It's only a matter of time for Shimco sales to ramp up," Krell says.
Voss says the TCS helps Shimco understand the local cultural aspects of doing business, building trust and identifying the right approach to use with executives at multiple levels and business divisions.
Other "invaluable" trade commissioners for the company include Monica Tate in Seattle, who has "shown a relentless drive to make us a Boeing‑approved supplier," including helping Shimco get a request for quotation (RFQ) for a potential $28‑million deal with the company at the Paris Air Show. Venus Chen in the Taipei office, meanwhile, helped him "meet with CEOs and CFOs everywhere in Taiwan in my last visit. She is so well respected in the aerospace industry there."
Voss says that in Tokyo, trade commissioner Tony Yabe has helped him learn local traditions and customs and offered cultural lessons about doing business in Japan, particularly with major aerospace companies. "He got me into places I would never, ever be able to get into," Voss says, and "was always at my side," keeping up the momentum with each successive trip he made there. "Tony took our 1‑, 3‑ and 5‑year plan and made it into more like a 6‑month, 1‑ and 2‑year plan."
At the Paris Air Show, Yabe introduced Voss and his wife Jennifer, a director and co‑owner of the company, to senior officials from a particularly large company. Within a couple of days he received an RFQ for "a whole whack of shims. That's potentially a multi‑year, multi‑million‑dollar contract."
The association with the TCS "gives a lot of credibility to what we're doing," says Voss, who in fact puts his TCS affiliation in his own bio. "The trade commissioners are so well respected in their industries that once they back you, the companies you meet already have a certain level of respect for you," he explains, noting that the TCS also did a lot of follow‑up for him after each visit, which also made a difference.
"Often you won't even get on the short‑list to look at what a company is offering unless you're known in the industry or recommended by a trade commissioner," he points out. "A big push for a lot of the OEMs is partnership. You can't do this alone, you need a lot of different elements to make you successful, and TCS is one part of it."
Krell says that "the global aerospace market is one of strategy, persistence and tenacity." Product cycles longer than 10 years make it difficult for new entrants. They are constantly required to invest in new technologies and management controls as well as to share risks with major OEMs. "Relationship build is key in the process."
It's important for companies to look for "multiple levels of supply," he says, and some companies form mutually beneficial partnerships with local companies that have complementary capabilities. "The TCS is pleased to help Canadian companies spot those strategic partners in their target markets."
Shimco has "taken all the right strategic and tactical steps in the market," he notes, counting on local support, finding the right contacts and building "a network of trust with key stakeholders."
Voss says his own time is getting more and more thin as Shimco's international market grows, so he's hired international reps such as the one in Brazil and another in India, who was introduced at the Paris Air Show. "They deal very much with the relationship side, on face‑time and touch‑time," he says, and are able to move quickly in‑country.
At home he has made Shimco's manufacturing operation leaner, more cost‑effective and technology‑driven. Indeed, he's added just six employees but tripled its aerospace revenues and doubled the size of the company. The goal now, especially with the new factory in Cambridge, is to bring in new processes, especially involving automation, and to be seen as a "thought‑leader" among OEMs, which are ever‑more focused on making planes faster, safer and more cost‑effective.
Krell says it's especially important for companies in the aerospace industry to follow‑up. "After meeting with a contact, keep in touch, even if there is little response. It is not uncommon that a lukewarm dialogue suddenly turns into an RFQ, but you have to keep showing on the radar."
The TCS is proud of companies like Shimco that aggressively pursue and take off in new markets, he says. "Their success is our success."
"Goliaths" in his industry, such as a company that's 25 times the size of Shimco, are concerned "because we are starting to win over their customers, and they're unhappy with that." For example, he's working to partner with the R&D divisions at some of the biggest OEMs and design new products for them, which Shimco can then offer to the general market. "When you start seeing some annoyance from the biggest company in the entire industry, you know you're making a difference."
Companies should always talk to the trade commissioner in their market space "because they really have the knowledge of what companies there are looking for, they can really help you develop the skills, the product offerings, the deliverables. And they have the contacts," he adds. "Having some faith in your company's abilities and what you're offering takes a bit of risk. It takes some guts to know that even a small company can actually partner with the largest company in the world and make a difference."
Get the Canadian Trade Commissioner working for you today.