Focus on Nanjing, China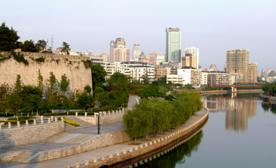 Overview
As the second largest city in the Yangtze River Delta after Shanghai, Nanjing is the political, economic and cultural center of Jiangsu province. It is a key deep-water port situated at the intersection of water and land transport arteries, and includes of a number of investment zones.
Nanjing's growing industrial sector has benefited from the city's abundance of resources and close proximity to Shanghai. It is also a major telecommunications, transportation, distribution and retail centre. The city government has embarked on an ambitious programme of infrastructure development to ensure its continued growth.
Business Environment
As the Yangtze River Delta's second largest commercial center, Nanjing ranks fifth in overall competitiveness among Chinese mainland cities in 2011 according to a survey conducted by Forbes magazine.
The government of Nanjing has set up priority guidelines of eight industry sectors, including: new materials, new energy, bio-pharmaceuticals, new electro-optical products, environmental equipment, aviation equipment, rail transport equipment, and advanced ship manufacturing. The city is a traditional base for automotive, electronics, iron and steel, petrochemical industries
Major Industrial Zones
Jiangning Economic & Technological Development Zone (JNDZ)
江宁经济技术开发区
www.jndz.gov.cn
Overview: Founded in 1992 as a state-level economic development zone, it is situated in the south of Nanjing, 7 km from the urban center,20 km from Xinshengwei Port (the largest river port in China), and 7.5 km from Nanjing Lukou International Airport. JNDZ has attracted more than 2000 investment from 42 countries. 45 of the Fortune 500 are present here.
Nanjing Chemical Industry Park (CIP)
南京化学工业园区
www.ncip.cn
Overview: Being one of the only two state-level petrochemical industry bases in China, it is located in the north of Nanjing, on the northern bank of the Yangtze River, and 30 km from the urban center of Nanjing. Main focus: petro-chemistry, basic organic chemical raw materials, fine chemicals, macromolecule materials, new chemical materials and life science projects.
Nanjing High and New Technology Industrial Development Zone (NHZ)
南京高新技术产业开发区
Overview: NHZ is a state-level industrial development zone, located near the northern bank of the Yangtze River. It currently hosts about 2200 companies, among which 30 are in the Fortune 500.
Nanjing Economic & Technological Development Zone
南京经济技术开发区
www.njxg.com
Market Access
Canada has a number of bilateral trade and investment policy instruments in place that to help facilitate and support Canadian commercial engagement in the region including:
2005 Air Services Agreement
2007 Canada-China Agreement for Scientific and Technological Cooperation
October 2011, negotiations for a Foreign Investment Promotion and Protection Agreement (FIPA) between Canada and China made a breakthrough, a final agreement is imminent.
Major Stakeholders
Notable domestic enterprises:
Yurun Group Co., Ltd
Website: www.yurun.com
Ranked 9th among China's privately owned enterprises, Yurun recorded a revenue of 64 billion yuan in 2010, specializing in food processing, logistics, with a broad presence across China. It is a potential client for Canadian meat and other agricultural product exporters.
Jiangsu Cereals, Oils & Foodstuffs Import & Export Group (JCOF)
Website: www.jcof.com
Major agricultural products exporter and importer of Jiangsu Province, products line includes rice, animal feed, canned food, seafood, beans, fresh and frozen vegetables, dehydrated and salted vegetables, meat and poultry, livestock and condiments. It currently imports canola, flaxseed oil and green peas from Canada.
Nanjing Pharmaceutical Co., Ltd (NPC)
Website: www.njyy.com
As the first company in the pharmaceutical distribution industry listed in Shanghai Securities Exchange and one of the top 5 of Chinese pharmaceutical companies, it employs 8000 people and has a sales revenues of RMB 10 billion in 2010.
SUMEC Group Corporation (SUMEC)
Website: www.sumec.com
SUMEC's core business consists of shipbuilding, project management of complete equipment manufacturing and engineering; the R&D, manufacturing and export of machinery and electric products, as well as textiles and garments. It's also a major commodity importer of the province.
Jiangsu Overseas Group Corporation (JOC)
Website: www.joc.cn
A major state owned exporter and importer, JOC trades chemicals, electrical and mechanical equipment, metals, building materials, consumer goods, and textiles etc. In 2010, JOC's total value of exports reached 610 million US dollars, and an import of 700 million US dollars. JOC currently imports wood and other raw industrial materials from Canada.
Canadian Advantage
Commercial opportunities:
Agriculture: Animal genetics, canola.
Education: Joint degree programs, secondary school curriculum delivery. 61 higher learning institutions with about 560,000 university students. Known as one of the university towns of China.
Environment: water treatment, air pollution control, pollution monitoring.
Transportation: Automotives, intelligent transportation system (ITS)
Canadian successes:
Canada Menergy Corporation signed an agreement with Zhongshan Science and Technology Park to establish a new energy industrial base in Nanjing in May 2011.
SENES Consultants established a joint venture with Nanjing Institute of Environmental Science to provide technology for soil remediation.
Waterloo University established several joint degree programs with Nanjing University for delivery in Nanjing.
For More Information
Nanjing City
Jiangsu Provinc
The Canada Trade Office in Nanjing was established in March 2010 as one of Canada's newest trade offices abroad.Footnote 1 The office is an indication of the increasing attention Canada is paying to China and will further support Canadian interests in the region.
Fast Facts
Area: 6,598 km2 (2,547.5 sq mi)
Population: 8,004,680
Density: 1213.20/ km2 (3,142.20/sq mi)
Language(s): Mandarin
Major Industries:
Four pillar industries:

Automotive
Electronics
Iron and Steel
Petrochemical

New industries:

Solar
Automation
Communication
Environment
Biochemical
New materials
Transport
Aviation

Service industries:

Software
Outsourcing
Information service
Logistics
Finance
Tourism
Culture
Trade communication and service
Main Export Destination: U.S., Hong Kong, Germany.
Major Exports: Electronics, industrial machinery, high-technology, minerals, textile and bio-chemical.
Major Imports: Chemical, electronics, minerals.
Foreign Investment: USD 2.8 billion in 2010
Government:
Mayor: Mr. Ji Jianye
CPC Secretariat: Mr. Yang Weize
Divisions:
County-levels: 11 districts: Xuanwu, Gulou, Jianye, Qinhuai, Xiaguan, Yuhuatai, Qixia, Jiangning, Pukou, Liuhe.
2 counties: Lishui, Gaochun.
Township-levels: 129 towns and villages
Canadian Trade Commissioner Service Coordinates
Canadian Trade Office in Nanjing
World Trade Centre, Jinling Hotel Room 1261, No.2 Hanzhong Road, Gulou District
Nanjing, 210005, China
Tel.: (011-86-10) 5139-4000
Fax: (011-86-10) 5139-4450
Email: infocentrechina@international.gc.ca
Beijing
19 Dongzhimenwai Dajie,
Chao Yang District
Beijing 100600, People's Republic of China
Tel.: (011-86-10) 5139-4000
Fax: (011-86-10) 5139-4450
Email: infocentrechina@international.gc.ca
Chongqing
Room 1705, Metropolitan Tower
Wu Yi Lu, Yu Zhong District
Chongqing 400010, People's Republic of China
Tel.: (011-86-23) 6373-8007
Fax: (011-86-23) 6373-8026
Email: infocentrechina@international.gc.ca
Guangzhou
China Hotel Office Tower, Suite 801
Liu Hua Lu, Guangzhou
Guangdong 510015, People's Republic of China
Tel.: (011-86-20) 8666-0569
Fax: (011-86-20) 8668-6093
Email: infocentrechina@international.gc.ca
Hong Kong
14th Floor, One Exchange Square
Central, Hong Kong SAR, People's Republic of China
P.O. Box 11142 Central
Hong Kong SAR, China
Tel.: (011-85-2) 2847-7414
Fax: (011-85-2) 2847-7441
Email: infocentrechina@international.gc.ca
Shanghai
American International Centre
West Tower, Suite 604,
1376 Nanjing Xi Lu
Shanghai 200040, People's Republic of China
Tel.: (011-86-21) 6279-8400
Fax: (011-86-21) 6279-7456
Email: infocentrechina@international.gc.ca
Footnotes
Footnote 1

The Canadian trade office in Nanjing enhances the coverage provided by the Canadian Consulate General in Shanghai, which continues to include Nanjing in its territory of responsibility.

The Government of Canada has prepared this report based on primary and secondary sources of information. Readers should take note that the Government of Canada does not guarantee the accuracy of any of the information contained in this report, nor does it necessarily endorse the organizations listed herein. Readers should independently verify the accuracy and reliability of the information.