Croatia - Market Overview
Table of content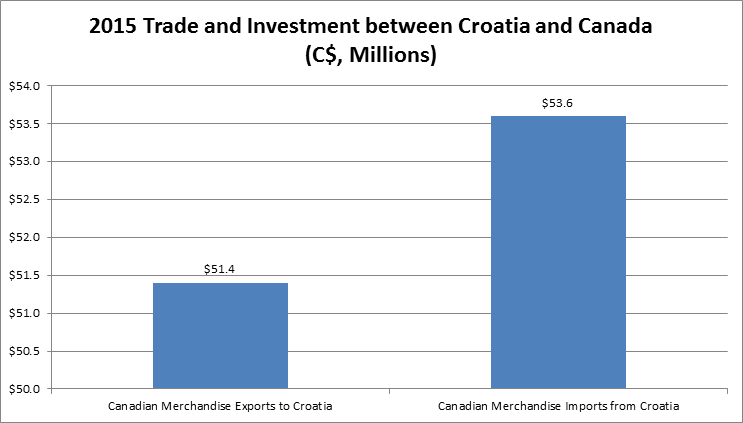 Source: Statistics Canada
Note: Data on Croatia-Canada service trade and bilateral investment is not available.
2015 Trade and Investment between Croatia and Canada (C$, Millions)

2015 Trade and Investment between Croatia and Canada (C$, Millions)

| Trade and Investment | (C$, Millions) |
| --- | --- |
| Canadian Merchandise Exports to Croatia | $51.4 |
| Canadian Merchandise Imports from Croatia | $53.6 |
Why Croatia Matters
Croatia is Canada's 23rd largest market in the EU (95th in the world) for merchandise exports.

Footnote

1
Croatia is the 22nd largest economy in the EU and has the third-lowest GDP per capita at 10,400 euros.

Footnote

2
In 2015, Canadian-Croatian bilateral trade amounted to $105 million.

Footnote

3
How to export to Croatia
Read the guide Exporting to the EU.
Sectoral Opportunities in Croatia
Education

Despite the downturn in the Croatian economy, students are investing more in their education in order to be competitive in the labour market. Opportunities exist for colleges offering post graduate certificates with access to co-op placements. Due to difficulties in finding jobs upon graduation many students select to continue with their education and gain international experience.
ICT

The ICT sector is one of the best sectors of the Croatian economy. The sector in Croatia employs over 22,000 people, with an additional 10,000 specialists employed in non-ICT companies. The sector has annual revenues of around $450 million and has grown by about 10% per year. Exports of software and IT services have also grown in the last two years by as much as 45%.
Life Sciences

The pharmaceutical sector in Croatia is one of the best performing industries in the country and could provide attractive trade and partnership opportunities. Pharmaceuticals are among the top trade items between Canada and Croatia. Canadian exports are nearly $933,000 and Croatian exports are $10 million. Challenges include the small size of the Croatian market and strong competition from Israeli, EU and US companies.
Oil & Gas

A key national policy priority for Croatia is the pursuit of greater energy security by building domestic capacity and attracting foreign investment across the energy mix, from development of its domestic resources to diversifying its gas import sources. Newly announced exploration and production opportunities in Central East European (CEE) markets, combined with decreasing international oil prices and the geopolitical challenges of traditional oil producing countries, have significantly increased the interest of Canadian Oil and Gas companies in low-cost, low-risk projects in the CEE region.
Contact
For more information on trade and investment opportunities in Croatia, contact your Trade Commissioner in Zagreb, Croatia.
Footnotes
Footnote 1

Footnote 2

Footnote 3

Footnote 4

Footnote 5