Selling via e-commerce in the U.K.
A custom report compiled by Euromonitor International for the High Commission of Canada in the United Kingdom
High Commission of Canada in the United Kingdom
March 2019
Prepared by: Stephen Kendall
+44 (0) 207 251 8024
www.euromonitor.com
1. Introduction
In recent decades, e-commerce has gained momentum as consumers transfer their spending to online channels. On the supply side, investment from Internet-focused companies, combined with sellers whose operations were developed by serving customers through physical channels, has resulted in extending choice to markets based in their own countries as well as overseas. As sales through traditional channels have stagnated, global revenues for Internet retailing have increased sharply.
The U.K. is the most advanced e-commerce market in Europe and presents entrants with a highly diverse environment that is quick to test out new businesses and approaches to Internet retailing. Revenues have grown by double digits in the last 5 years as this nation of online shoppers embraces the convenience provided by mobile access and the savings to be realized by sourcing products from other markets. Companies entering the U.K. market for e-commerce can expect to see continued growth as sales are forecast to rise by 44% in the next 5 years.
A long history of close relations between Canada and the U.K. has resulted in strong similarities in the 2 markets' legal systems and business cultures. Provisional application of the Comprehensive Economic and Trade Agreement (CETA)—a free trade agreement between Canada and the European Union (EU)—began in September 2017. CETA aims to eliminate the vast majority of non-farm tariffs over the course of several years. Although mid-term impacts of this deal on Canada-U.K. trade depend on the final terms of Brexit, the 2 countries have already been working actively to carry over the terms set out in CETA in the event the U.K. leaves the EU.
Canadian entrants can expect to find an overseas market in the U.K. that is ranked as one of the easiest in which to set up a business. The infrastructure for e-commerce is highly developed, providing excellent opportunities for shaping a fulfilment strategy that is most appropriate for the business and its customers. In recent years, Canadian businesses have succeeded in building strong positions in this market, and the U.K. government has placed a priority on future relations with Canada as it seeks to formulate a post-Brexit trading policy.
Canadian sellers aiming to move into the U.K. will discover a highly dynamic e-commerce market offering a range of opportunities. Market entry breaks down into 4 stages, starting with the business owner making an informed decision on whether to enter the market (Chart 1). This initial research phase consists of assessing the current size of the opportunity, getting to know the competitors in the space, identifying the specific customer niches for the product/service, and identifying the most effective and profitable online channels for reaching these target customers.
Chart 1: Stages of market entry where the Trade Commission Service can provide support
Stage 1: Making and informed decision
Stage 2: Plan operational aspects for market entry
Stage 3: Raise awareness with consumers
Stage 4: Continued relationships with businesses and consumers
After sellers have identified a clear opportunity for their offering in the U.K., the second step is to prime the operational aspects of the business in preparation for launch. The supply chain and logistics required for serving customers in an overseas market will require changes from systems designed to cater to domestic demand. Relationships with suppliers and inventory management should be assessed on their ability to scale up for increased sales. Developing storage, delivery and returns processes that are tailored to customers in the U.K. will require careful planning.
Once the business is ready for expansion, the next step is to form an effective strategy for raising awareness with prospective U.K. customers. Entrants should note that although U.K. shoppers are highly receptive to new entrants and novel ways of selling, domestic players and international companies have already established solid relationships with them. The market is also evolving at a fast pace—requiring businesses to continually update their offers and messaging.
As the business establishes a position, it needs to focus on 2 points: ensure it has a clear plan for building relationships with existing customers, and assess new opportunities for increasing revenues. Conducting ongoing assessments of the supply chain is a highly effective means of increasing profitability: logistics in the U.K. are highly advanced and provide excellent opportunities for cost-effective fulfilment.
The purpose of this report is to help identify how Canadian businesses can take advantage of the U.K. e-commerce market. The report will explain the country's e-commerce industry and its drivers as well as analyze opportunities, challenges and resources for success.
Throughout this report, we use the term "e-commerce", which refers to consumer purchases of goods online, such as through online marketplaces or via websites. B2B purchases are not included. Also not included are online purchases for services or subscriptions (such as payments of utilities, education, streaming services, etc.). The term "Internet retailing" is also used interchangeably with the term "e-commerce".
Image 1: Explanation of "e-commerce" definition used throughout the report
All e-commerce purchases:
Consumer purchases of goods online (included within this report)
B2B e-commerce purchases (not included within this report
Consumer purchases of services online (such as utilities, education, taxes, streaming services, etc.) (not included within this report).
2. Why the U.K. market
2.1 The U.K. is a large and fast-growing e-commerce market
The U.K. is the world's fifth largest economy by GDP and the most advanced market for Internet retailing in Europe. A long history of economic development, international trade and political stability has resulted in a highly developed and diversified economy. International companies and investors are also attracted by the U.K.'s high levels of transparency in conducting business, strong legal system and competitive taxation regime.
In Western Europe, the U.K. is the second largest consumer market. Disposable income per capita hit £20,936 (about Can$35,700) in 2018 after increasing 3.7% from the previous year (Chart 2). Despite a low level of economic growth—similar to levels in other advanced economies—household discretionary spending power is above average for the region and forecast to increase. A highly developed financial services market provides easy access to consumer credit, and U.K. consumers are very comfortable making payments with bank cards.
Text version

This figure shows a bar chart illustrating the value of annual per capita disposable income in the U.K. from 2018 to 2023.

| Year | (£) |
| --- | --- |
| 2018 | 20,936 |
| 2019 | 21,583 |
| 2020 | 22,254 |
| 2021 | 22,942 |
| 2022 | 23,676 |
| 2023 | 24,428 |
Source: Euromonitor International
The U.K.'s highly advanced environment for online business offers solid prospects for long-term growth in e-commerce. Although Brexit is creating disruption to operational aspects of doing business, major players in the Internet economy—led by the FAANG companies (Facebook, Apple, Amazon, Netflix, and Google)—are continuing to strengthen their presences and build consumer awareness. Connectivity rates are high, and a larger proportion of the population accesses the Internet than in the U.S. and Canada. Mobile usage has benefited from decades of industry investment: ASOS, a large U.K.-based pure-play online retailer, noted that, in 2018, 77% of total visits to its website were on mobile devices.Footnote 1 Consumers continue to be concerned about security, with 57% viewing desktops as a safer option compared to mobile for making purchases.Footnote 2.
86.1% Share of U.K. population accessing Internet daily (2018) Source: Euromonitor International
93% of British consumers aged 15 to 79 shop online, the highest proportion of consumers shopping online out of the 5 largest markets in Western Europe..Footnote 3 U.K. consumers are highly sophisticated in their online shopping habits and are quick to embrace new ways of acquiring products and services. Canadian market entrants should note that although this provides a welcoming environment for new players, online shoppers in the U.K. are also quick to drop existing services—placing a heavy emphasis on innovation and state-of-the-art customer experience.
Competition in the e-commerce market is a principal agent of change. Domestic retail champions—including Tesco, Marks & Spencer, John Lewis, Topshop and JD Sports—and European conglomerates (e.g. Aldi, Inditex and H&M) have ramped up investments in online operations, providing formidable competition for large retailers from other parts of the world. In the wider digital economy, local mobile and broadband operators are major players in online services and compete with global Internet giants in selected sectors. Vodafone was the U.K.'s most valuable brand in 2018, with British Telecom (BT) ranked at number 4.Footnote 4 At the other end of the spectrum, the U.K. generates over 1,000 start-ups each year, with retail comprising the largest area of activity. The upshot is that Canadian companies entering this market must form a detailed plan on identifying and building relationships with U.K. customers.
2.2 The U.K. is an attractive market for setting up business
The U.K. is made up of the 4 nations of England, Scotland, Wales and Northern Ireland. A long-term trend towards devolution has led to changes in political structure, with the creation of devolved administrations for Scotland, Wales and Northern IrelandFootnote 5. Setting up operations in any one place provides access to consumers across the U.K. and is comparatively straightforward.
According to the World Bank, the U.K. ranks number 9 on a global measurement for ease of doing business—one position behind the USFootnote 6. In terms of the simplicity in paying taxes, the World Bank ranks the U.K. as number 23—four places behind Canada. Corporate taxes have undergone major cuts, with the rate down 9 points over the last decade—from 28% in 2009 to 19% in 2019. The U.K. government has committed to a target of 17% in 2020.Footnote 7.
In considering how to access customers, new entrants are advised to focus their research on identifying both core locations and less heavily targeted pockets. The U.K. includes a global city in London—understandably among the first areas of focus for international companies. The country is highly urbanized, and digital and commercial infrastructure in other metropolitan centres are highly developed. At the end of 2018, Amazon announced that Manchester would be the first U.K. city outside London to host one of its corporate offices. Also that year, financial services leader Barclays unveiled plans to build a flagship hub in Glasgow to house 5,000 staff.
In terms of logistics, travel distances are relatively short as the U.K.'s total land mass is less than 40% of that of France's and only 2% of Canada's. As noted in Section 4.2.4, major investment in strategically positioned hubs for logistics has resulted in large-scale infrastructure in the centre of England; that said, the country's highly developed transport links provide easy access to all areas of the country with significant populations.
As noted, London receives a large amount of new business activity. The city boasts a diverse population along with high levels of spending and connectivity (see Section 2.4). In addition, London is a global financial hub and new businesses benefit from easier access to capital: in 2018, the capital and the surrounding South East region accounted for 57% of angel investors, with 43% of investment from this source flowing to these regions.Footnote 8 This area accounted for 44% of importer/exporter businesses, with the South West and North West next in the rankings.Footnote 9
At the same time, there are strong incentives for Canadian companies to consider other regions for setting up an operation. Commercial property and wages are much higher in London and the South East region relative to the rest of the U.K. For example, employee earnings in the City of London are double those for Birmingham and Glasgow.Footnote 10
Enterprise ZonesFootnote 11 are areas in England where the government provides incentives for businesses to open operations. Incentives include heavy discounts in business rates, tax relief on investments and support with local authority planning. The Scottish government has identified 4 Enterprise Areas: businesses operating in these activities can benefit from comparable levels of support to those provided by Enterprise Zones.Footnote 12 Equivalent programs are run by Business WalesFootnote 13 and Northern Ireland's Department for the Economy.Footnote 14 Local Enterprise Partnerships (LEPs) comprise areas where local authorities and enterprise leaders combine to provide support to businesses in the form of advice and access to funding. These initiatives all serve the purpose of attracting investment in areas outside London.
2.3 Impacts from Brexit
In June 2016, the U.K. voted to leave the EU in a referendum that the Conservative Party had committed to holding as part of its general election campaign in the previous year. The decision triggered the start of Brexit—a process representing one of the most fundamental changes in direction undertaken by an advanced economy in recent times. Brexit is expected to have deep, long-term impacts on the U.K.'s political, social and economic structure. Canadian companies should note that the full process of the U.K. redefining its status in relation to the EU is expected to be a lengthy one negotiated over many years.
A central component of EU membership is access and adherence to the Single Market, which is premised on enabling free movement of goods and servicesFootnote 15. At the time of preparing this report, the U.K.'s future access to the Single Market was still unclear. In the advent of leaving, businesses operating in the U.K. would face major regulatory and financial changes in doing business with countries inside the Single Market.
Article 45 of the Treaty on the Functioning of the European Union enshrines the free movement of workers. Assuming some form of Brexit takes place, changes in the current status are likely: for companies, a tangible impact would be tougher hurdles on immigration and social security in the case of the movement of employees from other parts of the EU to the U.K.
The Treaty of Maastricht includes the principle of the freedom of movement of capital. Prime Minister Theresa May's government has pursued an approach of maintaining this freedom,Footnote 16 and few subsequent governments are likely to shift from this direction. Although sustaining foreign direct investment (FDI) in the U.K. is a high priority, the Centre for Economic Performance at the London School of Economics reported an 11% decline in FDI by EU firms since the referendum, with little evidence of an uptick from other markets.Footnote 17
The impacts on business and the nature of a future trading relationship with the EU are dependent on agreements that were still to be formed at the time this report was prepared. In the current climate of uncertainty, businesses have taken steps to prepare for different outcomes in the immediate process of leaving the EU. In January 2019, Amazon sent an email to sellers on its marketplace that repeated the U.K. government's warning that a no-deal Brexit scenario could disrupt cross-border selling.Footnote 18 Individual logistics firms have secured additional authorizations (e.g. authorized economic operator status) to offset potential disruption from changes in border processes.Footnote 19 ASOS has increased investment in its EU distribution operations outside the U.K. It is notable that the level of preparations and specific measures undertaken widely varies across industries.
A trade association representing online and omnichannel trade—European eCommerce and Omni Channel Trade Association (EMOTA)—has warned that SMEs are likely to see the greatest challenges from changes to border processes. EMOTA advises international e-commerce sellers conducting cross-border business with the U.K. to pay special attention to delivery and returns processes.Footnote 20 Companies are advised to monitor periods around key dates in the Brexit process and plan for potential disruption in supply chains. Sellers using online marketplaces and e-commerce platforms are advised to check for announcements from their providers on impacts during these periods.
---

"It is infinitely easier to sell in the U.K. market if raw materials are sourced in the U.K. We've been advised that the situation with imports and duties can be assumed to be the first issues to impact businesses operating in the U.K. post-Brexit. Warehousing and sourcing within the country are essential in order to minimize the threat—or at least an agreement with a marketplace player that has an established physical presence in the market."

---
2.4 Finding your niche in the diverse U.K. market
The U.K. is one of the first markets that businesses consider when expanding internationally. At the root of this interest is a highly diverse population in a limited geographical area. Over 14% of the U.K. population was born in another country and London alone counts more than 3.4 million migrants.Footnote 21 Cultural diversity is complemented by further groupings in terms of demographics. Product and service launches, therefore, will benefit from careful identification of the consumers that will constitute the company's first customers.
Age
The U.K. presents a wide range of customers for Canadian companies to sell to. One way of prioritizing is to link products and services to specific demographics. Businesses focusing on areas such as fashion, communications, technology and entertainment view young adults and adults in their thirties and forties in the U.K. as core opportunities. Younger consumers are quick to adopt new goods and services—and also to spread awareness through word of mouth and social channels. Close to a third of Snapchat users in the U.K. are aged 18 to 24 years.Footnote 22 This demographic is also leading the overall shift from purchasing in physical outlets to buying online. At the other end of the spectrum, opportunities that serve older customers are frequently overlooked by e-commerce start-ups. Although the proportion of people buying online scales down with age, this is less marked in the U.K—where the majority of 65 to 79 year-olds use e-commerce—than in other EU countries.Footnote 23
Income
The link between wealth and connectivity is evident in the U.K. and a self-reinforcing pattern: digital skills are worth £13,000 (Can$22,000) a year to employed adults in terms of earning potential.Footnote 24 Affluent consumers are much quicker to adopt latest trends in e-commerce such as subscription services (see Section 5.3).Footnote 25 As noted above, older segments are under-served by e-commerce and this is particularly detrimental to suppliers of luxury items and high-end services. The significance of this market is underscored by the insight that the 65+ age band accounts for by far the biggest share of consumers in the top annual income band of over £250,000 (Can$429,000).
Urbanization
The U.K. is well suited to setting up e-commerce operations, with high levels of urbanization and a comparatively small geographical area. In contrast, Canadian businesses entering the market will find wide disparities in terms of income level, connectivity and commercial infrastructure. As a region, London's average per-household spending is close to US$80,000 (Can$108,000) while other major metropolitan cities such as Manchester, Liverbook and Birmingham average around US$50,000 to US$60,000 (Can$66,000 to Can$79,000). Internet usage is also higher and more frequent in London (93%) and the South East (92%); by comparison, 86% of the population in Northern Ireland accessed the Internet in 2018.Footnote 26 Payment infrastructure is most developed in major urban areas: London again leads the way and was one of the first regions to see widespread availability of digital proximity payments. Investment by financial services, infrastructure (e.g. Transport for London), and commercial enterprises have contributed to strong investment in payment technologies in the U.K.'s capital.
83% Share of U.K. urban population (2018)
Source: Euromonitor International
2.5 E-commerce continues to grow by double digits
The U.K. is the fourth largest e-commerce market in the world and the largest in Europe (Chart 3). Revenues displayed double-digit increases year on year as U.K. shoppers turn online for purchases and retailers increase investments in building up operations.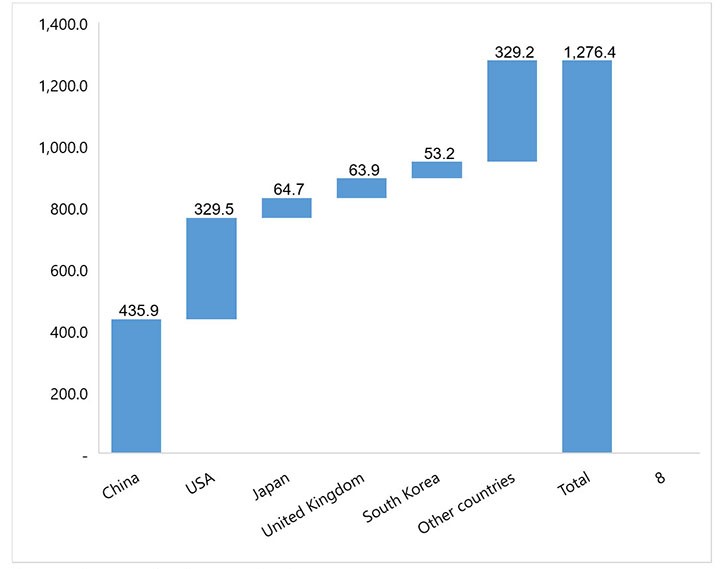 Text version

This figure shows a bar chart illustrating the largest e-commerce markets in the world in 2018

| Country | (£ billion) |
| --- | --- |
| Total | 1 276,4 |
| China | 435,9 |
| USA | 329,5 |
| Japan | 64,7 |
| United Kingdom | 63,9 |
| South Korea | 53,2 |
| Other countries | 329,2 |
Source: Euromonitor International
Cross-border shopping gains in importance each year and includes sourcing from markets outside the EU. Two thirds of the population purchase from other countries—motivated first and foremost by lower prices.Footnote 27 Shopping using a mobile device has also expanded dramatically, with the share of mobile Internet retailing rising from under a third to over half of total sales in 2018 (Chart 4). Smartphones have been pivotal in extending the opportunities for purchasing when consumers are outside the home.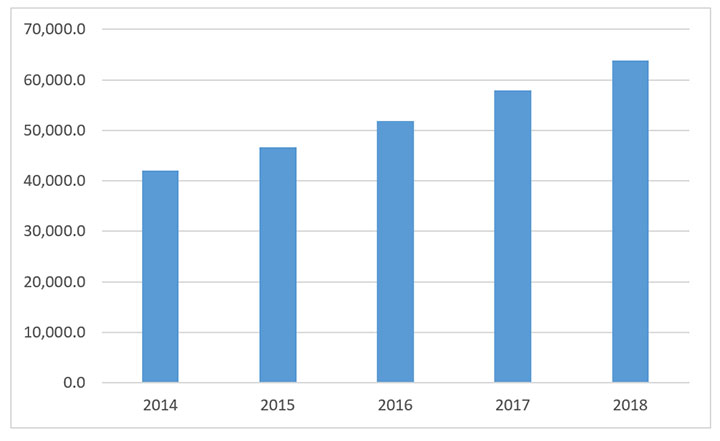 Text version

This figure presents a bar chart illustrating the Internet retailing sales in the U.K. in million pounds from 2014 to 2018.

| Year | (£ million) |
| --- | --- |
| 2014 | 42,029 |
| 2015 | 46,653 |
| 2016 | 51,831 |
| 2017 | 57,974 |
| 2018 | 63,887 |
Source: Euromonitor International
The apparel and footwear sector has been decisive in driving the overall e-commerce market in the U.K. (Table 1). Growth in this sector has been fuelled by the emergence of online players such as ASOS and Net-a-Porter. Canadian market entrants should note that the widespread popularity of purchasing clothing online has reinforced U.K. online shoppers' expectations of free and convenient returns processes. Price competition has been accelerated by online retailers that focus on offering designer wear at low prices (e.g. Get The Label). Food and drink is also a key sector: major supermarket chains have ramped up investments in online to fend off competition from pure-play Internet retailers (e.g. Ocado).
Table 1: Leading retailing categories via Internet sales 2018

| Retailing category | Value (£ million) | Share of total Internet retailing |
| --- | --- | --- |
| Apparel and footwear | 9,135 | 14% |
| Food and drink | 7,599 | 12% |
| Media products | 6,356 | 10% |
| Consumer electronics | 4,944 | 8% |
| Homewares and home furnishings | 3,039 | 5% |
Source: Euromonitor International
Market analysis: Key takeaways
Is there demand for your product in the U.K.?
What does your target "niche" look like, and will it be the same in the U.K. as it is in Canada?
Is your product accessible via U.K. online channels?
3. Understanding the U.K. market
Canadian companies approaching the U.K. e-commerce market for the first time should build an understanding of the operating environment on the ground and identify how processes differ from those used for supplying domestic demand. Although an increase in cross-border selling has led to the development of a global market, expectations on pricing and expected levels of service are set by local conditions, including the options provided by competitors via retail outlets and through online channels. The level of activity in the U.K. e-commerce market results in continuous innovations in how products are sold and in service levels. This means that new entrants must be vigilant in adapting to changing conditions and undertaking improvements to their business proposition.
---

"Price comparison websites and aggregators are a particular favourite of U.K. consumers—especially for financial instruments and travel."

---
The convenience that online channels provide over other forms of purchasing has led to the rapid growth of e-commerce. Connectivity on the move—which dates from Apple's launch of the iPhone—has had a profound impact on shopping: today, over half of total online sales are made through a mobile device. Mobile device usage is extending into previously untapped demographics, notably among people over 55. Smartphones are used with high frequency and 45% of U.K. consumers report that they check their handsets constantly.Footnote 28 This widespread and continuous connectivity is giving rise to opportunities for purchasing when users conduct other activities, such as watching TV at home and commuting.
Canadian companies are advised to conduct an analysis of U.K. shoppers' expectations regarding delivery and returns. The majority of the U.K. population is distributed over a small geographical area and infrastructure is highly developed. Next-day or same-day delivery are a given and the emergence of "click and collect" has provided a highly convenient alternative to home delivery. Start-ups should pay special attention to returns. U.K. consumers have developed a reputation for ordering and returning products that has been reinforced by habits formed when shopping for fashion. In the case of distributing from inventory held overseas, an important question to address for companies is whether unwanted products have to be returned to Canada.
As consumers become increasingly connected, opinions on brands and online reviews are widely shared. New entrants should prioritize acquiring positive reviews from local customers as this is critical to gaining a foothold. As would be expected, younger age groups are the most engaged, with under-21-year-olds spending 22% of their time on mobile phones using social media. Across all age groups, 63% of the online population in the U.K. report that they turn to other people's views.Footnote 29 In addition to increasing the need for delivering high levels of service, the culture for engaging with social media and sharing opinions creates excellent opportunities for increasing the profile of brands and their offerings.
---

"Peer reviews are crucial to success in the U.K. e-commerce market, especially in online marketplaces. We have seen that consumers use these reviews as their primary source of their pre-purchase research. The strength of online marketplaces in the U.K. has only strengthened this."

---
3.1 Market drivers
3.1.1 Technology
The digital landscape and related services are highly developed, with the U.K. ranking in the vanguard of European countries for e-commerce. Both local players and global leaders have prioritized the U.K. in their investments and the market continues to benefit from the early introduction of innovations in technology and services. On a regional level, the U.K. is narrowly behind the Nordics and Switzerland in Euromonitor's Digital Connectivity Index.
Over the past 2 decades, the networks that provide the foundation for connected lifestyles in the U.K. have been regularly upgraded. Competition in the telecom sector has helped to give rise to vibrant mobile and broadband ecosystems. Mobile infrastructure is entering the next phase of innovation, with EE's 5G roll-outs in 6 cities during the middle of 2019.Footnote 30 Close to 100% of the country is covered by 3G and 4G is expected to reach 95% by 2020. Broadband infrastructure has benefited from investments in fibre- and DOCSIS-based high-speed networks by BT, Sky, TalkTalk and Virgin Media. Ofcom reported that superfast broadband coverage hit 94% of homes and businesses in 2018.Footnote 31 For consumers with access to both fibre and 5G networks, experiences as devices move between the 2 will be seamless and invisible.
The inexorable rise of smartphones since the Apple iPhone launch in 2007 has instilled a reliance on access to handsets at all times. As shown in Chart 5, tablet penetration has stalled at under 60% of U.K. homes—but still accounts for over 10% of time spent online when at home.Footnote 32 The response of online service providers and app developers to the proliferation of devices in U.K. households is to default to building responsive experiences and planning for multi-screen usage when users are at home. From the perspective of a retailer or e-commerce business, this landscape dictates providing a consistent experience and adopting a fully integrated approach to marketing, payments, customer care and other core functions.
Text version

This figure shows a bar chart illustrating the percentage of households in the United Kingdom that possess mobile telephone, personal computer, laptop, smart phone and tablet between 2013 and 2018.

| Category | Unit | 2013 | 2014 | 2015 | 2016 | 2017 | 2018 |
| --- | --- | --- | --- | --- | --- | --- | --- |
| Possession of Mobile Telephone | % of households | 92% | 94% | 95% | 95% | 95,9% | 96,6% |
| Possession of Personal Computer | % of households | 88,2% | 89% | 89,9% | 89,8% | 92% | 92,5% |
| Possession of Laptop | % of households | 64,7% | 68,6% | 72,5% | 76,1% | 79,4% | 82,3% |
| Possession of Smart Phone | % of households | 51% | 61% | 66% | 71% | 76% | 78% |
| Possession of Tablet | % of households | 24% | 44% | 54% | 59% | 58% | 58% |
Source: Euromonitor International
The advance of technological infrastructure and device ownership has progressed in tandem with the rise of use-cases for the Internet. Online shopping appeared in the first wave of Internet services in the 1990s. The U.K. was Facebook's second national market after the U.S., accelerating the usage of social media by both consumers and companies. Streaming media services were also early to appear in the U.K., with the launch of the BBC iPlayer in 2007; the addition of Netflix and Amazon Prime Video has helped to embed these services into the daily routines of households. In 2016, Amazon's Echo device was high on holiday shopping lists following its U.K. launch and has subsequently helped to spur voice-driven commerce.Footnote 33 The following year, the U.K. was one of Vodafone's launch markets for its V by Vodafone products—a range of Internet of Things (IoT) devices aimed directly at consumers.Footnote 34
---

"In contrast to the global trend, women are more likely to own a voice-activated AI device in the U.K."

---
3.1.2 Consumer demand
Technology infrastructure—and the services that are built on it—have created the basis for a vibrant e-commerce market in the U.K. However, growth is driven as much by what consumers gain from turning to online channels. At the top of the list, price is (unsurprisingly) a core driver for choosing to purchase through the Internet (Table 2). As the results from Euromonitor's 2018 Global Consumer Trends Survey below indicate, factors related to convenience and choice also provide strong motivations for going online. Improving options for the receipt of products and offering brands that are unavailable (or more expensive) through other channels will determine the success of an e-commerce business.
Table 2: Reasons consumers buy products online (global)

| Reason | Percentage |
| --- | --- |
| Best price | 45.0% |
| Time savings | 40.6% |
| Free shipping | 38.0% |
| Ability to order at any time, from anywhere | 35.9% |
| Variety of brands | 27.6% |
| Ability to buy products/brands not available in the local market | 26.1% |
Price
Around the world, the emergence of e-commerce has been fuelled by shoppers' ability to compare prices ahead of purchasing. There will be no surprise on the role that price plays in e-commerce—but businesses should note that the requirement to provide value for money also extends to delivery. Surveys both at a global level and in the U.K. underline the mounting expectation among online shoppers that delivery should be free. This backs up eBay's push to extend free delivery to more items (see Section 4.1.2) and has resulted in major retailers cutting the minimum spending level required for products to be delivered at no additional cost.
Consumer motivations to purchase at lower prices have resulted in fundamental shifts in the retailing landscape. A preoccupation with discounts has led to more frequent sales periods during the year and put Black Friday and Cyber Monday at the centre of the U.K. retail calendar. Since Amazon established Black Friday as an event in the U.K., businesses have had little choice in offering deals as over 97% of products purchased on the day are discounted.Footnote 35
Cross-border shopping—which is largely motivated by the search for lower prices—is becoming a mainstream activity, with 38% of U.K. shoppers sourcing purchases from overseas. As a benchmark, U.K. consumers are more likely than their U.S. counterparts to turn to sellers abroad.Footnote 36 Although this trend holds promise for Canadian companies selling into the U.K., businesses should note that trading on price exclusively will place them in direct competition with sellers in low-cost markets.
Convenience
Convenience underlines many of the most conspicuous developments in e-commerce. It explains the fast take-up of paying subscriptions related to delivery: services such as Amazon Prime are now used by 29% of U.K. consumers. Convenience is also an important motivation for the adoption of subscription boxes (see Section 5.3)—providers of boxes related to consumables tend to emphasize these benefits in marketing. Two reasons for the predominance of purchasing on a mobile phone are the speed and ease associated with shopping on such a device.Footnote 37
Sellers are advised to continually focus on improving convenience for customers when it comes to the design and features of sales portals and other online channels. In terms of user experience, this translates into keeping the design simple—and striving for clarity and order in the presentation of information. As audience types have different requirements, it is important to learn what works with specific customers. This in turn relies on a cycle of continuous measurement and optimization (see Section 6.1). Two points that will ease the process for any customer are to make contact details (e.g. for customer-care channels) easily accessible and to minimize the steps required when making a purchase.
---

"Merchants should aim for a feel-good experience from selecting items to the payments page. Most major brands will distinguish themselves on the experience rather than products by 2020."

---
Sellers should note that the user experience extends beyond pressing the "Buy" button: small details such as emailing a receipt to users and providing labels in shipments for easy returns are great ways to make life easier for customers and so improve retention. ASOS has a track record of setting standards in user experience for e-commerce. Among smaller operations, the U.K. accessories company Kgomo's website is an example of a highly visual experience that keeps discovery and purchase processes simple.Footnote 38 Rave Coffee's attention to convenience is demonstrated in the simple cancellation process for its coffee club service.
Variety
The range of offerings provided by the Internet is cited as a pivotal reason for opting to purchase online by over half of U.K. customers.Footnote 39 Shoppers are no longer restricted to their geographical location when purchasing: access to products that are unavailable in the domestic market motivate over half of cross-border shoppers around the world to buy from companies based abroad.Footnote 40 Dealing with consumer demand for variety and novelty creates a challenge for companies. But more importantly, it also provides opportunities.
Companies that opt to provide a comprehensive range of products face a challenge of how to present choice to users on online channels—even when limited to a specific category. As with optimizing for convenience, this challenge requires close attention to the user experience. Scottish tea supplier Jenier World of Teas has simplified navigation on its website through logical categorization of a wide range of products.Footnote 41 On the back end, inventory management systems aim to simplify the logistical challenges of supporting diverse product ranges and are available through both e-commerce platform providers (e.g., Shopify, BigCommerce) and specialist companies (e.g. Orderhive).
One of the more successful approaches to profiting from demand for variety is to concentrate on under-served niches. Gluten-free food is an example of a category where suppliers have benefited from an emerging niche. Specialist confectionery supplier KIND Healthy Snacks recognized this opportunity early on and is now a global brand with over 500 employees. In cases where a category is already heavily served, one option for start-ups is to pair multiple niches or focus on a micro-niche within the category (e.g., dairy-free foods for older demographics).
This process of identifying niches finds its ultimate manifestation in the aspiration to treat each customer as an individual. Personalization has long been the stated goal of many leaders when designing and optimizing their online channels. In commercial terms, this is evident in the move to allow customers to personalize or completely specify a product. For example, the U.K. home furnishings e-commerce company MADE.com, founded in 2010, accelerated the trend in this sector of leaving the choice of colour, materials and size of items to the customer.
3.1.3 Competition
Internet retailing is a highly competitive space in the U.K., with 3 forces at play:
The combined market share of Amazon and eBay is increasing at an average rate of 1-2 points each year.
Major retailers that started as brick-and-mortar outlets are maintaining the shift of their businesses online.
The appearance of new entrants and start-ups continues to add choice and variety to the e-commerce landscape.
Leading U.K. retailers are struggling with the paradox of consumers shifting to the Internet, on the one hand, and obtaining lower margins for their online activities on the other. Investment by these companies is ramping up as management has little option except to follow demand. The John Lewis Partnership—which includes supermarket chain Waitrose and John Lewis department stores—reported in early 2019 that gross margins were "under pressure" despite a surge in online sales.Footnote 42 Clothing retailers Next Plc and River Island have both invested in online amid faltering overall performance. Expertise in e-commerce has its own value, as was underlined by the 5% stake taken in Ocado by U.S. retailer Kroger in May 2018.
Recent entrants to the U.K. e-commerce market include online wine sales portal Elicite.com and a new transactional website from Manchester start-up I Love Cosmetics. Major brands and suppliers are also bolstering their e-commerce activities. Chanel selected the U.K. as an initial market for eyewear sales through its website in July 2018, and U.S. industrial supplier Grainger Inc. targeted local businesses with the debut of Zoro.co.uk earlier in the year. Eye-care specialist Bausch + Lomb extended its direct-to-consumer (D2C) activities with the launch of its U.K. e-commerce site in January 2018.
96.1% Share of U.K. population using the Internet (2018) Source: Euromonitor International
3.2 Evolution of digital consumers
Combined digital purchases through mobile and wearable devices are on the point of exceeding PC digital purchases in the U.K. This underlines the emergence of ubiquitous connectivity when on the move—both inside the home, and out and about. Consumer use of smartphones as part of activities—including commuting, shopping, and socializing—is having profound effects. Brick-and-mortar outlets are feeling the impact on price margins as customers compare prices with online channels while in-store. In contrast, online companies and start-ups use physical location to raise awareness with shoppers on the move. Amazon's acquisition of Whole Foods Market in 2017 was the highest-profile example of the former. At the other end of the spectrum, U.S. start-up Milk Makeup kicked off 2019 with a pop-up store in London's Covent Garden.
Brands and retailers are making early explorations into how wearables can help in generating demand and facilitating purchases. In 2018, fast-moving consumer goods (FMCG) leader L'Oréal unveiled a UV sensor to monitor exposure to the sun and use the data to trigger expert tips and recommendations on product purchases.Footnote 43 The U.K.-based credit card company Barclaycard has seeded wearable payments with its bPay technology.
In 2018, Barclaycard reported that wearable payments in the U.K. increased by 129% over the previous year.Footnote 44
Table 3: U.K. digital purchases by device (% of total purchases) 2018/2022

| Device | Share in 2018 | Share in 2022 | Change in share (p.p.) |
| --- | --- | --- | --- |
| Mobile phone | 29% | 45% | +16 |
| PC | 50% | 36% | –14 |
| Tablet | 21% | 18% | –2 |
| Wearable | 0.1% | 0.4% | +0.3 |
Source: Euromonitor International
A unified platform that delivers an integrated experience across all channels will mark out the companies that are best positioned to thrive. In this respect, new entrants hold an advantage as they are unencumbered by the internal silos that hold back more mature businesses. New business owners will benefit from carefully co-ordinating operations as their companies expand. Targeted use of AI can assist companies to better serve their customers: U.K. start-up Thread integrates machine learning into its personal shopping service to strengthen recommendations.
Case study: Mobile reshapes the Internet retailing landscape
In an interview with one of the leading payment processors in the U.K., the company underlined the emergence of mobile as the most important channel for online commerce by detailing how this trend is shaping ways U.K. consumers pay for their purchases. Cloud-based payment services are one method benefiting from this shift. From a consumer perspective, one of the advantages—and incentives—of using a single platform rather than multiple apps for making mobile purchases on a device is that it reduces battery drain.
Leaders in the U.K. e-commerce space continuously evolve their mobile channels with the aim of benefiting from the ubiquity of smartphones and tablets in purchasing. ASOS was one of the first major players to introduce a card scanner into its mobile app.
The inability to provide a competitive mobile commerce offering is often linked with financial difficulties faced by several retailing giants. Smaller retailers and independents have also been hit by slow investment in in-store technology for processing proximity payments through services such as Apple Pay and Zapp. In selecting both online and offline partners, vendors are advised to pay particular note to the commitment that these companies have made to catering to the emerging dominance of mobile commerce.
3.3 Digital consumers and your brand
Companies can respond to ubiquitous connectivity by providing information at each point of the purchasing cycle—from communications about new offerings, to enabling payment through mobile devices, to building relationships with post-purchase communications. Part of the process is thinking beyond channels as sales portals and treating them as points to engage with consumers and represent the brand. The ongoing relationship with the customer is often overlooked, but increasing loyalty is the top priority of U.K. retailers. Start-ups quickly come to realize that increasing retention of existing customers is the difference between make or break.
Creating these types of long-lasting relationships with customers depends on several factors. Building a detailed understanding of interests and preferences is fundamental—and this in turn is founded on best use of customer data. Implementing measurement tools and processing information from online channels is only part of the process of acquiring data. Supplementary approaches—such as leveraging data from location tools and using event management software to record customer details—help to build up a detailed profile of customers.
Partnerships to share data are another rich source of insight. These may take the form of collaborations with brands, retailers, agencies or data specialists. Companies should aim to identify partners with a close fit in terms of sector and/or target customers. As with other partnerships, the core element in fostering relations is building trust through transparency. Regulation is also a priority—adherence to General Data Protection Regulation (GDPR) tops the list (see Section 4.2.3)—and close attention to observing best practices in data governance will both strengthen partnerships and safeguard the company. If executed correctly, data partnerships can enable strategies such as retargeting for online marketing, which in turn saves on costs.
Data governance policies have gained importance in recent years, with interventions by the U.K. Information Commissioner's Office (ICO) and other regulatory bodies. Consumer awareness on this issue was heightened in the U.K. following the investigation into Cambridge Analytica and the subsequent fining of Facebook in 2018.Footnote 45
The data governance process starts with creating a data governance framework that takes account of U.K. /European regulation and is tailored to the size of the business. As organizations expand, they add in-house expertise for this. In earlier stages, newer start-ups should check with organizations such as the Office of the Privacy Commissioner of Canada (OPC)Footnote 46 and the U.K.'s ICOFootnote 47 for assistance.
Performing detailed analysis of data collected from multiple sources is the next step in leveraging data to better serve customers. This will reveal what works in core business functions: in a survey conducted by SEMrush, analysis revealed the keywords and phrases that most often feature in ads. A specific insight was that consumer spending per order increased 30% when free delivery was offered.Footnote 48 Putting together unified insights requires consideration in advance of how to store and access data. Beyond insights, companies can also close the loop by benefiting from machine learning solutions aimed at optimizing digital channels and enhancing business processes.
Key takeaways: Understanding the U.K. market
Is your product discoverable on the Internet-enabled devices and platforms that target U.K. consumers use most, such as mobile phones?
Does your product stand out? Does it offer a value proposition that will attract consumers in a crowded market (or encourage consumers to try a new product)?
Is your product appropriately priced considering what competitors' prices are?
How do you plan to connect with consumers online?
How will you integrate online and offline experiences that consumers have with your brand and product?
4. Entering the U.K. market
4.1 Choosing an online channel
The e-commerce landscape in the U.K. is highly developed and prompts Canadian companies entering the market to define an online channel strategy. Selecting the most suitable channels should be determined by the company's business model, the positioning of products and the channel habits of key customers.
At a high level, the options are to supply retailer websites, sell through an online marketplace and create an online sales portal (see Chart 6). Canadian sellers just getting started in e-commerce will find that online marketplaces hold many advantages. A preference for this channel among customers is on the rise with U.K. shoppers and levels of trust in these platforms stood at 88% in 2018.Footnote 49 Online marketplaces also provide sellers with the benefit of selecting the level of operational support appropriate to their needs. The dynamic retailing landscape in the U.K. provides a host of potential partners for companies pursuing a B2B business model. While a website is a requirement for most businesses, opting to build a fully featured sales portal is a specific challenge that requires careful consideration of a company's ability to deliver a great customer experience.
Channel opportunities for Canadian companies in U.K. e-commerce
Canadian companies can channel opportunities in the U.K. e-commerce market through retailer websites, online marketplaces and own sales portals.
Adding your product to a retailer's inventory
Canadian market entrants have the option of registering as suppliers to Internet retail companies operating in the U.K. A key consideration is that companies pursuing this strategy will frequently find they are the smaller partner in the relationship. Large retailers play a major role in the e-commerce landscape, and the top 10 companies in this group include household names such as Tesco, John Lewis and Marks & Spencer. As a result, relationships with suppliers are either an extension of agreements relating to physical locations or a close approximation.
Brands typically decide to work with online retailers based on the following criteria, in order of importance:
brand/retailer fit
distribution network
delivery and customer service
favourable terms
E-commerce marketplace
Cultural differences are apparent when dealing with pure-play online players: firms such as Ocado, a U.K. online supermarket, and ASOS are newer enterprises and do not have the strict shelf-space physical limitation facing brick-and-mortar retailers. The attractions of targeting these businesses are increased as retailers with physical presences struggle to compete with pure-play rivals and face questions over their future viability. At the same time, these firms are also billion-pound businesses and will have a clear idea on what they expect from suppliers.
In practice, establishing a role as a supplier requires an investment in building relationships with buyers and understanding the retailer's requirements on all areas from packaging to delivery. Retailers will present detailed policies to their suppliers, which in some cases will include penalties for failure to meet conditions. Although the challenges facing small companies and start-ups opting for this channel are high, companies should note that both main-street retailers and pure-play operations have turned to seeking out smaller suppliers as a way of differentiating their lines in recent years.
Selling on an online marketplace
Online marketplaces are third-party-owned portals where sellers or partners register to distribute products and services using the provider's digital platforms and operational services. Sellers create profiles—and in most cases branded areas—before featuring products and preparing listings for purchases by marketplace customers. Online marketplaces are a well-established channel for U.K. shoppers. Global leaders such as Amazon and eBay have been followed by numerous EU and U.K.-based marketplaces (e.g. ASOS, OnBuy, Notonthehighstreet, Zalando), and the sector is one of the fastest-evolving areas in Internet retailing. Canadian companies are advised to survey the business terms and benefits offered by different marketplaces before selecting a platform.
Consumers are gaining confidence in buying from online marketplaces, due to the growing prominence of some of these operations, improved delivery of goods, and the offer of full refunds for unwanted and undelivered products. On the seller side, competition between marketplaces has led to lower fees and increased support. Platforms have also invested in streamlining setting-up processes and offering an array of services to cover basic functions such as fulfilment and processing payments. Amazon Marketplace, for example, has evolved an ecosystem of partners to support sellers with operational aspects of retailing.
Prospective sellers should note that although marketplaces are an easy channel to get started with, selling on them requires a commitment: sellers need to manage their presence, research competitors, monitor sales and take care of returns. Marketplaces such as ASOS also stipulate conditions partners are required to meet, such as, for example, maintaining a minimum stock of 15 to 20 product styles at any one time and maintaining a high standard of marketing (like product photographs).
In the U.K., a popular strategy among leading brick-and-mortar retailers of adding marketplaces to their online operations has seen a notable reversal: Tesco cited competition from Amazon and eBay as the reason it closed its marketplaces in 2018.Footnote 50 Halfords, an outdoor equipment store, also discontinued its marketplace earlier in the year. Sellers are advised to assess the commercial viability and commitment of marketplaces as setting up a presence involves an investment in time and resources. An additional consideration when choosing a partner is the potential competition resulting from a platform offering its own products and services. The sector is composed of players that distribute their own inventory (e.g. ASOS) and companies focusing solely on providing a platform (e.g. eBay, OnBuy).
Creating your own online sales portal
Companies aiming to set up their own sales portal face a sliding scale of options, from building a custom website from the ground up to using an e-commerce platform. The approach taken should be determined by the availability of in-house web development resources. Website builder services and e-commerce platforms provide the benefits of allowing business owners to dedicate time to other core functions during the launch phase. GoDaddy, Squarespace and Wix are popular website builder services with e-commerce templates. BigCommerce, Magento (now owned by Adobe), and Canadian-owned Shopify focus on e-commerce platforms and host the sites of S&P 500 companies as well as SMEs.
Factors that influence customer preferences for selecting and online retailer include primarily:
look and feel of the website
fast deliveries
ease of use
availability of a mobile app
Leading EU e-commerce player
Business owners should consider how the front-end website will integrate with back-end operations and other services. Companies that have existing commitments on logistics and payment processing (see Section 4.2)—or plans for these—are advised to assess integration costs before proceeding with a front end. According to interviews for this report, in most cases services provide APIs (application programming interfaces) and plug-ins to facilitate integration, but this still requires developer skills. Easy integrations are one of the strongest motivations for selecting a website builder or e-commerce platform.
Two dimensions that rapidly gain importance are the ability to conduct ongoing maintenance and the prospect of mid-term growth. Managing an online sales portal constitutes a daily commitment in time and expense: a poor experience will quickly impact on the brand. Companies are advised to assess expectations from the online sales portal beyond the launch phase. Companies opting for a website builder or e-commerce platform should consider the ability for their portal to add features as the business scales; switching platform providers at a later stage is a costly exercise. When opting for a website built exclusively using in-house resources, the challenge of retaining developers quickly becomes a reality and business owners should develop contingency plans in the event of losing expertise. Companies with operations in the U.K. should make special allowance for the impact of Brexit as EU citizens account for 1 in 6 hires by software development companies.Footnote 51
Combining online channels
In the launch phase, start-ups and smaller operations may opt to focus on a single channel. Most larger companies move away from reliance on one route to market and increase customers by developing a multi-channel strategy. In the case of smaller players commencing operations with a presence on an online marketplace, migrating this customer base to other online channels such as a proprietary sales portal represents a tough challenge.
As businesses add sales channels, the ability to deliver a great customer experience should be as important as increasing customer reach. Businesses oriented to supplying retail partners will face new challenges when selling directly to customers. A fast and easy way to resource the functions of fulfilment, payment processing and handling returns is by using services such as Fulfilment by Amazon (FBA). Amazon has a highly developed logistics operation in the U.K. that includes warehousing, flexible shipping and integration with e-commerce platforms. Shopify Plus also provides support for fulfilment and offers a solution to managing sales across multiple channels.
In line with markets across Western Europe and North America, Amazon and eBay are extending their leadership in the U.K. e-commerce market (Chart 7). This has benefited marketplace sellers: products from third-party merchants constitute a third of total Internet retailing revenues. Investments by major domestic retail companies in online operations have helped to establish their presences in domestic e-commerce, but competitive pressures are growing for both their Internet and brick-and-mortar activities.
Text version

This figure shows a bar chart illustrating the brand shares, in percentage, of top brands in Internet retailing in the U.K. in 2018

| Brand | Share |
| --- | --- |
| 3rd Party Merchants - Amazon | 21% |
| 3rd Party Merchants - eBay | 11% |
| Amazon (Amazon.com Inc) | 9.9% |
| Tesco (Tesco Plc) | 6.1% |
| Argos (J Sainsbury Plc) | 3.5% |
| John Lewis (John Lewis Partnership Plc) | 3.1% |
*"3rd party merchants" are independent merchants selling via the relevant online marketplace
Source: Euromonitor International
Case study: Starting with marketplaces to enter U.K. market
According to Original Wave, a company that helps Canadian brand BN3TH operate in the U.K. e-commerce market, online marketplaces are the best entry point for smaller brands, given the popularity of these marketplaces with U.K. consumers.
Online marketplaces have a captive audience and are popular with consumers, making them the perfect launchpad for smaller companies looking to quickly enter the market. While this can be challenging because of the sheer number of competitors, marketplaces often offer the infrastructure and logistics to make market entry operations easier.
Marketplaces open the door, allowing U.K. consumers to get to know your brand. Once consumers have accepted your brand through the marketplace, you may see a need to create a branded online platform for your products.
Finally, once your brand has built its place and is generating U.K. revenues, you can turn towards retailers. Because you have proven sales via marketplaces and your own website, you are in a better position to negotiate terms with the retailer than if you went directly to them first.
4.1.1 Channel profile: Amazon
Amazon is the world's largest e-commerce operation and the second company after Apple to attain a US$1 trillion valuation. Amazon invests heavily in customer experience and was ranked number 1 in the U.K. Customer Satisfaction Index in 2018.Footnote 52 The U.K. was one of the first markets for Amazon outside the U.S., with operations starting in October 1998. Amazon's total share of U.K. Internet retailing exceeded 31% in 2018, with over two thirds of this accounted for by third-party sellers.
Setting up to sell
Canadian businesses and individuals have 2 ways to approach selling on Amazon. Partners that register as vendors sell through Amazon in the same way as they would through other large retailers. The second option is to set up as a merchant on Amazon Marketplace. The Amazon Marketplace platform is aimed at helping companies sell their products to customers based both in domestic and international markets. Canada and the U.K. host 2 of Amazon's 12 Marketplaces, with the latter accounting for close to 6.4% of Amazon's total Marketplace sales in 2017.Footnote 53 The company has a dedicated Global Selling program that focuses on helping smaller partners to target overseas markets. In 2017, Amazon reported that a quarter of third-party sales were cross-border sales by SMBs.Footnote 54 Companies aiming to sell through EU-specific marketplaces can either opt to focus on the U.K. website or automatically target all 5 Amazon European Marketplaces at no additional cost.
Amazon offers 2 plans to third parties aiming to sell on its Marketplaces. For sellers expecting to ship fewer than 35 items per month, the Individual plan aims to minimize commitments by charging fees on an a per item basis (set at £0.75 [Can$1.28] in the U.K. Marketplace). The Professional selling plan costs £25 (Can$42.70) per month, excluding VAT, with no per item fee, and offers a partially supported option for selling in larger volumes. Sellers on the Professional plan have additional options, including the ability to offer gift-wrapping to customers. Both plans cover access to Marketplaces and exclude the cost of fulfilment of orders by Amazon. As a result, companies need to think separately about the best approach to delivery and logistics.
In addition to the subscription and per item fees, companies should factor in referral and variable closing fees. Referral fees are a charge levied by marketplace owners to their third-party merchants. In Amazon's case, these fees are calculated as a percentage of the total sales price and are dependent on the category of product—ranging from 25% for jewellery to 7% for computers and electronics. Companies focusing on media products such as books, music and games are liable to pay a closing fee of £0.50 (Can$0.85) per item. A High-Volume Listing Fee applies to partners that sell in excess of 2 million non-media SKUs per month. This latter charge is priced at £0.0003 (Can$0.0005) per non-media SKU for the U.K.; in the other EU Marketplaces, the 2 million limit is based on sales per Marketplace and is set at €0.0004 (Can$0.0006) per non-media SKU.
Two other considerations for sellers are whether to take advantage of Amazon's options on setting up and payment. The Solution Provider Network provides sellers with third-party partners based in the U.K. and other EU countries that can assist with a range of challenges—from VAT registration to shipping and local compliance regulations. Amazon Pay is a separate solution that provides sellers who sign up with the benefits of offering this option to registered customers and gaining additional security around receiving payments. Companies should weigh these benefits against Amazon Pay charges, which include processing fees, cross-border fees and currency conversion fees.
Opportunities
Canadian companies aiming to sell through Amazon Marketplace have the option of personally managing the delivery of items or making use of the company's Fulfilment by Amazon (FBA) program. Each year, FBA ships billions of items across the world on behalf of Marketplace sellers. In the U.K., the company has a highly developed delivery system that has been strengthened through stakes in U.K. parcel companies—notably in Yodel (2014)—and relationships with third-party logistics firms. FBA benefits sellers by enabling them to focus on increasing overall volumes and by providing them with a range of customer delivery options. A Prime badge lets companies target Amazon's premium layer of most committed customers, including during special promotional periods such as Prime Day (a day in mid-July when Amazon offers special promotions to its Prime subscribers). Additional services provided through FBA include storing goods and taking care of returns. Companies targeting additional EU markets can choose between 2 options: European Fulfilment Network (EFN) and Pan-European FBA.
Challenges
In addition to offering scale, Amazon Marketplace is also highly competitive, with millions of companies using the platform worldwide. Competition is on the rise, with the number of new sellers estimated to exceed 70,000 worldwide per month. European marketplaces accounted for nearly half that number, with 10% made up of companies targeting customers through the U.K. marketplace.Footnote 55 Although many of these registrants are inactive, companies need to consider the level of visibility their products will achieve, notably when selling in heavily targeted categories.
4.1.2 Channel profile: eBay
A veteran of Internet retailing, eBay was founded in 1995 and launched in the U.K. 4 years later as part of its first wave of international expansion. As such, the brand has a high level of recognition with U.K. customers and was ranked in the top 30 organizations for customer satisfaction in 2018.Footnote 56 In 2017, eBay's Marketplace revenues were up 6% at US$6.5 billion in global sales.Footnote 57 Internet retail sales attributed to third parties in the U.K. were £11 million in 2018. PayPal was an eBay subsidiary until 2015, when the payments platform set up as a separate publicly traded company. As of 2018, eBay handles payment processing either directly or through PayPal.
Value and convenience underline the platform's proposition to its customers. eBay aims to incentivize U.K. buyers through a price matching policy that provides repayment on the difference for new eBay Deals items found at a lower price. Another value-based differentiator is the provision of free delivery in the U.K. for items listed as applicable for Free Postage and eBay Premium Service. An eBay Money Back Guarantee applies to most of the items sold on its U.K. Marketplace.
Setting up to sell
Prospective sellers on eBay can register for an individual or a business account. Business accounts are suitable for selling in bulk, reselling and offering products the seller has produced. The advantages of a business account are enabling the use of a company name on the platform, potential discounts in eBay fees (see next paragraph), and tax breaks. Ahead of deciding, companies are advised to seek clarification on legal obligations and make detailed assessment of the benefits as there is no option to switch a business account to an individual one. Sellers setting up an account will find that eBay checkout is set as the default option.
Fees on eBay take the form of insertion (or listing) fees and final value fees. Sellers are entitled to a variable quantity of free listings depending on the account and subscription selected. Once the free allocation is exceeded, these fees are charged on a per-listing basis with a maximum limit. Final value fees are determined by the starting price of the item and differ depending on whether selling through the Canadian or U.K. site. For an indication, the range on eBay.ca is from Can$0.10 to Can$0.40. Two options that impact on this fee structure are the decision to start an eBay Store subscription (see Opportunities section below) and taking advantage of eBay's reintroduced auction selling option. Auction selling helped to establish eBay in the early days of e-commerce and is associated with rare items.
Opportunities
Sellers based in Canada can take advantage in being in one of only 3 countries (the other 2 being the U.S. and the U.K.) where eBay currently offers international site visibility. Canadian companies have the choice of either selling through eBay.ca and selecting international visibility or registering as a seller on the U.K. site. In the former case, companies should ensure their products are in an eligible category— for example, most media products, and hunting knives, are ineligible product categories. In addition, companies should confirm the requirements for shipping between Canada and the U.K., research local pricing levels, and take note that U.K. customers have the option of filtering out international items.
An eBay Store subscription plan provides an option for sellers that are especially focused on providing a branded experience and selling in quantity. Subscriptions are available at Basic, Premium and Anchor levels and are appropriate for sellers averaging a minimum of 250 items per month. Once signed up, eBay Store subscribers get a customized URL and home page to reinforce brand associations. An increased free insertion limit—with an unlimited option for selected categories ending in a sale—and competitive final values fees are main financial differences. As of May 2018, eBay relaunched its eBay Store platform with the aim of improving SEO and optimizing the experience for mobile users. These improvements were delayed for sellers using the Canadian site until 2019.
Challenges
EBay's long-term presence in the e-commerce space has created challenges for the company to broaden its identity. Although the company has been active in extending its profile from a site specializing in auctions for used and vintage goods to a global online marketplace for general merchandise, the company faces a daunting challenge of matching the levels of investment undertaken by Amazon in its platform.
4.1.3 Channel profile: Etsy
Etsy is a global online marketplace focusing on selling artisanal and creative items. The platform was founded in the U.S. in 2005 and is listed on the NASDAQ. Both Canada and the U.K. are listed as core markets, with non-U.S. sales accounting for a third of revenues in 2017.Footnote 58 In 2018, the U.K. remained Etsy's second largest market after the U.S. The company accounted for 1% of total Internet retailing in the U.K. in 2018. Although clothing and accessories remains the most important category by revenues, home and living is also an important part of the business.
Setting up to sell
Sellers can select between 2 options when setting up on Etsy. A standard package focuses on simplicity and transparency with a listing fee of US$0.20 (converted into local currency) and transaction fees of 5%. In 2018, the Etsy Plus subscription package launched, offering a URL for the seller shop, an allocation of credits, and options to customize the shop and buyer experience for US$10 per month. A premium package suitable for selling in large volumes is due to launch in 2019.
Etsy Payments and PayPal are the main ways of paying, but the platform allows buyers and sellers to make their own arrangements if preferred. Sellers using Etsy Payments are charged processing fees that vary between 3 to 4% plus a flat fee per order. An account can receive customer payments made through several options, including debit/credit cards and PayPal. Payments are transferred on scheduled dates to the seller's bank account in local currencies that include Canadian dollars and U.K. sterling.
Etsy makes it easy for sellers to offer custom and made-to-order items, with a custom order option that is added to listings by clicking a checkbox. On selecting this option, the buyer is presented with a window where detailed requirements are entered. Once the order has been agreed, the platform generates a private listing that does not appear on the public store. The buyer receives an email to complete the purchase and the seller has a period agreed by the 2 parties to process the order. Processing times are limited to a maximum of 9 weeks.
Opportunities
There is an opportunity for Canadian companies selling boutique and craft items, particularly in the homewares and home furnishings Internet retailing category, which accounted for 5% of total Internet retailing sales in the U.K. in 2018.
Challenges
Etsy is a fast-evolving platform that has taken bold steps to maintain revenue growth. In 2018, the company enacted significant changes to its terms of business—notably with the increase in its transaction fees. The imminent launch of a premium subscription plan targeting larger sellers indicates that the company will continue to change its positioning in the short term.
4.1.4 Channel profile: ASOS
ASOS is a fashion Internet retailer and supplier targeting younger shoppers headquartered in London. Total sales were close to £2.4 billion (Can$4.1 billion) in fiscal 2018, with the U.K. accounting for 37%.Footnote 59 ASOS launched its online marketplace in 2010 and has grown from 20 sellers to over 1,000 sellers.Footnote 60 ASOS Marketplace sellers originate from around 50 countries across the world, and the company has been active in highlighting partners with a focus on sustainability. This latter point is representative of the company's overall commitment to ethical and sustainable trade. ASOS topped Summit's league table of the top 50 U.K. retailers ranked by customer experience in 2018,Footnote 61 with notably high scores for the speed of response from its customer service team. Two separate firms interviewed for this report highlighted ASOS as the company setting expectations for online retailing in the U.K., with one of them referring to the high rate of returns in this market as "the ASOS effect."
Setting up to sell
ASOS Marketplace is relevant to new, independent Canadian fashion brands and retailers aiming to sell to younger age groups. ASOS provides a high level of support for its partners with a dedicated account manager and assistance with marketing through coverage on ASOS's own digital platforms. Applications are vetted by ASOS Marketplace with a view to identifying brands and retailers that align with the platform's focus on cutting-edge design and vintage selections. Applicants must have an account with ASOS to apply.
Successful applicants set up a boutique on the platform in a dedicated area and can contribute to the Marketplace blog. Other promotional opportunities include easy links between the boutique and the seller's social channels—and the chance to run promotions on the platform's category and home pages. Boutique owners commit to stocking 15 to 20 styles (depending on product focus) at all times, as well as using images that meet with the platform's standards and providing a high level of customer service. All products must comply with ASOS Marketplace's policy on fur and animal skin.
ASOS Marketplace uses a subscription model where boutique owners pay £20 (Can$34) per month. A sales commission of 20% is applied in different ways depending on the form of payment used by the customer. ASOS Marketplace offers Stripe checkout to process credit and debit card payments. Boutique owners must have a PayPal business account before setting up on the platform.
4.1.5 Channel profile: OnBuy
OnBuy is a U.K.-based online marketplace founded in 2013. In November 2018, OnBuy reported that transactions on its platform had increased by over 600% on the previous year, with future growth expected from an expansion across European markets during 2019.Footnote 62 The company has opted to compete directly with global leaders in this space by featuring products across a broad range of categories, and listed 8 million products at the end of 2018. In October 2018, an integration with PayPal was announced, with all payment processing undertaken by its new partner.
Setting up to sell
OnBuy is of notable interest for Canadian retailers as the platform is not particularly focused on products or companies from a certain country. One of the ways OnBuy differentiates itself from other online marketplaces is that it removes any potential conflicts of interest by refraining from offering its own product ranges. Canadian companies require a PayPal account and a U.K. address for returns in order to start selling on OnBuy.
---

"I think it's the beginning of the small business revolution and, within that, creative small businesses specifically."

---
Sellers select from 2 monthly subscription packages when registering with the platform. A standard package is priced at £19 (Can$32.50) and offers a sales guarantee that waives the subscription fee for the following month if sales are under £500 (Can$855). The second tier is a Partner Seller Package priced at £39 (Can$67) that provides the primary benefits of improved placement in search results and access to a Priority Support Team.
OnBuy's proposition to sellers centres on offering low selling fees that are set to 5% on computing, electronics and large appliances and 9% on all other categories. Following the integration with PayPal, payment processing fees are determined by the terms that PayPal offers directly to other sellers. OnBuy notes that PayPal's Seller Protection scheme applies to eligible transactions.
4.1.6 Channel profile: Other online marketplaces
In the U.K., e-commerce is dominated by global online players and the Internet operations of major retail chains. The level of consolidation in the sector and scale of investment by leading players present challenges to entrants and smaller independent e-commerce operations. OnBuy is an exception as a start-up platform featuring a wide range of products. Other notable players focus on specific sectors and customers.
One of the comparatively long-standing start-ups pursuing a targeted strategy is Notonthehighstreet. This U.K. online marketplace was founded in 2006 to provide a platform for U.K.-based creative businesses. As this marketplace does not serve sellers based in other countries, this opportunity is only applicable for Canadian companies that set up an operation in the U.K. The company has grown to feature over 5,000 partners and sells to 3 million customers. Marketing underlines Notonthehighstreet's positioning as a destination for finding unique gifts, and promotional activities include pop-up stores with partner products.
Yumbles is another example of a U.K.-based curated online marketplace with a strong focus—in this case, small independent food and drink suppliers. Launched in 2014, Yumbles works with over 2,000 sellers producing in small batches or by hand. German fashion e-commerce business Zalando operates on a larger scale, with a presence in 15 European markets and revenues exceeding €4 billion (Can$6 billion). The Zalando Partner Programme is an opportunity for apparel and footwear brands to leverage Zalando's expertise in fashion retailing, website and app development, and fulfilment. Flubit is a U.K.-based online marketplace focused on featuring competitively priced products. In July 2018, Flubit was acquired by MonetaryUnit and has subsequently introduced payment using popular cryptocurrencies.
These other marketplaces present a growing challenge for Canadian (and other foreign) companies looking to enter into the U.K. market. It is important that Canadian companies keep this in mind: other local competitors might have an advantage in operating in the U.K. market because of greater, non-restricted access to a larger number of marketplaces.
4.2 Preparing for business
4.2.1 Website and technology
A company's website is one of the first points of contact for both customers and partners. Companies should start by identifying the website's key intended audience and the primary functions (e.g. marketing or e-commerce). Uptime and load speeds are critical metrics for any website and should act as a guide when choosing tools to build the website. Product images are especially important for websites aimed at consumers: two thirds of customers are more likely to purchase from highly visual sites.Footnote 63
Businesses approaching web development for the first time tend to focus disproportionately on front-end capabilities. The design and responsiveness of client-side applications are of course critical to engaging users. At the same time, back-end (server-side) technologies are also fundamental to building web applications. Careful consideration of a database solution, server and server programming language are particularly important for companies that expect to customize websites as they grow. The rise of cloud platform services (e.g., Amazon Web Services, Microsoft Azure and Google Cloud) has revolutionized back-end operations in recent years, and their use is recommended for companies starting new projects: the key advantages are lower start-up costs and the ability to scale with the business.
For companies that just want to get up and running, website builders present simple and quick solutions. GoDaddy, Squarespace and Wix offer a huge choice of templates for building websites that are suitable for marketing or e-commerce. Monthly plans for an e-commerce website range from £13 to £30 (Can$22 to $51). Total cost calculations should factor in charges that are additional to monthly subscriptions: base prices may exclude supplements for securing a domain name, e-commerce functionality and emails. Subscription rates are liable to change after an initial period, and optional extras include storage, analytics and multi-channel management. Customer reviews are a useful source for confirming levels of customer support provided by different services.
BigCommerce, Magento and Shopify provide e-commerce solutions for businesses forecasting annual revenues from £30,000 (Can$51,000) upwards. A key differentiator to website builder offerings is the range of payment processing options. Monthly plans start from £27 (Can$46) and scale up to £240 (Can$410). Baseline packages include a branded store front, unlimited storage, point of sale (POS) systems and selected payment processing capabilities. Premium packages offer full integration with other channels (e.g. social and online marketplaces), advanced marketing features and lower payment processing fees. Vendors should also consider expansion plans for their businesses as these providers vary in their abilities to support scaling beyond the U.K. to other markets.
4.2.2 Payment
Consumer awareness of and trust levels surrounding online payments has steadily increased in the U.K. since the launch of the first e-commerce services in the 1990s. Online payments in the U.K. form a rich and diverse ecosystem, with consumers able to choose from direct bank transfers, card payments, peer-to-peer platforms and eWallets. A regulatory framework that is highly conducive to innovation in payment methods has led both to the country's leadership in fintech and the high number of financial instruments used by U.K. consumers.
Visa, Barclaycard and Mastercard have been active in driving the use of online payments for several years. In addition to working with major payment services, these companies have launched their own e-commerce initiatives. Visa Checkout was introduced in the U.K. as part of its global roll-out and allows online shoppers to enter their details just once. Barclaycard has offered a range of payment gateway solutions in the U.K. since SmartPay was launched in 2010. PayPal has been available in the U.K. since the 1990s and the market was the first outside the U.S. to get the Seller Protection program. U.K. shoppers have used Apple Pay since 2015, along with Google Pay and local services such as Tesco Pay+. Apple has helped to drive mass-market take-up of eWallets.
Businesses that sell through online marketplaces will usually find that the marketplace acts as intermediary for payments. This means that customer payments are processed and transferred to the seller by the platform. In some cases, marketplaces use other payment processing services. OnBuy was an early customer for the PayPal for Marketplaces offering—since the end of 2018, all payments on this platform are processed by PayPal.
Canadian companies selling through Amazon's U.K. Marketplace have 2 options for receiving payments. Sellers that set up a U.K. bank account can receive the funds directly. The second option is to receive funds in a Canadian bank account. In this instance, currency conversion is either handled by Amazon or Hyperwallet. Canadian sellers on eBay can receive international payments by choosing a method such as PayPal's Premier and Business accounts, which accept credit card payments from U.K. customers. Payments on Etsy are processed through its own payments service. Sellers on ASOS Marketplace either need a PayPal account with receipt of payments enabled, or should register for an account with Stripe.
Businesses operating their own e-commerce websites have a few options for receiving payments. The standard method is to set up a merchant bank account and use a payment gateway. Payment gateways authorize transactions between buyers and sellers and can either be direct or redirect. In the latter case, the payment gateway forwards the customer to a payment processing service for authorization. A second option is to use a service such as PayPal, Stripe or Braintree. These services can pay into other types of bank accounts and handle processing.
Companies that have set up their websites on selected e-commerce platforms have the option of using proprietary payment solutions from the provider. All of Shopify's plans in Canada and the U.K. include the platform's own solution, Shopify Payments, which users set up by providing a few details and which does not require a merchant account. Magento Payments launched in the U.S. at the end of 2018 and is expected to roll out internationally in 2019. As with all payment gateways and payment processing services, companies are advised to make a careful comparison of any set-up costs, transaction/authorization fees and (if selling cross-border) charges for currency conversion.
Case study: "Pay later" options beyond credit cards gain traction
U.K. consumers are becoming more flexible with how they pay for goods and services online. One recent development is the proliferation of "pay later" payment products that allow consumers to essentially take out a small-scale loan on credit, which is popular with those not willing to open up a credit card account. Leading examples of this in the U.K. market are PayPal Credit and Klarna.
While "pay later" offers consumers an additional mode of payment, the concept also benefits merchants by:
providing a way for consumers to spend more (higher average tickets)
reducing the number of returns, of which there are fewer when consumers pay using a "pay later" technology
In an interview with a fintech processing company, it was noted that this "pay later" concept is particularly transformative for e-commerce operators because "average tickets are higher online than offline, especially at online marketplaces. Also, because U.K. consumers are so familiar with returns, it provides an avenue to reduce the amount of returns that e-commerce players need to process, thus simplifying internal operations."
4.2.3 Legal concerns
Canadian companies can set up in one of several ways when selling products and services into the U.K. The main options for locating operations are to establish a U.K.-based subsidiary or open a branch. Subsidiaries are legally separate entities while a branch is an extension of the parent company. Professional assistance is advised when setting up an operation as there are important differences in taxation and local reporting requirements depending on the entity type. One vendor interviewed for this report highlighted legal requirements for paying VAT as the most significant pain point when setting up business in the U.K.
Major marketplaces such as Amazon require partners to possess a bank account or card registered in the country when selling through a local operation. Scrutiny of new customers is high as U.K. banks must comply with legislation on money laundering and terrorism prevention when opening an account. The U.K. government has been active in this area—most recently with the Sanctions and Anti-Money Laundering Bill in 2018.Footnote 64 Canadian companies are also advised to seek professional assistance when opening a bank account for the first time.
Regulation related to privacy and the handling of customer data has also undergone major changes in recent years. Two fundamental pieces of legislation have derived from the EU, and businesses operating in the U.K. are expected to conform in large part to both despite the ongoing Brexit process. In May 2018, the General Data Protection Regulation (GDPR) was implemented, resulting in a complete overhaul in how companies that do business with any EU market handle data privacy.Footnote 65 Under new rules on data portability, individuals can both demand the information that companies possess on them and take their data to a different entity.
Another area of change is the requirement for binary consent—a simple "accept" or "reject" option—from those using the websites or platforms of enterprises. Canadian companies are advised to make a detailed assessment of GDPR as there are fundamental differences with requirements under Canada's Personal Information Protection and Electronic Documents Act. In addition, fines for contravening the directive are substantial: a maximum penalty of €20 million (Can$30 million)—or 4% of a company's turnover in the preceding year—is applicable for severe violations.Footnote 66
The last fundamental legislative change to plan for is that resulting from the EU's second Payment Service Directive.Footnote 67 The U.K. government has already created regulation around the directive, which replaced the previous directive in January 2018. The key practical impact in e-commerce is in limiting surcharges on payments, notably when credit cards are used for online purchases. Rules around authentication also change, with online shoppers required to undertake an additional step in identification; this most usually takes the form of a code sent to the user.
4.2.4 Supply chain options
The rise of e-commerce has reshaped logistics and resulted in an infrastructure in the U.K. that provides excellent options for Canadian businesses to get products to customers. Since the 1990s, global trade has manifested in the expansion of sea ports and the emergence of new import centres to handle volumes of container traffic. In the U.K., e-commerce and logistics companies have invested heavily in infrastructure and revolutionizing first-mile facilities. New technologies maximize the use of warehouse space and enable automated picking and packing. Large-scale distribution centres are located across the U.K., handling orders from both bricks-and-mortar retailers and e-commerce firms. The Midlands region has seen notable investment and was the largest logistics property market in Europe in 2018.Footnote 68 The last mile is adapted to the high level of urbanization in the U.K., with a boom in the number of smaller warehouses in and close to cities. Customers can receive products at a designated address—but many prefer to collect in-store or at a parcel collection point. Vendors should note that holding stock in a warehouse is one of the fastest ways to incur costs—which can be minimized by accurate forecasting of sales. Warehousing also is an important consideration in the context of dealing with returns on online sales.
---

"The biggest challenge for our company entering into the U.K. market was finding a proactive third-party logistics provider that could easily integrate into our e-commerce platform without large-scale IT investment."

---
Online marketplaces aim to simplify logistics for sellers with the provision of dedicated programs and close integration with other services. One of the easiest ways to get started is by selecting Fulfilment by Amazon (see Section 4.1.1), which offers full-service delivery for orders processed both through the Marketplace and other channels. Discounts on shipping rates are available through other marketplaces when sellers use specific partners. The level of support provided by online marketplaces makes this one of the best ways to gain experience in distributing products stored in Canada into the U.K.
Canada Post is integrated into most online marketplaces and offers a range of options for delivery through other channels (e.g. an online sales portal). For one-off shipments, sellers can select from Small Packet (under 2 kg) or International Parcel Air shipping. Pick-up is available for one-off shipments and delivery times to the U.K. usually take 1 to 2 weeks. The Solutions for Small Business program provides discounts based on annual volumes for larger operations. A dedicated set of e-commerce solutions includes access to Canada Post's e-commerce partner network and tips on integrating its services into clients' websites.
Canadian businesses holding inventory or shipping from an address in the U.K. can take direct advantage of this infrastructure by working with partners on the ground. The Royal Mail ships over a billion parcels in the U.K. a yearFootnote 69 and offers a Business Parcel Service for sellers sending more than 20 parcels a week. UPS and FedEx are familiar names to Canadian businesses and rank as 2 of the largest third-party logistics firms (3PL) in the U.K. Hermes may be a less familiar name; however, this European company shipped more parcels in the U.K. than Amazon in 2018. These companies offer both door-to-door service and individual functions such as transportation, storage and distribution (see Section 6.2).
Logistics strategies are a critical factor in the success of any e-commerce business and determine a company's ability to remain competitive. Sellers on online marketplaces should make use of calculators and features such as shipping profiles to monitor rates. Larger operations are advised to undertake evaluations of the relative costs of holding inventory in Canada and the U.K. U.K. players such as ASOS have helped to reinforce an expectation for free delivery, and identifying ways to minimize supply chain costs is a requisite for remaining competitive. Reliability is vital for retaining customers and companies are advised to plan for holidays and other periods when delivery services face high volumes.
Case study: U.K. consumers demand "click and collect" option
Click and collect presents a great opportunity to compete with high levels of demand under-served by retailers. Although three quarters of consumers want the ability to collect in-store, only 47% of retailers are equipped to offer this option. U.K. consumers also expect click and collect to be at a lower price and receive equal prominence on websites relative to home delivery. Click and collect will benefit especially from the growth of third-party collection services such as Doddle. CollectPlus has also built up a network of retail partners, with over 7,000 stores where customers can collect packages. Plugging into these networks is a core opportunity for overseas vendors with no physical infrastructure to win over U.K. customers.
According to one of the leading third-party logistics companies in the U.K., "the volume of click and collect transactions is expected to grow 5% year on year in the next several years due to several factors, such as increased amounts of consumer time spent outside the home, general increase in e-commerce sales, and the prevalence of bundling products."
4.2.5 Customs processes
The growth in e-commerce has been an important component of trade flows between Canada and the U.K. for several years. Processes around importing products into the U.K. are complex—but assistance is available from online marketplaces, 3PL firms (including Canada Post) and specialist brokers. Third-party advice will be of particular benefit during the period that the U.K. is renegotiating agreements around future trade rules with the EU. Senior U.K. politicians have noted that, in the long term, the process may result in closer trade ties with Canada.Footnote 70 In the short to medium term, there is uncertainty over potential changes and ongoing monitoring of trade regimes is a necessity.
---

"Commodity codes and barcodes are a crucial consideration for new entrants. Any products without commodity codes will be held at customs."

---
Companies and sellers that opt to ship their products from Canada into the U.K. should be aware of the required documentation and limitations related to importation. The former is dependent on the value and type of product shipped: documentation here includes invoices, certificates of origin (e.g. applies to textiles) and value declaration forms. The list of prohibited items for importation to the U.K. includes selected food and plants, offensive weapons (including flick knives) and any products that U.K. Customs believes may infringe on intellectual property rights. Restrictions apply to many categories, including products made from bone, books that break U.K. copyright, coins, jewels and packaging made from wood. Failure to meet customs requirements impacts on businesses in the forms of customer dissatisfaction and cost overruns. The U.K. government's portal and Canada Post's website are useful starting points for checking the status of specific items.
4.2.6 Returns
A high level of competition in the U.K. retailing environment places an onus on companies to clearly define the process for returns. Ahead of making a purchase, 83% of consumers check the returns policy,Footnote 71 and expectations concerning terms of return are high. Over half of customers want returns to be free, with leading retailers in the U.K. offering as standard a no-charge return period of at least 14 days. The U.K. also sees a high level of returns, which is due in part to the high proportion of apparel and footwear in e-commerce.
Returns for sales to customers located in the U.K. requires creating a strategy, and companies approaching e-commerce for the first time are advised to use a channel or service provider that offers high levels of support and guidance. Online marketplaces offer step-by-step guides on policies suitable for sales made on their platform and—in the case of the major global players—details for dedicated partners providing returns services. Major third-party logistics firms are another recommended way to get started. Canada Post provides both individual consultations and online tools for defining a returns policy. UPS and FedEx also provide a detailed list of options for smaller sellers preparing to process returns from U.K. customers.
Although returns processes vary depending on the channel type, product and business size, the policies adopted by larger marketplaces provide an idea of expectations held by e-commerce shoppers. The first question for sellers is whether they require unwanted or faulty products to be returned before issuing the refund: any form of return will result in costs that are borne by the seller. In the case that items are to be returned, U.K. customers expect sellers to either provide a domestic return address and a label or—if the order is to be sent back to Canada—to provide a label with the relevant international address. Labels can be included in the package or made available online for customers to print. In instances where the customer is responsible for a product fault and a U.K. return address is provided, a deduction from the refund is acceptable for the initial cost of shipping.
5. Ongoing concerns
5.1 Scaling concerns
Given the high levels of competition in the U.K. e-commerce market, market entrants should form a strategy for the life cycle of their business. A good starting point is to articulate the end goal for the business. This will help to shape the strategic approach to managing growth and identify likely pain points. Preparing a business plan is an invaluable next step: even if financing is not required, this process will result in detailing the opportunities and challenges that the business idea will encounter. This process will also motivate research into understanding the current state of competition and pinpointing customers who are currently under-served. Business planning will also bring to light costs—for example, the financial toll of holding goods in stock or the choice of packaging—that are not immediately self-evident when starting up.
At the setting-up stage, entrepreneurs should work out how they will track the progress of their business. Selecting 1 or 2 core metrics that apply to the sector or business will help to maintain focus on priorities as products go to market.Footnote 72 Focus is critical as operations go live: start-ups tend to diversify too quickly, and sticking to products that sell the best is highly advised. As the business expands, there are 3 areas that will require special attention: sourcing, customer service and fulfilment.
---

"Saturday is the least busy day in the U.K. for online shopping and the busiest day for sales through physical premises. Monday night at 9 p.m. is the peak time for online shopping and online transactions."

---
Initial sales will help to create an accurate forecast of demand. A continuously updated forecast is a powerful management tool and will provide early warning on the requirement to expand operations. Companies producing their own goods should pay attention to growing demand as securing additional inputs, equipment and staff requires lead times. The forecast will also be an input for calculating inventory turnover: inventory management is a core skill for most businesses, especially retailers, and is one of the easiest ways to save money. Creating strong relationships with suppliers will help to manage inventory—one of the key enablers for strong bonds with partners is to share data. Inventory management systems are a standard component in the plans offered by e-commerce platforms.
Customer service expectations in the U.K. are high and companies will have critical decisions to make on how to resource customer care as they grow. Medium and large enterprises tend to outsource this function in new markets but there are strong motivations for building customer care teams in-house. Direct interactions are an excellent way to build an understanding of the customer, which in turn should dictate how to evolve the business. Progressive companies are going the next step in viewing these contacts as potential sales opportunities. At the same time, Canadian companies selling into the U.K. will have good reasons to outsource operations: customer care must be available during U.K. working hours and representatives must possess a detailed understanding of the local market.
In the case that outsourcing for customer care is unavoidable, companies should work with a U.K.-based partner and invest in educating representatives on the company's products, terms of business and values. As with sourcing, success depends in forming a close relationship with the partner. Managing partnerships is also central to companies aiming to outsource fulfilment. In this case, the relationship will be heavily defined by integrating systems to ensure the supply chain is fully automated. Leaders in the U.K. logistics market have invested in solutions (e.g. APIs, plug-ins) to facilitate integrations with their systems to provide scaling of storage/deliveries and offer additional capabilities (e.g. audit logging, billing, selection of labels).
Financial planning goes hand-in-hand with managing functions as a business evolves. At early stages, the best approach for most companies is to dispense with borrowing and test out the business idea to gauge demand. In cases where start-up money is indispensable, crowdfunding has proven to be invaluable for e-commerce businesses in Canada and the U.K. Crowdcube, Indiegogo and Kickstarter are 3 of the largest platforms in this area. A few start-ups may find that grants are applicable to their area; this applies especially to ideas that have a basis in science and technology. Once a business has gained momentum, personal or small business loans from reputable lenders are comparatively inexpensive forms of borrowing while interest rates are at low levels. Venture capital firms will invest in firms that demonstrate—or expect to deliver—high growth. However, this route requires careful consideration as business owners will typically cede control of their companies to investors to gain funding.
5.2 Customer service
Consumers in the U.K. are accustomed to high levels of customer service, and long-term investments by e-commerce global leaders in the market have extended these expectations to online activity. Indeed, a Microsoft report found that 62% of consumers surveyed for the report had stopped using a brand due to a poor experience—an indication of the importance of a positive experience on building loyalty. On top of this, the bar is rising, with nearly two thirds of respondents noting that they expected more from customer service compared to the previous year.Footnote 73 Companies polled for this report highlighted the ease with which U.K. consumers switch vendors if expectations are let down in any way.
Companies need to get interactions right every time in order to retain U.K. customers. They should also aim to provide an integrated customer experience across multiple channels: BRP Consulting reported that 86% of U.K. retailers surveyed in 2018 have developed approaches to operating across several channels.Footnote 74 Call centres remain an effective method of interacting with customers, but there has been rapid growth in the use of other channels due to the proliferation of connected devices. A higher proportion of U.K. users prefer using email and live chat relative to other parts of the world.Footnote 75
---

"We determined that artificial intelligence could be the key to offering our customers the differentiated and personalized service and cohesive customer journey we are aiming for."

---
Self-service options and social media offer effective ways to offset the costs of providing support through live channels. Although few companies rely solely on online self-service portals and other automated options such as chatbots, they present effective ways to limit the volume of calls and emails from customers. The ubiquity of artificial intelligence (AI) solutions is helping to personalize and serve up relevant information through these touchpoints. U.K. companies have also invested in social media as a means of reducing the pressure on other channels and providing quick resolution to customer problems.
Case study: Monzo prioritizes self-service in customer service
Monzo is an online "challenger bank" (a bank competing directly with the U.K.'s longer-established banks) that has invested heavily to provide best-in-class customer service to its 1 million customers in the U.K. Although the service is centred on providing an online experience, Monzo recognizes the role played by human interaction in customer service and offers easy access to its call centre 24/7. At the same time, the company noted that after it had improved its self-service offering, the number of direct customer calls dropped by 33% over a three-month period.
The journey to building state-of-the-art online self-service starts with regular customer surveys. User sessions—where customers are brought into Monzo's offices to test out new ideas—are also run continuously to develop and refine prototypes. Personalized online help includes a "Suggested for you" feature, and Monzo has tested out new search algorithms to provide better matches to entered search terms. Resulting help articles are formatted in short paragraphs and enriched with images for easy understanding.
5.3 Alternative business models
The U.K. e-commerce market is highly dynamic, with consumers quick to test out innovative approaches to sourcing products and services. On the seller side, a multi-model approach is a good way to add to and diversify revenue sources. Business owners should start by considering their product or service and identify approaches that would provide benefits to customers in terms of cost and convenience. An alternative business model can be a great way to differentiate and serve new segments of customers.
Subscription boxes
Subscription boxes usually comprise a box containing a range of products from a specific category. Consumers receive boxes at regular intervals—monthly is common, but frequency may vary depending on the product area—and receive discounts when signing up for extended periods (3-12 months). In the U.K., subscription boxes have taken off rapidly, with sales exceeding £500 millionFootnote 76 (Can$850 million). The most common categories for subscription boxes are food and drink, and health and beauty products, with business peaking at holiday periods. Leaders have started to emerge in this space (e.g. Glossybox, Birchbox) and there are opportunities for companies with specific products to seek out partnerships. Canadian retailers, and companies selling ranges of products, could also consider setting up their own subscription box services.
Recurring subscriptions
Recurring subscriptions are an agreement where customers make regular payments for products. This model is widely used by suppliers for selected categories in food and drink, health care and cosmetics. Automating the supply of consumables provides convenience for buyers, and sellers benefit from building regular revenue streams. Cornerstone is one of several start-ups that have built businesses on a subscription model in the U.K.: in this case, the business started with shaving products and now provides a range of men's grooming products to 170,000 members.Footnote 77 Payment services (PayPal, Stripe) and e-commerce platforms (such as Magento) both provide dedicated solutions for managing billing and present an easy way for companies to get up and running with recurring subscriptions.
Short-term leases
Rental e-commerce provides consumers with a way to save money for products and services that are only required for a limited period of time. This model is gaining prominence with the rise of the sharing economy among selected demographics. Close to a quarter of U.K. consumers would be willing to share DIY/home improvement equipment and over 20% are interested in this model for sports and outdoor equipment.Footnote 78 In fashion, U.K. start-up Girl Meets Dress has built rented luxury goods from a range of 4,000 clothing and accessories items since its beginnings in 2009. Companies considering this business model are advised to plan on building sufficient inventory to provide products at short notice and pay special attention to logistical challenges such as the likelihood of damage occurring during transportation.
5.4 Intellectual property
Companies entering the U.K. market should plan in advance on how best to protect their intellectual property (IP) as legislation in this area is based on territory. Although both the U.K. and Canada are members of IP systems through organizations such as the World Intellectual Property Organization (WIPO),Footnote 79 the Canadian Trade Commissioner Service recommends seeking professional assistance on forming a strategy and provides advice on where to start. Ahead of this, the Canadian Intellectual Property Office (CIPO) is a useful source of information on intellectual property requirements for the U.K. and its strategic use.
The principal ways to protect IP are through copyright, trademarks, designs and patents. Copyright protects creative works from being copied or distributed and is automatically applied from the moment of creation in the U.K. Trademarks are used to protect product names, logos and jingles, among other things. A trademark usually takes a few months to register and it lasts for 10 years once granted. Protection is dependent on the country where a trademark is issued. Companies targeting multiple markets should consider registering in other relevant countries and with the EU trademark scheme. Designs apply to the look of a product and are registered with the U.K.'s Intellectual Property Office (IPO).
Patents are a way of protecting new inventions and products and can be obtained through either the U.K. IPO or the European Patent Office (EPO). Obtaining a granted patent is a costly and challenging process, with tasks including confirming what types of invention are appropriate, establishing differences with existing patents and taking care of annual renewals. To be granted a patent, your invention must be something that can be made or used, be new, and be inventive. The U.K. IPO notes that it takes 5 years, on average, to obtain a granted patent and recommends seeking professional assistance.Footnote 80
Copyright, trademarks and designs are liable to see changes as a result of Brexit. Patents are less likely to be affected as European Patent Convention membership is not limited to EU members and the U.K. government has sought to reassure businesses that current patents will not be affected.Footnote 81 The uncertainty over the final outcome of Brexit means that companies will need to keep track of changes either directly or by using a third party.
6. E-commerce service providers and partners
6.1 Digital brand marketing services
Digital marketing encompasses a range of activities that help companies to win and retain online customers. Sellers that are new to e-commerce, and businesses aiming to focus more time on other activities (e.g. manufacturing, commercial relationships), are advised to consider using a digital marketing specialist. The U.K. is one of the leading centres for digital marketing in the world, with highly creative independent firms competing alongside the digital divisions of global players in marketing and advertising. Integrated cloud marketing platforms such as Adobe Marketing Cloud and Salesforce.com serve many of the world's top companies and brands.
At present, these platforms are investing heavily in enhancing existing services with AI and offering new solutions built on machine learning.
Services that digital brand marketing services provide include:
Website design: A company's website is one of the first touchpoints that customers and partners interact with. Over half of Internet retailing in the U.K. is conducted on mobile devices and websites must be fully responsive. Pages should load quickly and be highly visual. The best websites are the result of a continuous process of optimization that uses techniques such as ABn and multivariate testing (MVT). A website with e-commerce capabilities will represent a core channel and should feature intuitive categorization of products on the front end and integration with back-end systems. Companies aiming to develop a sales portal are advised to work with agencies that have specific experience in e-commerce projects.
Pay-per-click (PPC) advertising: Pay-per-click advertising is one of the most popular methods for driving new users to a website. A PPC campaign places ads on search engines and other websites that include a link back to the seller's website. The basic model is straightforward and involves creating a campaign with a set budget and period. During the campaign, bids are placed for featuring a link next to specific keywords or ads are displayed on other sites selected by a planner. PPC quickly becomes more complex and an agency can help to select the most effective platforms, generate copy, advise on appropriate ad formats and consult on advanced techniques such as bidding strategies, location targeting, conversion tracking and ad extensions.
Search engine optimization (SEO): Search engines are an important channel for driving traffic to a company's website. A search engine takes account of the quality of content featured, navigational strengths and traffic flows for websites when ranking results. Agencies can help to optimize the content and format of a client's website, with the goal of improving its position in search engine results. Advice on coordinating SEO with other digital marketing initiatives will also ensure a more effective approach. Sellers using channels such as Amazon and eBay should find out if they can obtain specific guidance on how to improve their search results (i.e. how they are ranked on a search results page) on the relevant online marketplace.
Online reputation management: Online reputation management is a process of monitoring and responding to opinions held by audiences and customers on a company's brand and offerings. An agency will provide easy tools and metrics for assessing reputation and provide an optimal strategy to improve scores. A coordinated approach should account for all principal channels used by online audiences, including social media, websites and—where used—online marketplaces. An agency can help on the specific questions of how to respond to negative reviews and how to manage PR for new product/service launches.
Email marketing: One of the longest-standing forms of digital marketing, email is still an effective means of recruiting new customers, increasing brand awareness and gauging customer behaviour. An agency will advise on tailoring campaigns to the client's brand, making best use of software for automating campaigns and meeting the requirements stipulated by GDPR (see Section 4.2.3) and other relevant legislation.
Analytics: The process of measuring the performance of and deriving insights from the above tools is a critical stage in the digital marketing cycle. A plethora of tools appropriate to specific channels can quickly lead to fragmentation in measurement and hamper a company's ability to gain a unified view of its customers and performance. The use of core metrics gains importance as maturing businesses add measures to track every point of the customer journey. In 2017, The Economist magazine stated that "the world's most valuable resource is no longer oil, but data."

Footnote

82 An agency can help to define a strategy for generating the most value from multiple data sources.
6.2 Third-party logistics (3pl) providers
Canadian companies selling into the U.K. should have a clear plan on how to get products to their customers. In many scenarios, setting up partnerships or contracting with third-party logistics (3PL) firms will smooth the process and deliver savings. Smaller operations and start-ups benefit from the expertise that these partners have developed, faster time-to-market, and the ability to focus on other areas such as sourcing and business development. For larger operations, the decision to use a partner will come down primarily to a financial decision—with factors such as reliability providing an additional incentive.
As outlined in Section 4.2.4, supply chain management encompasses all aspects of getting products and services to customers. These functions fall under the broad areas of shipping, storage and fulfilment—with fulfilment including the processing of returns, in selected cases.
Sellers that use an online marketplace will be aware that the largest platforms are extending into these areas, most notably Amazon with its FBA service (see Section 4.1.1). Evidence of Amazon's future ambitions in this area in the U.K. have been underlined by investments in sites such as East Midlands Gateway Park and Symmetry Park, Darlington. Companies involved in courier services have invested heavily in providing other logistics services and are partnered both with online marketplaces and e-commerce platforms (e.g. Shopify, BigCommerce). These players have also invested in building out logistics bases to strengthen their abilities in cross-border selling and fast delivery to U.K. customers. Another area of focus has been in developing solutions to embed their services into any e-commerce website and enable integration with a range of shipping and logistics management software solutions.
The U.K. is one of the most competitive markets in the world for logistics, and sellers will find there are many services on offer. In addition to the list in Section 8.3, the Royal Mail, Parcelforce and Yodel all have highly developed capabilities to assist e-commerce businesses in serving U.K. customers. Each provider has its own pricing structure: a good starting point for sellers highly focused on finding the best prices is accessing the online shipping calculators for preferred providers. When comparing prices, sellers are advised to compare package sizes as this will affect quotes. In addition, companies should check with their e-commerce platform providers and website builders for special deals with selected partners.
Larger businesses should search out business accounts that provide terms and pricing for the volumes, destinations and add-on services (e.g. insurance, storage, management of returns) most suited to their operations. Compiling a detailed list of requirements and confirming these with partners at an early stage is highly recommended. An entrant to the U.K. market noted that major limitations on support for its products, which were larger, only became apparent at the point of signing an agreement. Business owners with limited resources to undertake price checks can use a third-party broker to compare rates on an ongoing basis.
Case study: European 3PL firms position to support e-commerce boom
Companies entering the U.K. Internet retailing market are well served by the number and size of 3PL partners able to provide support. In recent years, leaders from the courier and parcel delivery space have adjusted their operations to cater to demand from online merchants. Hermes is one of the leading players in the U.K., with a highly developed network across Europe.
Specific services launched by Hermes that serve online merchants include the myHermes service. Sellers operating on online marketplaces or just sending a single package can obtain quick price quotes and take advantage of a network of over 4,500 myHermes ParcelShops. Recognition of the rise of cross-border shopping has led to services such as the company's BorderGuru, a dedicated service to e-commerce vendors selling overseas. Hermes was also quick to launch a solution to service Amazon Echo customers: at the end of 2018, the firm updated its Hermes Alexa Skill technology by adding easier returns and a store location feature.
DPD is another European 3PL provider with a strong focus on serving Internet retail. In 2018, the company invested in expanding its U.K. workforce to serve the online commerce fuelled by a rise in weekend deliveries. DPD Local Online offers easy integrations with a host of online marketplaces and e-commerce platform providers for bulk parcel delivery requirements of all volumes.
6.3 Affiliate networks
Explanation of services
Affiliate marketing is a way for a company's e-commerce website to generate new traffic by placing ads on affiliated websites. The difference with a display advertising campaign is that the companies have a specific agreement for the publisher's website—or pay a third-party broker—to feature links for their websites. In instances when an affiliate network is used, this entity pays the websites hosting ads either when a visit is generated or when the customer buys a product. This pricing model, known as "cost-per-action," can prove to be a highly efficient form of marketing.
Amazon was one of the first companies to build out an affiliate program in the 1990s. Amazon Associates counts over 300 million users worldwide and manages domain-specific programs for its U.K. and Canada storefronts. All the leading global e-commerce players run their own networks, including eBay and Etsy. For sellers on the marketplaces of these retailers, including affiliate links for other products on the platform is a potential source of additional revenues. This opportunity is most lucrative on marketplaces where customers tend to purchase more than one item in each visit.
Affiliate networks are not just a source of customers for large retailers. Awin is a German company that runs one of the biggest affiliate programs in Europe. In the U.K., Awin counts household names such as ASOS and Marks & Spencer as partners, but also serves small and medium-sized companies aiming to drive customers to their channels. Global players CJ Affiliate and Rakuten Marketing compete against Europe- and U.K.-based networks to recruit merchants targeting the U.K. Rakuten Marketing has expanded quickly in Europe and reported that U.K. sales for advertisers on its network were up 17% during Cyber Week in 2018.Footnote 83
In the U.K., affiliate marketing generates £9 billion (Can$15 billion) in sales and generates a return on investment of £16 (Can$27) for each £1 invested.Footnote 84 Companies utilizing affiliate networks to increase their customer base should start by identifying close matches between their products and specific target audience categories. The next step is to decide on the most suitable strategy for running campaigns. As networks charge upfront costs to get set up, smaller operations should consider creating their own network by identifying suitable publishers and approaching them directly. Companies using e-commerce platforms are advised to check if their platform provides tools to ease the process of creating a program.
7. E-commerce checklist
Deciding to enter the market
Identify your target audience and understand its demographics
Research whether your specific industry is growing via online channels
Make sure that the value proposition of your product or brand will be competitive in the U.K. e-commerce market
Choose which online sales platform(s) or channel(s) you will use
Consider any tax implications if you have or plan on having a physical link in the U.K.
Positioning for sales
Decide which e-commerce pathway you want to pursue: 1) own website; 2) retailer website; 3) online marketplace
Pick a payment processor and set up a U.K. bank account if necessary
Organize your inventory and create a plan for picking, packing and shipping products
Consider contracting with a third-party logistics partner if your sales volume is high enough
Decide whether to warehouse in Canada or the U.K., or partner with a marketplace to leverage its warehousing capabilities
Develop processes for handling customer returns from the U.K.
File trademarks with the U.K. IPO
Create customer service systems, including at minimum email, phone and self-help sections on your brand's website
Develop a marketing strategy, including social media and email, and consider using an omni-channel strategy
Selling your product
Make sure your product is easy to find on the multiple device types and online platforms that U.K. consumers use
Evaluate your product pricing to ensure it is competitive
Ensure that the product discovery, research and purchase experience are convenient for consumers
Identify relevant online communities and work to build relationships with key influencers in those communities
Consider pay-per-click advertising to get consumers to your website
Optimize your online content for search engine parameters
Monitor your online reputation constantly, both good and bad
Manage your social media and email outreach
Leverage data and analytics where possible to target consumers
8. E-commerce definitions and links
8.1 Definitions
Third-party logistics (3PL) providers: Companies that provide outsourced logistics services for part or all of customers' supply chain management functions, usually specializing in warehousing and transportation services.
Search engine optimization (SEO): The process of creating content with the aim of securing a top posting in specific queries on an online search engine.
Online reputation management: The practice of proactively monitoring a company's brand online for positive or negative mentions.
Multi-channel fulfilment: Using the same logistics or fulfilment systems to fulfil orders from multiple websites or channels.
Application programming interface (API): A software intermediary that allows 2 applications (such as a marketplace and a payments interface) to interact seamlessly with each other.
8.2 Sample digital marketing services
8.3 Sample third-party logistics providers
8.4 Sample affiliate networks
9. Trade Commissioner Service resources
Take your business to the world
The Trade Commissioner Service (TCS) helps Canadian companies navigate the complexities of international markets. If you want your business to grow internationally, tap into our expertise.
Located in over 160 cities worldwide, we provide key business insight and access to an unbeatable network of international contacts. We gather market intelligence, uncover commercial opportunities and help reduce the costs and risks of doing business abroad.
Each year, we help thousands of Canadian small and medium-sized enterprises tackle concrete problems and uncover export opportunities. We make exporting easier for companies.
Fact: We accelerate a company's export success. On average, companies using TCS services export 20.5% more than those that don't and access 20.9% more markets.
With offices across Canada, we can help companies prepare for international markets, right here at home. We can assist with export advice and guidance to help you achieve your international business goals.
Our export experts can help your company:
prepare for international markets
assess your market potential
find qualified contacts
resolve business problems
---
© Euromonitor International Ltd 2019 All rights reserved. The material contained in this document is the exclusive property of Euromonitor International Ltd and its licensors and is provided without any warranties or representations about accuracy or completeness. Any reliance on such material is made at users' own risk. This document is confidential and for internal use by Global Affairs Canada and its affiliates only. Publication or making available to any third party of all or part of the material contained in this document (or any data or other material derived from it) without Euromonitor's express written consent is strictly prohibited. Please refer to the applicable terms and conditions with Euromonitor.