Latvia - Market Overview
Table of content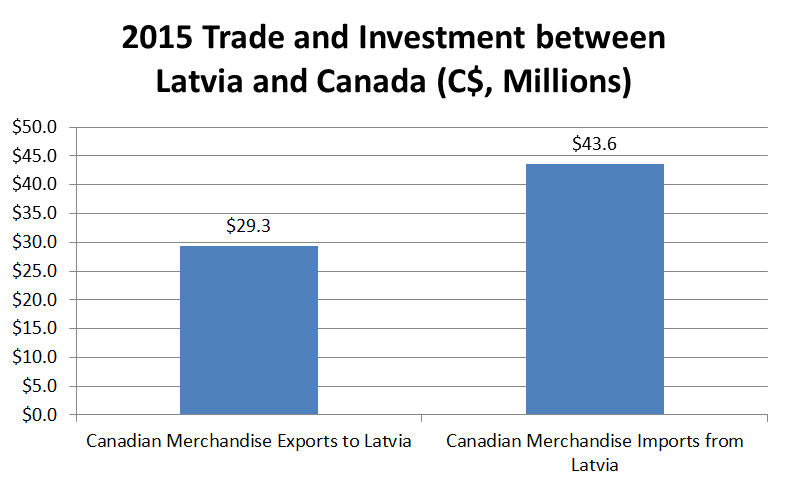 Source: Statistcs Canada
Note: Data on Latvia-Canada services trade and bilateral investment is not available.
2015 Trade and Investment between Latvia and Canada (C$, Millions)

2015 Trade and Investment between Latvia and Canada (C$, Millions)

| Trade and Investment | (C$, Millions) |
| --- | --- |
| Canadian Merchandise Exports to Latvia | $29.5 |
| Canadian Merchandise Imports from Latvia | $43.6 |
Why Latvia Matters
The growth in Latvia's GDP per capita growth has been in the top 10 EU countries for the last four years

Footnote

1.
Reforms accomplished in Latvia, combined with its integration in the Eurozone in 2014, have left a positive impact on its economic development.
Localised demands in the Baltic region for higher value, higher quality goods have the potential for creating stronger trade and investment opportunities for Canadian companies.
How to export to Latvia
Read the guide Export Guide to the EU.
Sectoral Opportunities in Latvia:
Agriculture and Processed Foods

Canadian exports of agrifood products to Baltic states such as Latvia are modest; most Latvians either make food locally or import from Scandinavian countries. However, the Baltics are going through a period of rapid change affecting both food production and distribution mechanisms, as well as consumer tastes. A rising interest in convenience, health, and foreign foods, in particular, opens up opportunities for Canadian exporters. Canada's brand in Latvia is strong, due to a (relative to Latvia's size) large number of Latvian immigrants living in Canada. On the side of exports, Latvia's food production sector is also changing quickly, and there is a growing orientation towards producing convenient, environmentally- and health-friendly food products.
Clean Technology

Although the Baltics region has a relatively small environmental technologies sector, it is growing steadily. With existing investment from other Nordic countries, Canadian investment could further bolster the growing clean technology sector in Latvia.
Contact
For more information on trade and investment opportunities in Latvia, contact your Trade Commissioner in Riga, Latvia.
Footnotes
Footnote 1

Eurostat

Footnote 2

Eurostat

Footnote 3

Statistics Canada