Sweden: Market Overview
Table of content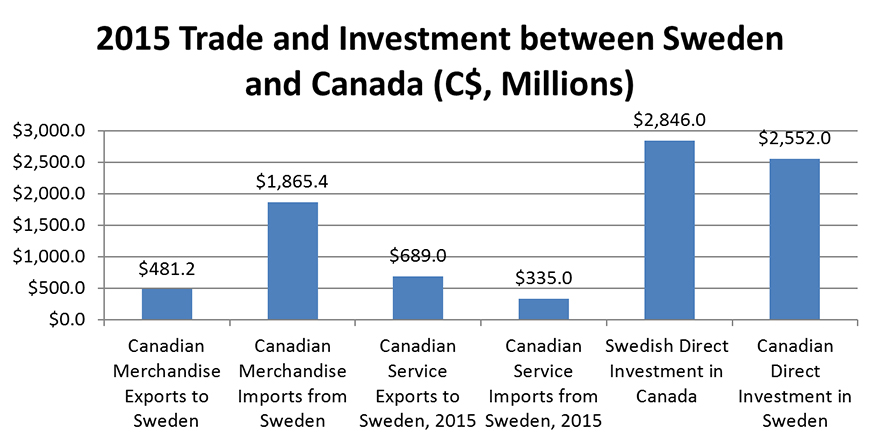 Source: Statistics Canada
2015 Trade and Investment between Sweden and Canada (C$, Millions)

2015 Trade and Investment between Sweden and Canada (C$, Millions)

| Trade and Investment | (C$, Millions) |
| --- | --- |
| Canadian Merchandise Exports to Sweden | $481.2 |
| Canadian Merchandise Imports from Sweden | $1,865.4 |
| Canadian Service Exports to Sweden, 2015 | $689.0 |
| Canadian Service Imports from Sweden, 2015 | $335.0 |
| Swedish Direct Investment in Canada | $2,846.0 |
| Canadian Direct Investment in Sweden | $2,552.0 |
Why Sweden Matters
Sweden is Canada's 11th largest market for exports in the EU. Canada and Sweden enjoy a solid commercial relationship with significant trade flows valued at over $2 billion in bilateral trade, two-way investment at nearly $6 billion, and targeted innovation, science and technology cooperation in 2015.

Footnote

1
Sweden is the seventh largest economy in the EU

Footnote

2
Sweden is the tenth largest recipient in the EU of direct investment from Canada (and in the top 29 worldwide), and is also the 10th largest EU source for direct investment into Canada

Footnote

3
Sweden is the world's sixth-most competitive economy, according to the World Economic Forum's Global Competitiveness Report 2016-2017, ranking especially high in the fields of technological readiness (#4), and innovation (#6). Sweden also sits near the top of the Organisation for OECD class in terms of gross expenditures on R&D at nearly 3.2 percent (2014).
How to export to Sweden
Read the guide Export Guide to the EU.
Sectoral Opportunities in Sweden:
Agriculture

Food and drink manufacturing is Sweden's fourth largest industry sector. Canada is a strong supplier of niche bulk, intermediary and value-added agri-food products in Sweden. Fish and shellfish is an area with a strong Canadian presence, leveraging opportunities in Sweden as the world's 8th largest importer of fish and seafood (valued at $5.6 billion in 2015).Footnote 7
Clean Technologies

Many opportunities exist for Canada to collaborate in the sustainable technologies sector in Sweden covering trade, innovation and investment (both FDI and CDIA). These opportunities exist particularly in the areas of bioenergy/biofuel/biogas, waste to energy/district heating, hydrogen and fuel cells and wind energy. Smart grid and energy storage solutions are also needed to meet the growing challenges of maintaining a stable electrical grid to support wind energy supply and the increased use of electric vehicles.
Forestry products

Following the worldwide decline in paper consumption, Sweden, like Canada, is searching for new value streams and ways to expand markets for forest-based raw material. This preoccupation is reflected in wider scale implementation of bio-refining in Sweden (driven both by the Swedish government as well as by the European Union's climate targets and programmes) as well as the need for new high-value fibre-based products. This redirection opens up opportunities for collaboration in the innovation and commercialisation of new value streams and products.
Information and Communications Technologies

Sweden is both a cutting edge ICT leader and a large ICT market due primarily to it being the home of numerous multinational ICT firms. Sweden is ranked number one in Europe for fibre optic broadband to the home and to business premises and is among the most densely connected economies in the world in terms of wireless and broadband networks. Opportunities for Canadian ICT suppliers are abundant, including in digital media, banking and finance, healthcare, retail and public services. Sweden is also rich in STI opportunities provided by ICT small and medium enterprise (SMEs) and amongst portfolio companies at the biggest technology clusters in northern Europe.
Life sciences

Sweden's life science industry offers a wide range of opportunities in licensing, collaboration and direct investment. Canadian companies can find success in knowledge and technology transfer, joint ventures, research and clinical trials (particularly in cancer research), genomics/proteomics, metabolism, neurodegenerative diseases, health ICT, and bio-informatics. Opportunities are also available for sale, distribution and licensing of innovative Canadian biomedical and medical device products.
Contact
For more information on trade and investment opportunities in Sweden, contact your Trade Commissioner in Stockholm, Sweden.
Footnotes
Footnote 1

Footnote 2

Footnote 3

Footnote 4

Footnote 5

Footnote 6

Footnote 7