Frozen fruit business tastes success in Asia
Nature's Touch began in a small rented room just over a decade ago, where the CEO John Tentomas packed pallets of strawberries by hand. Today, the Montreal-based business supplies over 200 types of frozen fruit products to all major grocery chains in Canada.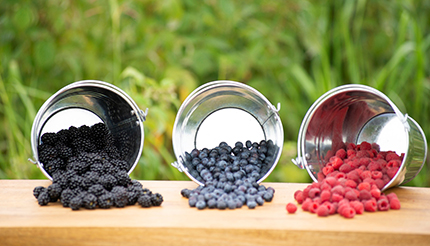 The company's long-term relationship with Costco has helped drive its success. When the retail giant's Asian division came calling, Nature's Touch was ready to deliver.
The business began exporting a couple of organic fruit items to Taiwan. In 2014, Nature's Touch opened a sales office in Hong Kong to supply the entire Asia Pacific (APAC) region.
"We see huge potential in Asia," says Bonco Tsui, who leads the Hong Kong office. "Demand for healthy and convenient foods is an international trend and frozen fruit fit right in."
The business has already established its presence in Australia, Taiwan and Japan—though not without encountering some challenges. One of which was how to pursue leads in unfamiliar territory. So, before his initial visit to Japan, Tsui reached out to the Canadian Trade Commissioner Service (TCS) for help.
"The TCS supported us as though they were an extension of our own team," Tsui says.

Nature's Touch CEO John Tentomas (middle) at a berry farm
"I identified key importers for Mr. Tsui," says Takashi Furukawa, a trade commissioner based in Nagoya, Japan. "This included Halows, a supermarket chain with 80 outlets."
Tsui was keen to meet Halows' senior staff, but conscious of gaps in language and local knowledge. Luckily, Furukawa agreed to accompany him.
"He was really helpful, from getting us there to translating," says Tsui. "He explained certain things and even helped us follow up."
The introduction was a success, and Halows began importing blueberries from Nature's Touch in early 2017. "Halows thanked me for introducing such a reliable supplier, and it hopes to grow the partnership," says Furukawa.
Today, Nature's Touch distributes to 1,300 outlets across Japan. Tsui is optimistic about further growth, especially once the Comprehensive and Progressive Agreement for Trans-Pacific Partnership (CPTPP) comes into force.
One of the largest free trade agreements in the world, the CPTPP will improve entry to key APAC markets such as Japan, Australia and New Zealand. Notably, over three-quarters of Canada's agriculture products will have duty-free access.
Snapshot: Nature's Touch Frozen Foods
Founded: 2004
Industry: Frozen fruits
Location: Montreal, QC with offices in Abbotsford, BC; Virginia, U.S.; Hong Kong, China
Markets: Asia, Australia, Europe and North America
Employees: 450
"Japan has strong ties with Canada, and it's often considered a stepping stone to other Asian countries," says Furukawa.
However, Nature's Touch faces another hurdle: consumer education. "We want to show people that frozen fruits are as healthy as fresh," says Tsui. "It's also much easier to control quality, and nutrients are better preserved."
So how aware are Asian consumers about the benefits of frozen fruit? "On a scale from 1 to 10? Probably 1, if not 0.8!" Tsui says with a touch of humour. "But I see this as an opportunity. It just means there's nine times the potential."
Considering how far Nature's Touch has come in the last 13 years—from hand-packing crates to distributing across four continents—it seems the company is up to the challenge.
Subscribe to: E-magazine and RSS Feed

Use #CanadExport