Road to success paved with distributors
While Canada's clean technology entrepreneurs often find their opportunities at the end of a long "road" of discovery, Cypher Environmental President Todd Burns found his on the actual road.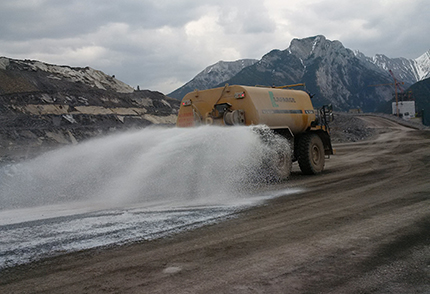 Burns started Cypher Environmental in Winnipeg, Man. after discovering there was a lack of environmental alternatives on the market to control dust and maintain stable road and soil surfaces. Almost all of the products available were oil or hydrocarbon‑based, or just common road salt, which can be classified as toxic.
"When one looks at the stats on the amount of unpaved roads (even in a developed country like Canada), it is staggering to see the amount of these toxins that are being released into the environment," Burns says.
Cypher has established itself as one of the leading producers of environmentally friendly, non-toxic dust control solutions. Not only are they safe, Burns says, but he's also proud that they are cost-competitive and perform better than other products on the market, thus reducing operational costs even more for his clients.
Those clients are increasingly found in many other parts of the world. Of late he has been very busy establishing distribution networks for his products in Africa, South America and Latin America. Mining companies are currently among the biggest users of Cypher's products.
The company exports $5 to$10 million per year, which accounts for 60‑70 percent of its total sales. Its new product, Dust Stop Municipal Blend, introduced last year is getting fantastic feedback from customers, and "we expect to take over a significantly increased amount of market share worldwide for low‑cost dust control solutions," Burns says.
Cypher has been working closely with the Canadian Trade Commissioner Service (TCS) over the last 10 years, and that has produced fruitful relationships with new distributors.
"We have leveraged their support to be the eyes and ears on the ground for us—to help identify new opportunities," he says. "This is a huge benefit as it can save us the time and expense of a trip to various locations around the world, so we can focus on other areas of the business and rely on the support of the TCS to minimize our travel needs to certain territories."
Yvonne Gruenthaler, a trade commissioner based in the TCS regional office in Calgary, Alta., has worked closely with Cypher to build‑up its product distribution network, which is a unique business model within the cleantech sector. Most firms in the sector tend to specialize in technology and hardware rather than shipped products, she says. As a result of targeting distributors rather than direct customers, Cypher can focus on several markets at once and building volume rather than sales overhead.
"Because their work is focused on doing due diligence of their potential partner in-market, once they have determined a partner is sound, companies can move on to supporting in-market distributors to use and apply the product properly and for greatest effect," Gruenthaler says.
Burns wants other cleantech firms to know they should not be consumed by risk management when stepping out into the export market. Intellectual property protection of his solutions' formulas is a concern, he says, but the company has an extensive strategy in place to keep it locked down.
"This is the very reason why we also leverage the support of the Trade Commissioner Service globally to help us in our due diligence process to ensure we are working with trusted partners that share our philosophy and reduce our risk associated with selling outside of Canada," he adds.
Two programs that are facilitated by the TCS have helped Cypher offset the risk of export business development: the CanExport program and the Going Global Innovation Fund. These programs assist approved exporters in travel and administration expenses when first attempting to gain a foothold in a new market.
"The services offered to us as a growing company by the TCS are instrumental in our ability to assess new markets and grow globally. We are truly big supporters of the TCS and all the services they provide."
Subscribe to: E-magazine and RSS Feed

Use #CanadExport