Shifting gears to find success Down Under
When Canada joined the international community to impose economic sanctions on Russia in 2015, the move forced Calgary‑based oil and natural gas company NEXT Compression to abandon the Russian market. Unsure where to look for foreign opportunities, the company turned to the Canadian Trade Commissioner Service (TCS) for guidance.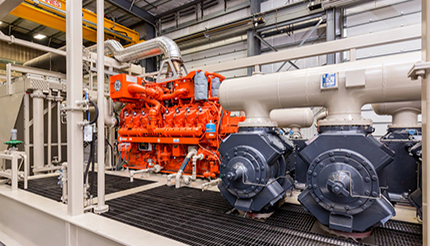 (Photo: NEXT Compression)
Previously known as SAGE Energy, NEXT Compression specializes in providing natural gas compressor and generator packages to the oil and natural gas industries worldwide. The company made its first foray abroad in 2012, targeting Russia because it has a similar climate to Canada's and holds the largest volumes of natural gas in the world.
Its business in Russia evolved quickly, with contracts growing from $3 million in 2012 to $18 million by the end of 2014. But then came the economic sanctions against Russia.
"When we lost Russia, we had to re‑evaluate our global strategy. It was not an easy time," says Andrew Kavanagh, Vice‑President of Business Development, NEXT Compression.
The team at NEXT Compression was scouring the world for opportunities. When Kavanagh learned about the TCS, he reached out for support.
In no time, TCS officers were helping the company make inroads into Australia – a country where NEXT Compression had no previous presence and no connections. The TCS provided Kavanagh with market intelligence and cultural insights, wrote letters of introduction and facilitated in‑person meetings.
"I was super impressed with the TCS staff in Australia. They would do summersaults to help us do business with local companies in Australia. They understood our file and our objectives," Kavanagh says.
The TCS also arranged seminars and events that enabled NEXT Compression to network with Australian gas producers and engineering companies. It wasn't long before the company began securing contracts valued at as much as $4 million per deal, including a $2 million order from the Queensland Gas Company, owned by Shell Australia.
Snapshot: NEXT Compression
Founded: 2018 following a merger of SAGE Energy and NGC Compression Solutions
Industry: Oil and natural gas
Location: Rocky View County, AB
Markets: Australasia, Central Asia, Indonesia, North America, Russia, Southeast Asia
Company employs: 112 people
Annual revenue: $65 million
Success factors:
Re‑evaluated its global strategy and shifted gears when one market closed
Reached out to the TCS for market intelligence and in‑market introductions
Participates in TCS meetings, seminars and events to network in target markets
Lauren MacLennan was Vice‑Consul at the Consulate General of Canada in Australia, when she worked with Kavanagh to break into the market. She's now a trade commissioner in Calgary.
"Andrew's commitment to developing meaningful relationships with industry contacts he met through the TCS was key to NEXT Compression's success in the Australian market," says MacLennan. "While it took a few years to gain traction, his dedication was unwavering even in the face of challenges. He effectively pivoted his approach when required and was always willing to hop on a plane to meet with potential customers when the timing was right."
Business has continued at a steady clip in Australia. In January 2018, NEXT Compression sold four gas compressors to a private Australian natural gas company in an $8.5 million deal. Recently, it also won a contract for a Queensland project that will supply gas to the Australian domestic market by 2019.
Kavanagh estimates that sales in Australia have now reached $20 million and account for nearly 20% of the company's global business. This level of success would not have been possible without support from the TCS, he says.
"I felt so comfortable with the TCS. They circled back to me at all points in the process. I know the TCS will be there for me whenever I need them."
Subscribe to: E-magazine and RSS Feed

Use #CanadExport