Woman‑owned certification helps Montreal communications firm grow
Providing corporate communications for major pharmaceutical firms means going up against large agencies that operate world‑wide in the industry.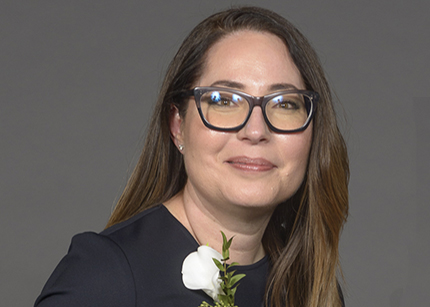 Caroline Desautels, president of Toc Toc Communications
But with its long history in the field and as one of the few certified woman‑owned businesses that combines strategy and communications services in a single global offering, Canada's Toc Toc Communications (toctoc) has the experience and confidence to do just that.
"We work outside the usual rules to create exceptional results," says Caroline Desautels, president of the company. It specializes in global and local strategic consulting, marketing, public relations, branding, print, web, video, social media and media strategy, particularly in the health‑care field as well as in engineering, telecommunications and consumer packaged goods.
Desautels, 48, founded Toc Toc 25 years ago as a young graphic designer looking to help organizations with their branding. Today the company has 12 Montreal‑based staff and dozens of contractors around the world, "a diverse team that can resolve complex client issues, establish commercial strategies and ensure successful implementation of the operation at both the local and global level," she says. Its combination of strategy and communication "is our strength and uniqueness, distinguishing us from our competitors and allowing us to obtain mandates from very large corporations."
To serve pharmaceutical giants such as Pfizer, Merck, GSK, Sanofi and Lupin, she says that "Toc Toc positions itself as a very agile boutique agency." With assistance from the Canadian Trade Commissioner Service (TCS) and its Business Women in International Trade (BWIT) program, as well as organizations like the Réseau des Femmes d'affaires du Québec, the company over the last three years has focused on developing global customers, especially in Germany, France, the U.S. and Japan.
For the international market, Desautels says that it provides a strategic consulting service called the "6A Methodology" to test and improve customers' marketing plans based on their awareness, appeal, availability, affordability, adherence and alliances.
"This unique service is distinguished by a bottom‑up operational approach and targeting of top marketing executives at the global level," she explains, noting that last year, 23 percent of Toc Toc's revenues came from exporting such services, a 115 percent growth from 2017.
"The main challenge is to be perceived as a credible and solid company for large corporations," Desautels says. "When I was a young woman, I found it very challenging to be taken seriously."
The TCS and BWIT have especially helped by "providing us with opportunities to meet potential clients and develop new partnerships," she says. In 2017 Toc Toc obtained its WEConnect International certification, which verifies women‑owned businesses and connects them with multinational corporate buyers. "Since then we've fully embraced the corporate engagement opportunities available to us," Desautels says, for example participating in BWIT's trade mission to the Women's Business Enterprise National Council (WBENC) annual conferences in Las Vegas in 2017 and Detroit in 2018.
"As a result of attending these events, we've seen our clients increase and our business grow," she says, noting that BWIT holds special round tables, breakfasts, meet‑and‑mingle and matchmaking sessions for Canadian companies attending the mission. "In Detroit, as a direct result of one these BWIT‑organized trade missions, we were introduced to Pfizer Diversity Procurement," which she says subsequently selected Toc Toc to help it develop future products.
Josie Mousseau, a trade commissioner who manages the BWIT program, says that such events let women‑owned businesses like Toc Toc "get in front of Fortune 500 companies and make their pitches." But she says it's critical first to "know your company's unique capabilities and who you want to meet," points that Desautels has especially honed.
"You do have to step outside of your comfort zone. There are so many businesses that are competing, sometimes in the same space. It's intimidating," Mousseau says. She recommends that women learn about each prospective customer, its supplier diversity programs and its needs, as well as having a good website and a strong social media presence.
Mousseau says the BWIT team acts as "a bit of a sounding board" for Desautels, and they are now in the process of introducing her to trade commissioner colleagues who can help her make more connections around the world.
"Tools that are free and can support women in business are here at their fingertips," says Mousseau. She hopes that female entrepreneurs interested in going global will become more aware and take advantage of BWIT, which is growing significantly with recent additional funding for its programming of $10 million over five years.
Desautels calls BWIT "a booster" and a "connector" for her company. "We appreciate the continuous support of the TCS and Josie and her team." She advises women in her field to "never underestimate your capabilities as a woman and focus on the essentials. Believe in yourself and believe in your employees."
Her plans ahead include building long‑term relationships with key procurement representatives and connecting with commercial teams in the pharmaceutical sector that require cost‑effective marketing and communications support to position their products.
Among Toc Toc's objectives this year are to increase its sales of pharmacy programs in Canada by 20 percent. Desautels also hopes to increase export sales by 10 percent, to establish a more significant presence in the U.S., to participate in U.S. health‑specific trade missions and to continue to develop Toc Toc's Asian market. She plans to attend the BWIT trade mission to the WBENC conference in Baltimore in June and to participate in the company's first European trade mission with the TCS in the autumn.
Desautels comments that "I'm still learning." She feels that it's important for women in business to discuss the problems and challenges of the international market and to act as mentors. "We can share our experiences and we can help each other."
Subscribe to: E-magazine and RSS Feed

Use #CanadExport