What to do with pollutants removed from waterways?
If Canada's clean technologies sector were a hockey team, most of the players would be feisty rookies looking for a permanent roster spot. Ostara Nutrient Recovery Technologies Inc., on the other hand, would be the grizzled veteran with wily experience and a couple of Stanley Cup rings to prove it.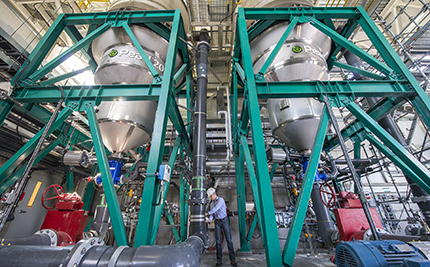 (Photo: Ostara Nutrient Recovery Technologies Inc.)
Dan Parmar, however, thinks Ostara is just hitting its prime. Appointed chief executive officer in 2017, Parmar is preparing the Vancouver, B.C. company to expand. With the help of Canada's Trade Commissioner Service (TCS), that growth is targeted to occur in places like Poland, the Middle East and the United States.
Ostara specializes in wastewater treatment and nutrient management. The Pearl nutrient recovery process answers the question: "What do you do with pollutants once you take them out of the water?" Parmar says.
The company's unique business proposition is an "upcycling" technology that reprocesses otherwise‑polluting nutrients like phosphorous and nitrogen into a high‑value, sustainable eco‑friendly fertilizer, branded as Crystal Green®, to boost agricultural yields in crops such as potatoes and canola.
Ostara has 15 nutrient recovery facilities operating in North America and Europe, including one in Chicago, Ill., the largest of its kind. The company currently has 40 employees, and is set to add another five plants to its portfolio in the coming years. Their business model was based on global business development and partnerships to combat an issue that is found nearly everywhere. More than 90 percent of Ostara's revenue comes from global trade.

Dan Parmar, president and CEO of Ostara Nutrient Recovery Technologies Inc.
"This was a global problem with global reach," Parmar says. "We always wanted to be an international company. It was a matter of which countries you want to enter first because if you're a young company, you want make sure you have some success."
Most recently, Ostara has signed agreements to establish an upcycling plant in the small Polish city of Jarocin. It will be its fourth plant in Europe, and its first near the Baltic Sea, where eutrophication—excess nutrients running off into the waterways that suck up the oxygen supply—has caused massive algae blooms that are threatening sea life and fisheries.
The expansion into Poland was aided by a team of trade commissioners in Europe and Canada. Services provided by the TCS include setting up meetings between interested municipalities and Ostara's Polish partner Krevox at the Canadian Embassy in Warsaw, facilitating tours of other plants, and helping to set‑up financing.
The TCS partnership has been indispensable for an established company like Ostara, which spent two years working on its Poland project, Parmar says.
"When you're a young technology company, you have got to make the right decisions up front," he says. "As you grow outside of the North American market, you really do rely on partners. The TCS can help us with market research, and they're also helping set up valuable relationships. They can invite organizations into their embassies and give us an opportunity to meet good people. It helps you speed up your adoption and reduce the risk of entering into a relationship."
David Tsui is a trade commissioner based in the TCS regional office in Vancouver who focuses entirely on cleantech. He says Ostara's approach is a successful model at which the growing number of younger firms should look closely.
"While the entire cleantech sector is still finding its way, trying to determine which business models work, Ostara is leading the charge and easily represents one of the best cleantech companies we have," Tsui says.
That approach has been recognized by their competitors and peers, with Ostara being named to the Global Cleantech 100's Hall of Fame in 2017 and being awarded the World Economic Forum's Technology Pioneer Award.
There are two factors helping Ostara gain traction in Europe, according to Tsui. One is that its technology is as good as or better than anything offered in that continent—which is unusual, he adds, because European cleantech is quite advanced. Also, Canadian cleantech firms now have expanded access to that market through the Canada‑European Union (EU) Comprehensive Economic and Trade Agreement (CETA).
"Clearly for Poland it's been very helpful," he said. "(Trade commissioners) made a real difference for us. It's the relationships that they can create and connect us with—that is at the heart of how a company can grow in a foreign country."
Subscribe to: E-magazine and RSS Feed

Use #CanadExport