Carbontech holds promise as a breakout sector for Canada
Technology that turns waste carbon into valuable products and services holds significant promise for Canadian cleantech and energy innovators, through an initiative supported by the Trade Commissioner Service (TCS) in New York.
Carbontech, also known as carbon‑to‑value (C2V), is an emerging industrial sector. It provides a market value for carbon, creating an economic incentive to capture and convert carbon dioxide (CO2) into usable products. This approach is better than releasing CO2 into the atmosphere.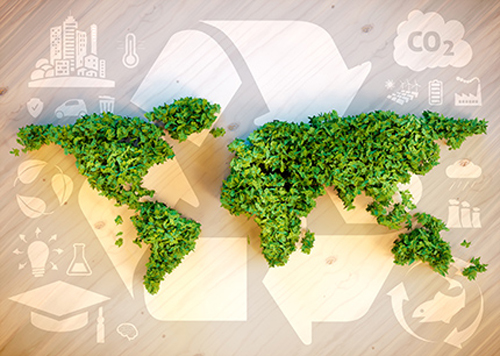 "Carbontech could be a breakout sector for Canada," says Ian Philp, who is head of energy and environment for the TCS in New York. He says that by scaling up its nascent carbontech industry, Canada can address several "existential problems". These include how to drive growth during this challenging time, how to focus on the carbon‑intensity of our domestic fossil‑fuel industries and how to deal with climate change.
Carbontech represents a lucrative economic opportunity. It has an estimated market value of US$1.07 trillion per year in the U.S. and US$6 trillion per year globally and is expected to reduce CO2 emissions by 7 gigatonnes annually. This will benefit sectors as diverse as fuels, cement production, industrial gases and plastics, as well as niche applications like cosmetics, food and beverages.
Canada is playing a leadership role in the C2V industry
Canada, through its Consulate General in New York, has taken a leadership role in the Carbon to Value Initiative, a new program catalyzed by the New York State Energy Research and Development Authority (NYSERDA). The program is designed to rapidly commercialize and deploy innovations by carbontech start‑ups. Philp says the program is a collaboration between major corporations, government, industry experts and non‑governmental organizations. Carbon to Value Initiative's goal is to build the ecosystem of activities and partnerships that small carbontech innovators need to thrive.
Canada is a founding member of the program's Carbontech Leadership Council. This is a high‑level group of corporate, academic and government leaders designed to foster commercialization opportunities for C2V technology.
The key is to cost‑effectively scale and expedite the development of solutions, says Philp. He notes that start‑ups often lack experience working with large corporations to pitch and adapt their technologies to fit into industrial supply chains. Meanwhile, large corporations are always seeking to understand what innovators are doing and how that could drive efficiency in their production processes, he says. "Participation in the C2V Initiative can help to bridge these gaps."
The Canadian Technology Accelerator is helping Canadian innovators breakthrough
There are a number of Canadian innovators getting a foothold in the sector in markets like the U.S.

Jennifer Wagner, president of CarbonCure Technologies Inc., of Dartmouth, NS
Photo: Courtesy of CarbonCure Technologies Inc.
Molly Rafelson, trade commissioner at the Canadian Technology Accelerator (CTA) in New York, is helping start‑ups in fields, including cleantech.
One example is CarbonCure Technologies Inc., of Dartmouth, NS, a global leader in carbon capture and utilization (CCU) technologies for concrete. Its technologies enable concrete producers to inject CO2 captured by industrial gas companies into ready‑mix concrete. This makes it stronger and allows concrete producers to reduce the cement content in their mixes, while maintaining the concrete's strength. "It's a great example of a win in this new space," Rafelson points out.
CarbonCure president Jennifer Wagner says that Canada is establishing itself as a leader in the field of innovative carbon technologies on the world stage.
"This is largely due to the government investment in the research and development of clean technologies such as CCU technologies," says Wagner, noting that being ahead of the curve brings tremendous opportunity. "Canada's contribution to the ongoing development of the world's carbontech solutions means that Canada will play a significant role in achieving the emissions reductions necessary to meet climate targets and help fight climate change."
Philp explains that the TCS is a conduit between start‑ups, innovation hubs and other research programs in Canada and corporations looking for carbon‑mitigation solutions. "It's very exciting, and it's very much in line with Government of Canada priorities," he says. "This is such a big opportunity, and carbontech is another tool in our arsenal to fight climate change."
Canada is already making a name for itself in the C2V field, Philp points out. Four of 10 finalists for the Carbon XPRIZE are Canadian companies. The challenge competition is designed to find the best technologies that remove carbon from the atmosphere and turn it into useful products. He notes that half of the finalists are doing their technology deployment at the Alberta Carbon Conversion Test Centre (ACCTC), a specially designed facility in Calgary to test and advance carbon conversion technologies.
Rafelson adds that the C2V Initiative will seek applications from carbon‑focused start‑ups in the coming months and act as an accelerator. This will help technology developers connect with large corporations that have the resources and market access to validate their offerings.
A six‑month accelerator program focused on carbontech will follow in early 2021. Rafelson explains that the technology is critical given the challenges that the COVID‑19 pandemic poses to businesses and the industry.
"As we move out of COVID‑19, this is a forward‑looking strategy that a lot of investors are looking into more closely," she adds. "There is space to grow."
An international business strategy for carbontech
CarbonCure Technologies Inc. of Dartmouth, NS, is the global leader in carbon capture and utilization (CCU) technologies for concrete.
CanadExport asked CarbonCure's president Jennifer Wagner and vice‑president of business development Kaja Salovsky about their international strategy, how the Trade Commissioner Service (TCS) has helped—and what's ahead.
Can you briefly talk about CarbonCure's mission?
Jennifer Wagner: CarbonCure is on a mission to decarbonize concrete and reduce embodied carbon, the emissions associated with building materials, from the built environment by 500 megatonnes annually.
In 2020, CarbonCure was named as the 2020 North American Company of the Year and listed in the Global Cleantech 100 for the fifth consecutive year by Cleantech Group.
What is your global strategy?
Kaja Salovsky: While global expansion has always been part of CarbonCure's vision, as it is a key tactic for achieving the goal of reducing 500 megatonnes of CO2 emissions annually, we have partnered with concrete producers in the United States and Canada to establish our commercial technology before venturing abroad.
In November 2018, CarbonCure entered into the Singapore market with Pan‑United Concrete. Since then, Pan‑United has installed our technology into multiple plants, with further expansion on the horizon. As well, in August 2019, we formed a strategic alliance with the world's largest industrial gas supplier, Linde, in order to expedite the adoption of the technology across Europe, Middle East, Southeast Asia and Oceania.
How has the TCS and its programs helped you?
Kaja Salovsky: CarbonCure works closely with TCS regional offices to access support from both the TCS domestic and international networks to implement its global expansion strategy. The TCS provides market intelligence to inform our international business strategy, as well as sharing in‑market initiatives that align with our objectives.
Prior to COVID‑19, we would meet regularly with trade commissioners abroad to assess its market entry strategy, and now these discussions continue virtually. The TCS international network has facilitated a number of key introductions to potential partners in CarbonCure's priority markets of focus, including the U.S., Singapore, Taiwan, Spain and beyond.
Moving forward, we will look to leverage virtual TCS programming, such as the Canadian Technology Accelerator program in Hong Kong.
What challenges and opportunities has the COVID‑19 pandemic presented?
Jennifer Wagner: Solutions that reduce concrete's carbon footprint are critical for achieving substantial emissions reductions in the short and long term. While the pandemic has slowed down construction and building projects, it has also afforded more concrete producers with the time and opportunity to pursue carbon‑reducing solutions like CarbonCure.
Our innovative team has adjusted our operations in order to service these new customers by conducting installations and technical support remotely. So as things resume slowly, those who want to supply concrete made with CarbonCure are able to do so without any issue.
What is your advice to others in the sector?
Jennifer Wagner: First, I'd say for those in the carbontech space to work with industry partners to get your ideas out of the lab and into the real world. Once you get your science and technology to work, you'll have to innovate on the business side, as solutions should stand on their own. Try not to rely on subsidies and metrics based on the price of carbon, as those change and aren't long‑term. As we've seen with CarbonCure, solutions that scale quickly have an environmental and economic value.
Any special advice in the context of COVID‑19?
Jennifer Wagner: I'd advise others in my sector to avoid waiting for things to return to normal, as that won't be happening anytime soon. Instead, pivot now. The right approach is to first think of how to prioritize and secure the health and safety of your whole team; then figure out the business implications later. When the virus first came to Canada, CarbonCure hit pause for two whole weeks, instructing everyone to stop travelling, stay home and self‑isolate. Only after this period did we begin to think of business continuity and how to adapt to the new circumstances operationally. This afforded us the opportunity to think deeply about how to best use the down‑time. A silver lining that emerged from this incubation period is that our engineering team figured out how to conduct installations of our technology remotely. Remote installation support is becoming our new standard, as it forces us to streamline and digitize processes we wouldn't have thought to before.
Subscribe to: E-magazine and RSS Feed

Use #CanadExport