Telemedicine company succeeds through helpful connections to global contacts
Canada has long been recognized as a leader in telemedicine. Several factors contribute to the country's expertise in this sub-sector of digital health, such as the need to provide healthcare services in remote communities and the development of advanced telecommunications technologies. In recent years, Canada's telehealth industry has grown by an average of 35% annually. Advances pioneered in Canada are increasingly popular worldwide, as demonstrated by the success of Tech4Life, based in Milton, Ontario.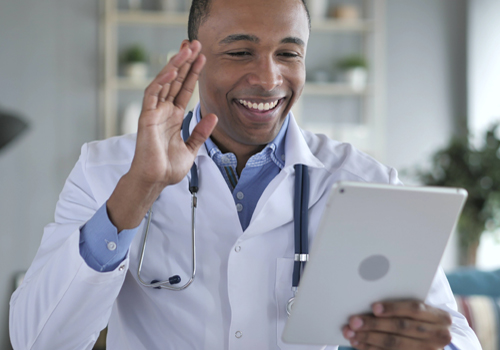 Pivoting during a pandemic
Tech4Life is a socially motivated, innovative research and design company specializing in telemedicine and point‑of‑care devices. In January 2020, the company launched its latest product line at the Arab Health trade show in Dubai, United Arab Emirates. The line is known as Sojro, which means "source of illumination" in Sindhi, a language native to parts of Pakistan and India.
"Sojro is a portable telemedicine kit," says Dr. Shariq Khoja, Tech4Life's CEO. "It includes a series of inter‑operable, easy‑to‑use diagnostic tools linked with a wireless transmitter and MDConsults, our telemedicine software. Sojro provides doctors and other healthcare professionals with the information needed to examine patients who might not otherwise have access to care."
When the pandemic threatened to temporarily disrupt the market for Tech4Life Enterprises' latest telemedicine solution, the company responded by pivoting and created one specifically for COVID‑19.
"The technology we've developed is quite flexible and can be configured in a number of ways," says Dr. Khoja. "We designed a version that can help identify patients who may be suffering from COVID-19 and should seek medical care."
Innovation driven by passion

Dr. Shariq Khoja, Tech4Life's CEO
As a public‑health physician, Dr. Khoja has long been passionate about improving access to basic healthcare, particularly for people in remote and under‑developed regions. This passion led him to recognize that rapid advances in wireless technologies and mobile diagnostic tools could revolutionize telemedicine. He recognized that harnessing the potential of telemedicine would enable him to help far more
Dr. Khoja's completed a doctorate in health research at the University of Calgary and served as an advisor to the United Nations Foundation, an agency devoted to mobile healthcare. In 2013, he founded Tech4Life as a research firm and four years later released MDConsults Telemedicine Software and eSteth Digital Stethoscpe as the company's flagship offerings.
"Our focus is to solve the practical challenges that prevent telemedicine from achieving its full potential to improve health services," says Dr. Khoja. "To address the challenge of limited internet connectivity and poor access to healthcare facilities in many countries, we designed MDConsults and eSteth so that valuable diagnostic information can be transmitted using little bandwidth."
The right connections help open markets
With the help of Canada's Trade Commissioner Service (TCS), Tech4Life soon found markets for MDConsults and eSteth in a growing number of countries. This success enabled the company to expand, and to develop a line of high‑quality analog and digital stethoscopes now popular internationally.
"The Trade Commissioner Service has been essential to our success," says Dr. Khoja. "We've worked with them from the beginning. In each country and region, they introduced us to appropriate contacts in government agencies and non-government organizations, along with potential distributors and customers."
Sojro could well usher in a new era of telemedicine by facilitating ever‑more sophisticated diagnostic tests from the field. The maternal‑health version performs fetal ultrasound, for instance, while the COVID‑19 version monitors blood‑oxygen levels. Tech4Life acquires compact, robust diagnostic tools from a variety of manufacturers, then designs the software and assembles Sojro kits in Canada. Portability and ease of operation are key advantages: the diagnostic tools in all models use a single power source and transmitter. These advantages, along with the support of TCS, enabled Tech4Life to quickly secure markets for Sojro in Kenya, India, Pakistan, Nigeria and Oman.
"In the hands of a social worker or community health worker, Sojro creates a "de facto" doctor's office nearly anywhere," says Dr. Khoja. "It makes it possible for hundreds of millions of people to access diagnostic services for the first time in their lives."
Tech4Life continues to work on telemedicine's remaining challenges, such as how to transmit information securely from places that lack connectivity. And next year, the company will release a prototype of its latest innovation: a non-invasive hemoglobin monitor.
"Undiagnosed anemia claims the lives of millions of people each year," says Dr. Khoja. "And many regions lack the capacity needed to conduct the standard blood test for anemia. We're determined to change that without needing to draw a single drop of blood."
TCS Support
The Trade Commissioner Service helps Canadian businesses grow by connecting them with its funding and support programs, international opportunities, and its network of trade commissioners in more than 160 cities worldwide.
Grow your innovative business in international markets with:
Canadian Technology Accelerators — Access opportunities in global tech hubs for an existing and validated product in cleantech, life sciences, and information and communications technologies (ICT).
CanExport Innovation — Apply for funding to pursue research and development (R&D) agreements with international partners and investors.
Canada's network of trade commissioners — Connect with our network of trade commissioners in more than 160 cities worldwide, including six regional offices across Canada, for help on your international business journey.
Subscribe to: E-magazine and RSS Feed

Use #CanadExport