Dairy technology firm 'mooves' into global markets
An Atlantic Canada company that is bringing new technology to the dairy supply chain is turning heads globally, with the support of Canada's Trade Commissioner Service (TCS).

The Milk Moovement software can be used on a tablet.



The Milk Moovement software can be used as a mobile app.
Photo: Milk Moovement
Milk Moovement is rapidly expanding in the United States and beyond with its proprietary cloud‑based software, which tracks raw milk shipments from dairy farmers to processing plants. Its software delivers real‑time quality and quantity information to producers, processors, transporters and cooperatives. The AgTech startup has participated in the Canadian Technology Accelerator (CTA) program in California's Silicon Valley and has been part of several key U.S. tech incubators, catching the attention of major agribusiness investors and leading to seed financing for its innovations.
"We are committed to digitizing and optimizing the dairy supply chain to make it more efficient, sustainable and profitable for everyone," says David Riggs, vice‑president of strategic initiatives for the company, which is based in Halifax, with offices in St. John's, NL, as well as Minneapolis.
Democratizing the dairy supply chain
Milk Moovement was co‑founded in 2018 by Jon King, today the company's chief operating officer, and Robert Forsythe, its chief executive officer, who were then recent commerce graduates of Memorial University in St. John's. Upon graduation, King had been hired by the Dairy Farmers of Newfoundland and Labrador. Part of his role was reconciling raw milk pickups and shipments, which were then done manually.
"A milk truck would show up to the farm. They would write down the volume amounts on carbon‑copy paper and then distribute copies to different stakeholders as required," Riggs says. "At the end of the day, the carbon copy slips would need to be reconciled."
Initially, King developed a "fit‑for‑purpose" system using available technology. However, it wasn't a scalable solution that could be easily used by others in the dairy industry. He left the position to pursue a different entrepreneurial venture, however, he later returned to the dairy industry to create Milk Moovement—a scalable, cloud‑based solution with an online portal and a web‑based mobile application.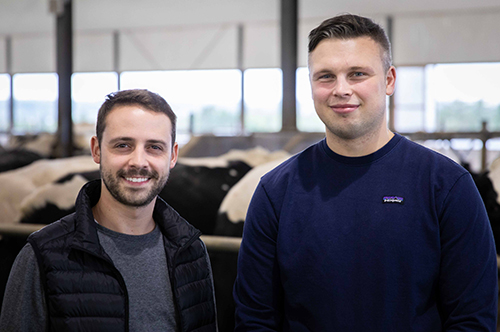 Robert Forsythe and Jon King
Photo: Milk Moovement
"It democratizes the dairy supply chain and connects stakeholders," explains Riggs. "Everybody's working off of a single data set, which facilitates knowledge sharing and collaboration."
Through Milk Moovement, dairy cooperatives and processors can eliminate administrative time by up to 85%, he says. "The shared data set enables users to identify issues earlier, solve problems and proactively manage their operations."
The global expansion
In the push to expand globally, several technology accelerators have been critical in supporting Milk Movement.
After being identified and referred by the TCS Regional Office in Atlantic Canada, King and Forsythe attended a one‑week AgTech CTA in California in 2019 that "was a jumping‑off point for us," Forsythe recalls. They increased the company's visibility and made contacts who were instrumental in getting Milk Moovement admitted to the Thrive accelerator in Silicon Valley, he says, "which helped us build a profile in the region and across the United States."
Milk Moovement also attended a second two‑and‑a‑half‑month CTA virtual program that focused on Mexico. "It proved valuable for opening doors and providing resources in the region," Riggs says. "Through CTA programs, we're able to make valuable connections and better assess if markets make strategic sense for us."
The company's most recent success comes in the form of the closure of a US$3.2 million financing round, led by a series of major venture capital companies. Agriculture industry leader Richard Cargill is also a company mentor and personal angel investor.
"The delivery of high‑quality, more nutritious and even more efficient products is imperative for success in 21st‑century agriculture," Cargill said in a statement, predicting that Milk Moovement's dairy supply‑chain tool will be at the forefront of the industry's success. "What separates this team from competitors is their empathy for the challenges faced by the industry and their relentless drive to create value for customers."
Challenges and opportunities
Riggs says that the TCS has been a critical element of the company's success so far. "Global Affairs Canada is globally respected. Having their support lends credibility and helps open doors. It helps companies jumpstart their global expansion initiatives."
His advice to other companies like Milk Moovement is to "never be afraid to ask for help" and to leverage the resources that are available. "As entrepreneurs, a lot of people say, 'I'm here because I'm a problem‑solver, and I can figure things out.' But part of it is also knowing when to step back and ask for help when it's there," he explains. "There are myriad resources out there, like TCS, like the CTA programs, that can propel your business forward."
He notes that the COVID‑19 pandemic "has been a challenge and an opportunity all at once," for Milk Moovement. "For instance, the pandemic has made it challenging to travel internationally. Conversely, it has also highlighted the business case for digitizing supply chains. For example, Milk Moovement users now can work remotely using our cloud‑based technology. This was not possible when data was being recorded on carbon‑copy slips."
Riggs says the company is growing quickly, with some 25 employees and new staff continually "joining the herd". It's in the process of completing the onboarding of its first client in Australia, he says. "We're seeing momentum both domestically and internationally."
Riggs adds that the first step in a client's journey is to digitize their supply chain. Once it's been digitized, "we can start optimizing using machine learning and other modern technology."
Innovative company identifies opportunities south of the border
David Riggs, vice‑president of strategic initiatives for Milk Moovement, says the company's "success story would be difficult to tell without mentioning the support we received from the Trade Commissioner Service (TCS)."
Milk Movement set up an office in the summer of 2020 in Minneapolis with the help of local trade commissioner Christina Connelly, and it attended the major TechStars AgTech accelerator there last autumn.
Carmen Zanfirescu, a trade commissioner who covered sustainable technologies and AgTech for the TCS in San Francisco and Silicon Valley, says Milk Moovement "demonstrates a great example of a Canadian Technology Accelerator (CTA) success story. They came into the program with a clear agenda, quickly assimilated the local feedback, and were ready to capitalize on the opportunities."
It was "very gratifying" to see the company build on those opportunities and advance its goals, Zanfirescu comments. "It is exactly what the TCS hopes to achieve with every CTA cohort, and we are always here to help."
Connelly, who covers agriculture, food and AgTech as a trade commissioner, says Milk Moovement has done well by identifying an opportunity and developing technology to address it. She says large local agribusinesses in her region see Canada "as a source of valuable agricultural technologies and innovation."
The company "takes advantage of the various opportunities that both the Canadian government as well as our partners in the U.S. have to offer" through trade accelerators. Connelly adds. "It's invaluable the number of contacts and level of market expertise you can get."
She says locating in Minnesota is a smart move because "dairy is huge in this region" as well as in California, another important focus for Milk Moovement. "The fact that they have done significant legwork in both markets makes a ton of sense."
Applications are now open for the 2021 Minneapolis, Los Angeles and San Francisco AgTech – Canadian Technology Accelerator.
Subscribe to: E-magazine and RSS Feed

Use #CanadExport