Trade commissioner provides "warm introduction" abroad for New Brunswick company
Introductions are important for companies doing international business. For Measurand Inc., a firm headquartered in Fredericton, New Brunswick, that makes technology necessary to determine the condition of the ground and surrounding structures in urban construction, mining and other applications, they're essential.
With the help of the recommendations and contacts provided by the Canadian Trade Commissioner Service (TCS), beginning with its Atlantic regional office, the company today has sales in some 50 countries around the world. In marketing materials touting the firm's global success, Measurand counts Charles Gaudet, a trade commissioner based in Moncton, as well as a number of trade commissioners in TCS international posts among its clutch marketing team.
"What the TCS does for us is provide opportunities for connection and visibility, and it is a conduit into those parts of the markets where we may not have visibility or connections," says Finnegan Mwape, the company's vice president of global sales. "When you come recommended by the TCS, there's a level of credibility that you bring to the table, so it makes people pay attention. It has a very big impact as far as framing yourself to a prospect."

Finnegan Mwape, vice‑president of global sales for Measurand
Photo: Tyler Morency
Measurand was founded in 1993 when it patented fibre‑optic bend and twist sensors used in the medical and automotive sectors. It then became a leader in the motion‑capture industry and finally moved on in 2006 to measuring the movement of earth, designing and manufacturing instrumentation for geotechnical deformation monitoring.
The company's ShapeArray device measures the movement of soil and structures like dams, tunnels, walls and whole buildings. This automated instrument enables engineers and designers to reduce risk and save money by making smarter, faster decisions in mining and tailing operations, infrastructure, building and other projects.
"We're in the business of risk management associated with built environments, whether it's pre‑construction, during construction or post‑construction," Mwape explains. "Even if it's just a road being constructed in the middle of nowhere, there are certain things that nature poses as dangerous that need to be addressed."
Mwape says the company's TCS overtures to the world start with Gaudet, a trade commissioner who covers the information and communications technology sector in New Brunswick. Gaudet serves as Measurand's primary TCS contact point, and has been helpful in capturing the attention of his trade commissioner colleagues around the world, who are then able to help Measurand sell its technology in their local markets.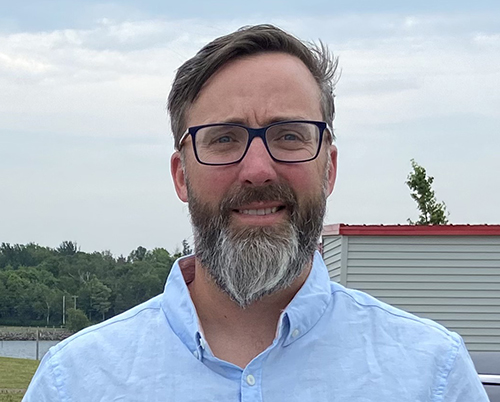 Charles Gaudet, trade commissioner based in Moncton, NB
Photo: Lori Black
"There's a certain unspoken credibility…it's not a cold call," Mwape explains. "If you're trying to sell something to someone, or you're trying to find out what problem they have and see if you have a solution for it, it's a very different conversation when you come highly recommended."
The situation is "much like a friend vouching for you, there's a trustworthiness that happens," he says, noting that Gaudet has also helped the company decide on the countries and sectors where it should try to sell its product.
"We've done a really good job of defining what markets we want to play in and how we want to play," Mwape comments. "And when we do talk to the people in those TCS offices, they already know the playbook and what we're looking for."
Gaudet says that Measurand, which first became a TCS client in 2013, "has been able to get into markets and get sales a lot quicker with the TCS" than on its own. He helps the company develop market‑entry strategies and makes "warm introductions" to his TCS colleagues in the field, telling them about the company, its product and its capability to do business abroad.
"A trade commissioner sitting in a country knows that market, they know the regulatory environment and they seek qualified opportunities for Canadian companies on a daily basis," Gaudet says.
For example, Genevieve Fletcher, a trade commissioner in Washington, DC, covering the infrastructure and clean‑technology ectors there, was successful in connecting the company with contacts responsible for upcoming projects in that region.
"When Charles approached me, it was clear that he and Measurand had worked together to prepare for international markets," recalls Fletcher, who in turn worked with Gaudet to develop a plan to market the company's technology to potential users in Washington and surrounding states. She calls the region, where trade commissioner Kate Salimi now covers infrastructure and clean‑technology, "a great fit" for Measurand's unique solution to the geotechnical issues experienced there.
Mwape anticipates major sales for his company on the U.S. Eastern Seaboard, including significant infrastructure projects such as airports, pipelines, wastewater plants and tunnels. Today the company "touches all continents," he says, and its revenues have about doubled in the last four years. It has a staff of 70 and is currently seeing double the number of inquiries and seven times the volume and the dollar value of potential sales compared with last year.
The COVID‑19 pandemic hampered the company's ability to get out into the world to promote its technology in trade shows and conferences. But its market in essential industries like construction remained, and "we relied even more on the TCS," Mwape says, which "played a significant role because we pivoted into doing a lot of webinars and virtual meetings."
These were often organized and curated by the TCS, and "we didn't lose a step in as far as talking to our clients and being in front of them," he says. That has also helped Measurand develop a digital marketing strategy for the future.
Subscribe to: E-magazine and RSS Feed

Use #CanadExport