Trade commissioner brings "invaluable" connections to Alberta aerospace firm
Developing a new product and service with multiple high‑potential applications in high‑value international markets is a complex business. For Pegasus of Edmonton, having someone act as a central resource for ideas, contacts and support is invaluable.
Those are the very words that Cole Rosentreter, founder and CEO of the advanced aircraft and sensor solutions company, uses to describe the assistance provided by the Canadian Trade Commissioner Service (TCS), led by trade commissioner Amanda McNaughton in its Alberta and Northwest Territories regional office.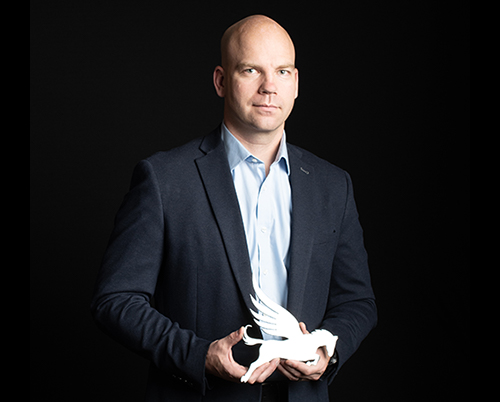 Cole Rosentreter, founder and CEO of Pegasus
Photo: Chris TT Thombs
"The TCS has been an invaluable asset for us as a small company trying to reach out and engage with multinationals around the world," says Rosentreter, who considers McNaughton the deep‑tech firm's "lead" for Alberta. "A small company like us would have a hard time if we didn't have support from the TCS."
Rosentreter served in the Canadian military for 15 years and during his tours of duty saw how drone technology was able to help soldiers work safer, smarter and more effectively. Initially created to provide intelligence, surveillance and reconnaissance solutions, he noticed that military drones had difficulty transitioning to commercial use. Consumer models were not well-suited to interact in the same airspace with civilian aircraft, he says, nor did they have the necessary range or sophistication.
He left the military in 2018 and made the decision to start Pegasus a year later in order to "bridge the capability gap between Lockheed Martin and Best Buy," Rosentreter explains. He notes that the drones his company is developing are large, can fly beyond visual line of sight, remain airborne for 10 hours and provide a sophisticated surveillance reconnaissance capability while detecting, identifying and avoiding obstacles in the air. This could make them useful for challenges like fighting wildfires, exploiting economic opportunities in the Arctic and other uses in industry and government. The goal is to provide real-time intelligence and data solutions that are cheaper, faster, safer and smarter, for instance in emergency management, public safety and the energy sector.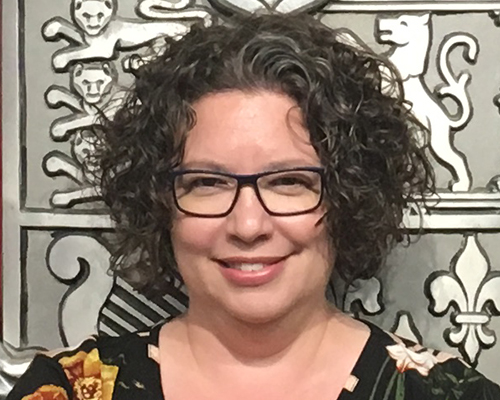 Amanda McNaughton, trade commissioner at the TCS's Alberta and Northwest regional office
Rather than heading to a "far‑flung part of the world" to validate the company's proof‑of‑concept, Rosentreter chose Northern Alberta to develop the technology. He set up a regional hub for Pegasus just outside Edmonton that he expects to become a model for regional vertical‑takeoff‑and‑landing airports. The commercial business model for Pegasus is to deliver the information collected by the drones and license it to end users, much like how satellites are currently employed, "just about 700 kilometers closer to the Earth, and on demand," he says.
Pegasus has spent two years testing the technology, with support from government, Boeing Launchpad Canada and contracts from potential customers in sectors from energy and aerospace to defence and the military. "It's at its inflection point," Rosentreter reports, noting that the company is working with large multinational companies across both defence and enterprise markets with its dual‑use technology.
The company is working on raising funds by connecting with venture-capital investors through the TCS, which Rosentreter calls a "force multiplier" for Pegasus. "They're a network of personal connections who deeply understand their specific region, know who the players are and have relationships with them," he says.
At the core of the TCS client journey is Amanda McNaughton, who acts as a "focal point" for the company, he points out, "connecting, coordinating and communicating on our behalf," as well as consolidating the company's messaging among some 25 officers in the TCS network.
McNaughton, who covers the aerospace, defence and security sectors and is based in Calgary, says Pegasus has moved ahead "fairly dramatically" through an organized approach and finding the right partners. It's "really exciting" to be part of a team effort helping the company make progress, she says. "It's almost living vicariously; you feel like you're making a direct contribution to the team at Pegasus," she remarks, noting that that's especially critical in Alberta where there's a need to diversify beyond the oil & gas sector into industries like aerospace.
"It's energizing to see that kind of potential and perceive its impact not just on the company but on the sector as a whole in Canada," she says. "It can change the game."
She advises the company to "keep a good grip on the controls" and recognize its limitations so it won't become overstretched. "We're here and we can help them narrow their focus," she says, in addition to connecting them to other trade commissioners, buyers and investors.
Pegasus is currently part of the cohort of the Canadian Technology Accelerator (CTA) in Boston, a virtual six‑month program for high‑potential companies. Erin Donahue, a trade commissioner there whose responsibilities include defence and aerospace, says the CTA provides participants with local mentors and introduces them to possible investors, clients and strategic partners.
"The greater Boston area has a strong venture‑capital community, coupled with a strong robotics and unmanned systems community," Donahue points out, which is a good combination for Pegasus. "We see this as a good fit for their outreach."
Rosentreter says that Donahue is forward‑leaning and "extremely well-connected." The location of the CTA on the U.S. East Coast works well for the company, as home of many aerospace, defence and artificial intelligence companies and research centres.
He feels strongly about the ability of Pegasus to "democratize data collection," making the intelligence gathered by its specialized aircraft available to underserved markets in fields like forestry, mining and environmental monitoring. He says the company is resilient, indeed the staff doubled in size despite the COVID‑19 pandemic and today it has 22 full‑time employees.
"We have a bias for action and are laser‑focused on our direct path to commercialization," Rosentreter adds. "We have to move as fast as we possibly can to do that."
Subscribe to: E-magazine and RSS Feed

Use #CanadExport