CETA helps Alberta exporter sell beef in Spain
When the Canada‑European Union (EU) Comprehensive Economic and Trade Agreement (CETA) entered into provisional application on September 21, 2017, it promised opportunities for Canadian exporters looking to take advantage of reduced tariffs and increased openness to their goods and services in the EU.
Today, Bouvry Exports is selling its beef in Costco stores in Spain, after a three‑year strategy by the Canadian Trade Commissioner Service (TCS) to help Canadian beef producers sell products there under the landmark Agreement.
"The tariff reduction makes us more competitive with EU companies," says Eliot Bouvry, Director of Operations for Bouvry Exports. The company was started in Fort Macleod, Alberta, by his father Claude in 1982, and today has 300 employees, between its operations in Alberta and a subsidiary in Massueville, Quebec, called Richelieu Meat Inc. The company's exports of beef, bison, elk and horse represent 40 to 50 percent of its sales, with the rest in Canada, says Bouvry. Its beef is sold under the brands Wild Rose Angus Beef, which is free of growth‑enhancement hormones, and MacLeod's Leap Beef.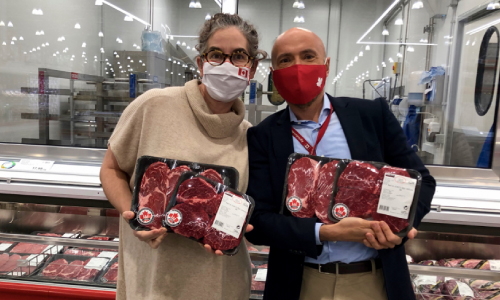 Karen Kennedy, Senior Trade Commissioner, and Maximo Hurtado, Trade Commissioner, visiting Costco Spain
Bouvry says his company had not previously considered the European market because of the 20 percent tariff there. But then CETA came along. The ability under CETA for Canadian exporters to sell some 65,000 tonnes of beef to the region tariff‑free is "definitely an opportunity," he says, while noting that the EU also has special requirements for beef producers, including that they must raise or source cattle free of hormones.
Bouvry says he was "really shocked" to find out from the TCS in 2019 that under CETA the company's Wild Rose Angus Beef was being sold by Costco in Spain, through a European importer based in Belgium. That information was delivered by Maximo Hurtado, Trade Commissioner in Madrid who covers the agri‑food industry.
Hurtado and Karen Kennedy, then Senior Trade Commissioner in Madrid, developed the three‑year market‑access strategy to connect Canadian producers and exporters with partners that directly import and distribute their beef in Spain. This included writing a practical guide for Canadian meat exporters, commissioning a meat‑market study in Spain, meeting with groups like the Canadian Cattlemen's Association and Canada Beef, setting up Canadian beef booths at fine‑food shows in Spain, and helping to organize a trip for European buyers to meet key players in the beef industry in Canada.
As a result of their efforts, Bouvry Exports signed a contract in December 2020 with Asttra International, a woman‑owned business that is a buyer for Costco Spain, to import its beef for sale on the giant retailer's shelves.
"Canadian beef aligns with the tastes of Spanish consumers," explains Hurtado, noting that they especially favour the well‑marbled beef that Canada produces, and find it affordable. CETA provides for duty‑free access in the EU for 50,000 tonnes of Canadian beef, he says, and the 20 percent duty on the country's previous quota of some 15,000 tonnes of beef was reduced to zero.
"We are delighted to see how exports to Spain have increased," Hurtado says. In fact, according to Statistics Canada, Spain has become one of the top five importers of Canadian beef and other bovine meat products in the EU, ahead of Germany. Products valued at just over $700,000 were exported to Spain between January and September of this year alone.
Albert Eringeld, Executive Director of Export Market Development for Canada Beef, the national marketing agency for the Canadian beef and cattle industry, says the Costco deal with Bouvry Exports is a "great first step" for Canadian beef in that market.
"Canadian beef is perceived as a premium product of very high quality in Spain," he says. The visit by Spanish meat‑importing companies to Canada in the fall of 2019, supported by the TCS, the Province of Alberta and others, was instrumental, Eringeld says. He adds that CETA has "had a huge impact."
"Canadian beef exports will likely continue to experience a steady growth to European markets during the next few years, as more companies become aware of the benefits associated with CETA," he says, especially with the support of the TCS.
"The TCS is a strong partner for us," Eringeld notes, given its network of Trade Commissioners, their contacts and their knowledge of international markets. "They have a ton of initiatives to help Canadian agriculture and agri‑food companies expand abroad."
Hurtado says that now that its three‑year market‑diversification strategy has proven to be successful, the TCS is working on promoting Canadian beef in Spain and across all 27 EU Member States.
In Spain, this market development includes organizing promotions, bringing Canadian beef to gourmet food trade-shows and inviting Spanish chefs and food retailers to try it out, in collaboration with Agriculture and Agri‑Food Canada and others.
"Canadian suppliers are seeing the opportunity," Hurtado says.
Bouvry hopes to get his company involved in the TCS's promotional efforts. "Many beef producers are starting to jump on board and they're starting to see the benefit of raising their cattle without hormones," he says.
Bouvry Exports is working on a strategy for Europe, and has an office in France that helps with its sales across the region, Bouvry says. "Our customers recognize the quality of our beef."
The company hopes to continue to work with the TCS as it looks for new export customers, he says. It's looking at how it can benefit further from CETA, as well as the Comprehensive and Progressive Agreement for Trans‑Pacific Partnership (CPTPP). "We're always looking for more markets," Bouvry adds.