Ontario maker of COVID‑19 testing devices finds international success
When Laipac Technology Inc. moved into the Internet of Medical Things (IoMT) market in 2019, its timing could not have been better.

The Look SPOT 2 device
The design‑engineering company, based in Markham, Ontario, had long been involved in Internet of Things (IoT) technology, making devices that communicate with each other. Its foray into health‑care solutions happened just before the COVID‑19 pandemic hit and accelerated the demand for the kind of personal medical diagnostics that IoMT could deliver.
Today Laipac is selling its LooK SPOT artificial intelligence (AI) rapid COVID‑19 antigen testing devices in countries around the world, with the assistance of the Canadian Trade Commissioner Service (TCS).
In Europe, the company has secured the CE Mark, which certifies that the product meets EU health and safety requirements. Laipac is especially hoping to take advantage of the European market through the Canada–European Union (EU) Comprehensive Economic and Trade Agreement (CETA).
"We are looking for good things in Europe," says CEO Diego Lai, who co‑founded Laipac 23 years ago with his wife Maria Pacini, the firm's Chief Information Officer.
Lai was born in Taiwan and moved to Argentina at the age of 14. After earning an engineering degree, and doing post‑graduate work in AI, he came to Canada in 1999. Finding it difficult to find a job without Canadian experience, Lai and Pacini decided to start Laipac, first focusing on the area of telecommunications.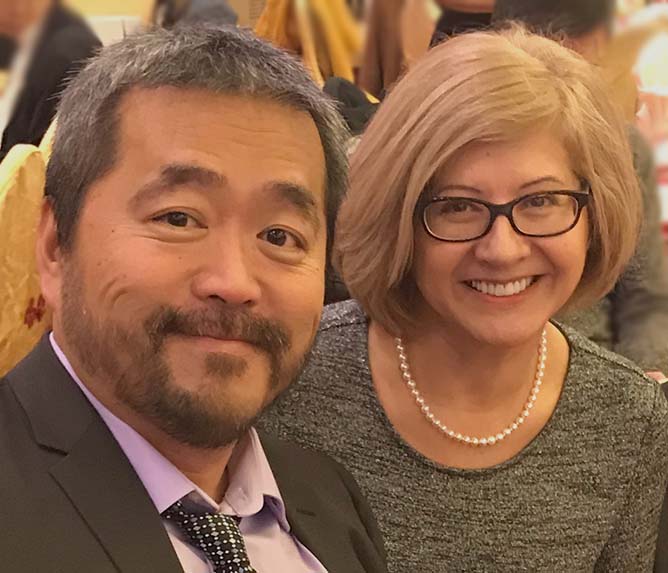 Diego Lai and Maria Pacini, co‑founders of Laipac Technology Inc.
The company immediately set its sights on international markets, with Lai joining a Canadian delegation in 1999 to the massive Telexpo trade show in Brazil.
"Canadian companies are often afraid of going outside the country. I was more afraid of the domestic market," Lai says, especially as his English was limited. He felt comfortable doing business in South America and got a contract with Siemens in Brazil to develop caller ID systems for telephones.
Laipac encountered the TCS in its early days, especially through Eleonore Rupprecht, a Trade Commissioner at the TCS regional office in Toronto. "She has been very helpful to us," Lai says, particularly by introducing the company to the wider TCS network. Lai says the firm relied on Trade Commissioners to represent it at major trade shows and make connections with distributors and customers in local markets. Today, it has the support of the TCS in some 30 markets.
Rupprecht, who covers the life‑sciences sector and sat on the TCS COVID‑19 Task Force, first met Lai when she was responsible for wireless technologies and telecommunications. "Diego had some very interesting solutions," she says, and with his roots in Latin America, he understood how to get traction with foreign customers and partners.
"For any company to scale, they need to have that international drive and to diversify their markets," she says. "That has kept him in a position to continue innovating."
Lai says the company has been developing relationships with companies in Europe since 2014, making custom products in a wide range of applications. For example, Laipac secured a contract with Trimble AB, the Swedish branch of Trimble, a multinational firm that makes precision instruments. It embeds a Laipac IoT module in the company's optical land survey equipment as part of the protection service Trimble offers to its worldwide clients.
Lai says that when the pandemic brought the world to its knees,"we were actually very blessed" because Laipac had been studying the area of medical diagnostics so that law enforcement officers could test drivers for cannabis impairment. The company wanted to help during the pandemic "and we thought that testing would be very important," Lai recalls, especially rapid "point‑of‑entry" tests in settings such as workplaces, transportation and special events.
It called its device the LooK SPOT, "because we can identify the result on the spot," Lai explains. Early in 2021 it released the LooK SPOT 1, which is attached to a smartphone. A nasal swab sample is inserted on a tiny cassette into its AI reader and rapidly analyzed through a cloud‑based service. The company has been selling the device in places such as Chile, Colombia, Ecuador, Guetemala, Japan, Kenya, Papua New Guinea, Thailand, and countries in Europe. Later in the year, Laipac released the LooK SPOT 2, a standalone machine that can analyze five sample cassettes simultaneously, allowing 500 tests an hour.
Lai expects to find more customers for the product in Europe, given the region's emphasis on quality and the greater awareness of Canadian products under CETA. "Canada has a very good image there. They see that things made here equal quality," Lai says, noting that introductions from Trade Commissioners on the ground especially help.
Today, 95 percent of Laipac's business is international, Lai says, and the company continues to innovate. For example, Laipac is working on a system to track and analyze the health of roaming livestock, a project for the European market that he says is funded by European Eurostar and the National Research Council of Canada.
The company is also working on developing an easy‑to‑use and fast diagnostic tool using AI to test for the presence of things like malaria, dengue fever, Ebola and sexually transmitted diseases.
Subscribe to: E-magazine and RSS Feed

Use #CanadExport