Developing a Reflex for global business
Developing devices in the laboratory and winning awards at competitions is a big accomplishment for researchers. Turning them into commercial products, bringing them to market and earning revenues can be an even larger hurdle.
For Andy Tsai, who develops wireless sensors and analytic software for health‑care applications such as monitoring seniors in their homes and determining the nutritional content of foods, it has been a successful journey between the two phases.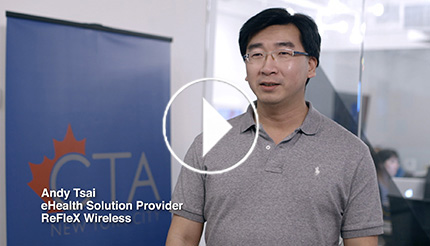 The CTA initiative is managed by the Canadian Trade Commissioner Service, with contributions from the Business Development Bank of Canada, and support from provincial governments, in-market business accelerators and industry experts.
With the assistance of the Canadian Trade Commissioner Service and its Canadian Technology Accelerator (CTA) program, Tsai's company, Reflex Wireless in Vancouver, now has products on the market and is looking at possible large‑scale deployments of its technology.
The life sciences company began as an academic project with the code name Project Z in September 2010, while Tsai was an undergraduate student of electrical engineering at the University of British Columbia.
Tsai has a background in nanotechnology, the use of tiny sensors and transmitters to collect and relay information, which are increasingly being used in lucrative medical applications with today's aging population. He put together a team of students to create a wireless patient monitoring system for use in hospital wards. The name "Reflex" reflected their desire to create an automated system that "could act without thinking," explains Tsai, the company's co-founder and CEO.
Numerous competitions hosted by academic and government institutions around North America followed. The company won the 2011 NYC Next Idea Competition, where Tsai and his team were awarded a cash prize, met Mayor Michael Bloomberg and were given six months of free office space in New York City to launch their business.
Tsai was contacted by the TCS while he was preparing for that competition and quickly learned about the service and how to take advantage of it, as his company continued to commercialize and find investors and customers for its products.
"We've been everywhere, participating in networking events that were hosted by the Trade Commissioner Service," he says, noting that Reflex has leveraged the sales and marketing assistance of the TCS in the U.S., Southeast Asia and now Europe. "It would probably cost us one million dollars every single year if we were to have those services built in within our organization."
Last year Reflex was selected to participate in the Canadian Technology Accelerator for Health Information Technology in Philadelphia, which helps Canadian companies in the early‑stage Health IT sector to grow on a global scale.
Vincent Finn, the trade commissioner for life sciences at the Canadian Consulate General in New York, who is based in Philadelphia, says the CTA program, which is managed by the TCS and supported by BDC Capital and other groups, helps high-potential Canadian health IT companies gain market share in the U.S.
The six-month program looks for Canadian entrepreneurs "with a drive to market their products and services," Finn says, connecting them to angel and venture capital networks, regional funding, strategic partnerships and client acquisitions, for example. The program also includes mentoring from industry experts, U.S. sales strategies, pitch training, workshops, seminars and demo days.
Philadelphia is a dynamic hub for health sector entrepreneurship, including pharmaceuticals, biotech, life sciences R&D and supporting industries. It also has a strategic location on the U.S. east coast and is home to world-renowned teaching hospitals, top-ranked universities and research institutions.
Finn says that Reflex "initially struggled to develop an effective product and marketing strategy for the U.S." The CTA and its mentors helped guide the company's product development, made introductions to clients and investors and offered advice and counselling on legal and financial matters.
Reflex Wireless today has a number of products and services developed with several health‑care and retail partners, Tsai says, including devices for monitoring sleep, senior home care and remote patient monitoring. It had gross revenues of $750,000 in 2014 and expectations of between $3 million and $20 million in revenues this year.
Tsai is in discussions with a major company that would use the technology in wireless weight scales and food scales, a deal that could lead to sales of hundreds of thousands of units to customers in some 30 countries. With just 12 full-time staff, Reflex competes against health-care conglomerates that have hundreds of highly paid professional sales people, he comments, noting that this wouldn't be possible without the help of the TCS.
"As a small company we have a surprisingly large global footprint. I can't imagine any company that would be able to do such a thing without access to the TCS network," he says. "In the health care sector, credibility is very important. We had none when we first started. The Trade Commissioner Service really helped us to elevate ourselves."
Tsai says that the health‑care industry can be "a rather slow-moving machine," given regulations governing safety and security issues. Through the CTA, the company "captured the fast‑moving parts of the health‑care sector, allowing us to speed up our market penetration and reach economic sustainability."
The company has moved from building technology to building a distribution framework, he says, and it aims to quickly collaborate with larger companies. "Finding the right partner to deliver the solution to the right customer is a constant challenge."
His advice for SMEs in the international market is to "shake hands with your customers directly. You have to be on the ground to live and breathe the same air they do and understand how they buy," he says.
"It's a matter of travelling abroad and engaging people to understand their priorities. These elements will allow us to develop technology or continuously improvise our technology so that it is deployable immediately," he says. "You cannot do it remotely. It's not possible to identify short-term opportunities that are in alignment with your long-term goals without being on the ground."
Finding innovative solutions to reduce the burden of rising health-care costs and to improve care through the use of technology is a major focus at the Canadian Consulate General in New York, Finn says. "Canada has great R&D and engineering talent; where we lag behind is on commercialization of innovation."
He says the CTA program in Philadelphia, which includes an intensive boot camp as well as a series of monthly workshops in Philadelphia and New York, is especially open to SMEs with patient-centered solutions using health IT. They must have an in‑depth business plan for marketing their product or service in the U.S., a fully built product or service and a revenue-generating business in Canada.
The Canadian Technology Accelerator
The Canadian Technology Accelerator Initiative is managed by the Canadian Trade Commissioner Service, with contributions from BDC Capital and support from provincial governments, in-market business accelerators and industry experts.
The CTA enables companies to create relationships with strategic international partners, generate sales opportunities and connect to investor networks.
Collaboration between TCS and BDC represents a whole-of-government approach to supporting small and medium-sized enterprises.
Finn also founded the Canada/US eHealth Innovation Summit, an annual four-day event that includes three cities: New York for venture capital, Philadelphia for clients in the insurance and hospital sectors and Washington for government procurement. The summit "promotes Canada's considerable—and exportable—experience in the field of health information technology," Finn says.
The U.S. and Canada are facing "unparalleled challenges" to population health as a result of escalating costs, the aging population and pervasive chronic disease, he says. "This has created a significant opportunity for Canadian entrepreneurs."
Many Canadian companies struggle to develop effective sales and marketing strategies and need help to find funding once they reach the growth stage. "SMEs require significant coaching from seasoned entrepreneurs and industry executives in order to succeed, but the right advice is difficult to find," he says. "The CTA hopes to fill that gap and provide a soft landing for them."
Understanding the culture of the U.S. health‑care system can be challenging for Canadian companies, Finn adds. "Canadian companies may have to rewrite their approach to marketing in the U.S. in order to achieve buy‑in," he remarks, noting sales cycles there are long and it's important to focus on the target market. "Canadian companies need both the financial resources and determination to stay the course."
For more information, contact the TCS's Canadian Technology Accelerator. The CTA is currently recruiting. If you have patient centered solutions using health IT including mobile devices (mHealth) and telemedicine (eHealth), an in-depth business plan for marketing your product or service in the U.S., a fully built product or service, and a revenue generating business in Canada, apply today.