Free trade zones in China
Free trade zones (FTZs) are a type of special economic zones (SEZs) where goods are imported, handled, manufactured, and exported without any intervention from customs. In August 2016, seven new FTZs were announced, bringing the total number of FTZs in China to 11. Each FTZ in China caters to a specific industry and benefits from several types of incentives such as:
reduced tax rates
expedited administrative procedures
relaxed investment restrictions
In 2013, the pilot Shanghai FTZ was inaugurated. It was a testing ground for legal innovations and had fewer restrictions to attract foreign direct investment. Incentives offered included:
relaxed incorporation requirements
use of the negative lists for pre-approving procedures
a one-stop application process
All these incentives were eventually adopted for all the FTZs in China.
In 2015, three more FTZs were announced in Fujian, Guangdong and Tianjin. Fujian FTZ supports trade with Taiwan, while the Guangdong FTZ focuses on economic integration with Hong Kong and Macau. Tianjin FTZ supports northeastern China and the development of offshore financial markets.
In 2016, seven new FTZs were announced to support the economic development of western China and the Belt and Road Initiative. The locations include:
Chongqing
Liaoning
Henan
Hubei
Shaanxi
Sichuan
Zhejiang
A 12th FTZ will be established in Hainan by 2020. The government aims to develop a free trade port by 2025 in the province and ensure that the island province's free trade system is completely developed by 2035.
Incentives
FTZs offer several types of incentives for foreign investors whose firms fulfil certain conditions such as:
reduced corporate income tax (CIT) of 15%
payment of CIT in installments
individual income tax subsidies for qualified high-end talents
duty-free import of machinery and equipment
In addition to customs duties and tax incentives, the customs clearance process is more streamlined with respect to declarations and payments. For example, companies can declare several batches of goods on a single form and issue a collective declaration for export and import of goods. This reduces clearance costs and increases flexibility. Firms with adequate guarantees can also pay their tax in a one-time lump sum payment within a specific period, for goods already imported.
The FTZs also have relaxed policies for foreign-invested enterprises in specific industries or capabilities, for example, for logistics and pharmaceuticals that are not widely available in China.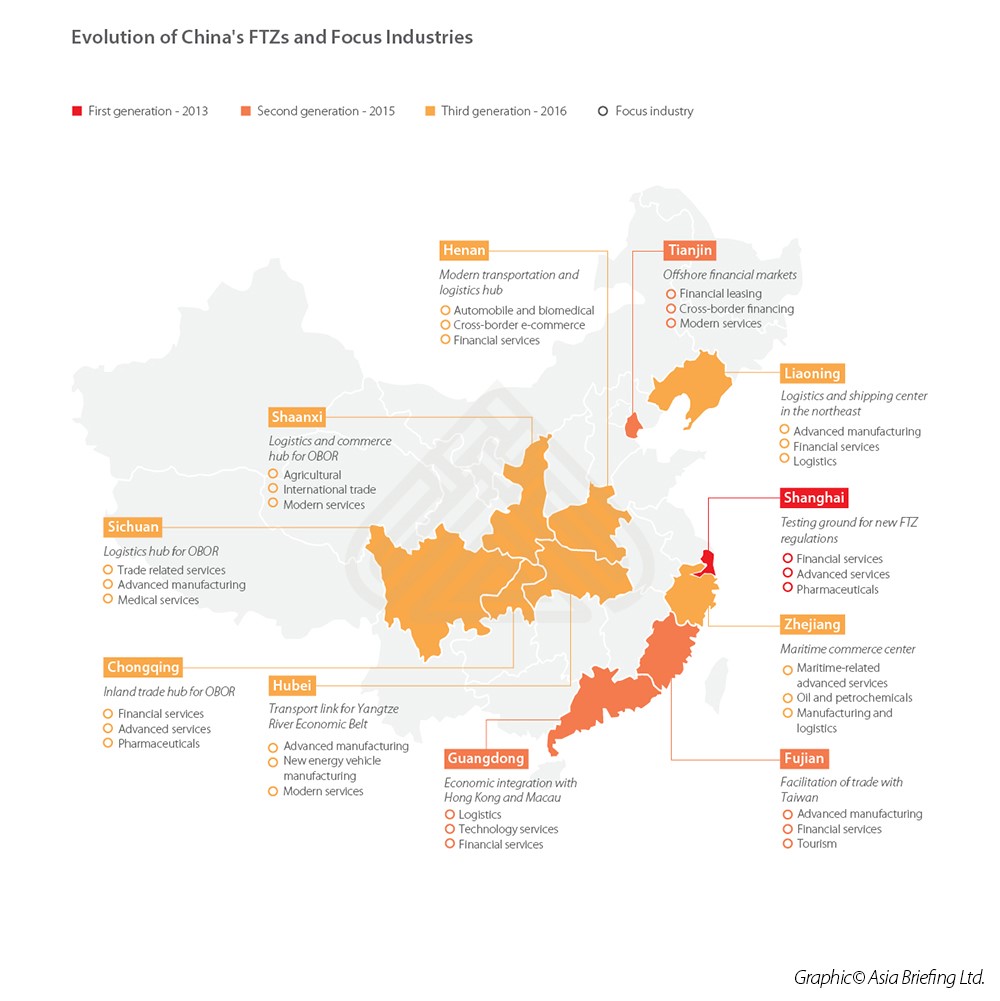 Map of China's free trade zones, their focus industries and development progress
Evolution of China's FTZs and focus industries
Location
Generation
Purpose
Shanghai
First generation - 2013
Testing ground for new FTZ regulations, decreased requirements for investors.

finance and advanced services
pharmaceuticals

Fujian
Second generation - 2015
Facilitation of trade with Taiwan.

advanced manufacturing
financial services
tourism

Guangdong
Second generation - 2015
Economic integration with Hong Kong and Macau.

logistics
technology services
financial services

Tianjin
Second generation - 2015
Offshore financial markets.

financial lending
cross-border financing
modern services.

Chongqing
Third generation - 2016
Inland trade centre and strategic connection to One Belt, One Road (OBOR) countries.

financial services
advanced services
pharmaceuticals

Liaoning
Third generation - 2016
Northeastern China economic development and logistics and shipping centre.

advanced manufacturing
financial services
trade
logistics

Henan
Third generation - 2016
Modern transportation system, logistics hub.

automobile and biomedical
cross-border e-commerce
financial services

Hubei
Third generation - 2016
Yangtze River Economic Belt development through diversified transport links.

advanced manufacturing
new energy vehicle manufacturing
modern services

Shaanxi
Third generation - 2016
Transport, commerce, courier and logistics hub to support OBOR.

agricultural
international trade
modern services

Sichuan
Third generation - 2016
Transport and logistics hub to support OBOR.

trade-related services
advanced manufacturing
medical services

Zhejiang
Third generation - 2016
Maritime commerce centre, trade liberalization for commodities with focus on oil.

maritime-related advanced services
oil and petrochemicals
manufacturing
logistics
Negative lists
In June 2018, the National Development and Reform Commission and the Ministry of Commerce jointly released the new national and FTZ negative lists, which list prohibited and restricted industries for foreign investment. In addition to these lists, 22 special management measures were introduced to highlight the changes made within the revised lists.
National negative list
The 2018 national negative list also referred to as the Special administrative measures for the access of foreign investment, partially replaces the previous 2017 catalogue for the guidance of foreign investment industries. The new national list reduces the number of restrictive measures from 63 to 48.
The 2018 national negative list relaxes or removes restrictions on foreign investment in the agriculture, mining and infrastructure sectors. Restrictions in sectors such as finance, insurance and automobile will be gradually reduced.
Refer to the complete 2018 negative list (PDF: 418 KB; 5 pages in Chinese only).
Free trade zones negative list
The FTZ negative list is a list of industries in which foreign investments are either prohibited or restricted in China's FTZs. Prohibited industries, such as ones related to national security, are prohibited, while restricted sectors need foreign investors to acquire special approvals or enter into a joint venture with an existing Chinese partner. For industries not included in the list, foreign investors will receive the same treatment as domestic firms.
The 2018 FTZ negative list, also referred to as the Special management measures for foreign investment access in the free trade zone (PDF: 471 KB, 6 pages in Chinese only), has reduced restrictions for foreign investments from 95 measures in 2017 to 45 in 2018. It applies to all the FTZs in China.
The majority of the changes for foreign investors in the 2018 list include the removal or easing of ownership caps and joint-venture requirements. Additional restrictions removed in the 2018 FTZ negative list include the following industries:
prospecting and exploitation of petroleum and natural gas
aviation manufacturing
wholesale retail of tobacco and cigarettes
legal services
foreign education institutions
smelting and processing of radioactive mineral resources as well as the production of nuclear fuel
stage performance agencies