50 years of science and technology cooperation to build a better future
Content
Introduction
Canada and Germany are celebrating 50 successful years of science and technology cooperation which have helped, and continue to help, solve some of the world's most pressing challenges. Since the 1971 signing of a Canada-Germany Science and Technology (S&T) Agreement it is estimated that more than 1000 joint research projects have materialized, including in priority areas such as space technologies and earth observation, fuel cells, sustainable energy, nanotechnology, photonics, metrology, ocean science, health and genomics, and Arctic science.
The Honourable Mary Ng, Minister of International Trade, Export Promotion, Small Business and Economic Development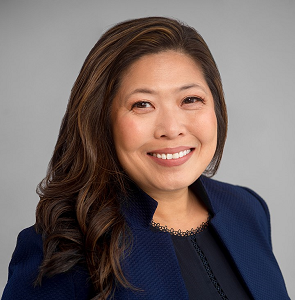 It gives me great pleasure to celebrate the 50th anniversary of cooperation between Canada and Germany in science, technology, and innovation. The 1971 Science and Technology Agreement has been a catalyst for establishing dynamic and enduring relationships benefiting our people and our economies.
Together, we have collaborated on more than a thousand joint projects, which have spanned the spectrum of research and brought together our governments, research institutes, universities, non-profit organizations, and businesses. For example, over the next 5 years, the Max Planck-University of Toronto Centre for Neural Science and Technology will train more than 25 PhD students in Canada and Germany to create advanced technologies for the study of brain circuits to improve human health.
Collaborations like this, in science, technology, and innovation, are built upon a foundation rooted in Canada and Germany's people-to-people ties, our shared history and our strong trading relationship.
I am pleased that the Canada-EU Comprehensive Economic and Trade Agreement also encourages enhanced cooperation in these fields, accelerating the pace of innovation—and benefiting the small and medium-sized businesses that are the backbone of our respective economies in the process.
The 1971 agreement is a vibrant example of Canada and Germany's enduring commitment to achieving scientific excellence, to pushing the boundaries of technology, and to ceaselessly innovating, and it sets the tone for the next 50 years of outstanding collaboration.
Anja Karliczek, German Minister of Education and Research
"50 years ago Germany and Canada agreed to cooperate closely in science and technology in order to shape the future together. Today Canada is one of our most important partners in scientific cooperation worldwide with a variety of activities and on many different levels: between our governments, universities, numerous companies and many organizations. We also support the exchange between students and young researchers from both countries which lays a decisive foundation for our future cooperation. Over 50 German-Canadian events to celebrate the anniversary in the coming months will make it clear: We still have a lot to do together!"
Dr. Geneviève Tanguay, Co-Chair, Canada-Germany Joint Science and Technology Cooperation Committee and Vice-President Emerging Technologies, National Research Council of Canada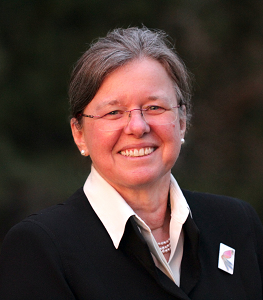 Canada's science and technology partnership with Germany is based on connections – personal, professional, official, and most importantly, our joint commitment to excellence in science and innovation. Our shared goals and values of reliability, openness and transparency have contributed to build this long-lasting relationship. The 50th anniversary is a wonderful opportunity to celebrate our achievements and to consider how together we can push the boundaries of science even further to tackle the complex issues facing our world today and into the future such as a post-pandemic recovery that is more inclusive and resilient, both socially and economically.
Ms. Susanne Burger, Director General "European and International Cooperation in Education and Research" at the Federal Ministry of Education and Research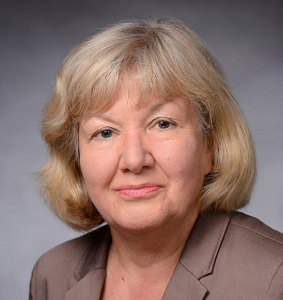 "One of the many strengths of our collaboration is for sure that it was always a dynamic and mutual beneficial partnership that was able to adapt early to new trends, research areas and technologies that had the potential for new insights or to open up new technological pathways e.g. AI or digitalization in production technologies. We live in a time of several important transformations that will change the lives of people on both sides of the Atlantic and I'm very confident that we won't have shortages of new ideas how to cope with these."
Joint statement
On June 9, 2022 Genevieve Tanguay, Canadia Co-Chair, and Achim Reinartz, German Co-chair, of the Canada-Germany Joint Science and Technology Cooperation Committee signed this joint statement:
In 1971, Canada and Germany signed their science and technology cooperation agreement. At that time, it would have been impossible to predict the advancements in science and technology that would be developed over the next fifty years. Since signing the agreement, our bilateral cooperation in science and technology has not only flourished but also adapted to the changing scientific challenges of the global community. Over the last fifty years, we have cooperated in the areas such as advanced manufacturing, artificial intelligence, clean technologies and many others.
For half a century, our two countries have leveraged our shared values and expertise across all areas of science to create numerous business opportunities and strong ties between students, academics, industry and government. Both Canada and Germany view scientific research and innovation as critical tools to help address the pressing challenges humanity faces now and in the future. In the face of troubling geopolitical times, Canada and Germany stand united in our shared goals to tackle climate change, decarbonize energy, prevent future pandemics and develop secure and reliable communication. Through joint funding programs, our governments ensure the transfer of scientific knowledge and insights to economic value chains, which in turn lead to productivity and employment gains.
Today, with this closing ceremony of the 50th anniversary of the agreement on science and technology cooperation, we celebrate the achievements of the past and we look forward to the many new collaborative scientific activities between our two countries that are yet to come. It is with this spirit of curiosity that we embark on what will surely be another fifty successful years of collaboration in science and technology between Canada and Germany.
Cooperation in science and technology: from the beginnings to the present day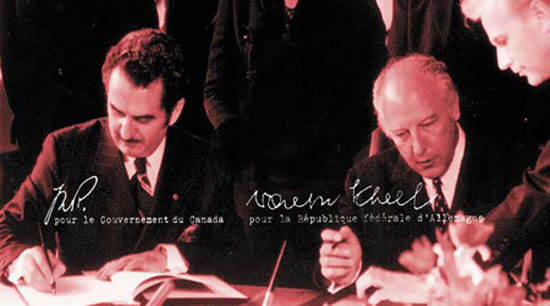 The German-Canadian Intergovernmental Agreement on Scientific and Technological Cooperation was signed in Bonn on 16 April 1971, by Canada's then Minister for Trade and Industry, Jean-Luc Pépin, and German Foreign Minister, Walter Scheel. The agreement came into effect on 30 June 1971.
Priority areas of collaboration have developed and shifted over the decades. In the 1970s, the focus continued to be on aspects of energy research, ranging from fossil fuels to renewable sources of energy. In addition, there were joint research projects in the fields of basic science, marine research and various areas of environmental protection such as treatment of waste water and protection of forests from the effects of acid rain.
Questions of environmental protection and global climate patterns became increasingly important in the 1980s and 1990s. Remediation of contaminated sites, coastal zone management, studying the potential risks of anthropogenic environmental pollution and the reconstruction of past climatic conditions are all examples of joint projects conducted during this period.
The mobility and exchanges of scientists and students between the two partner countries is another important basis for bilateral cooperation. Since 2011, the Natural Sciences and Engineering Council of Canada (NSERC) and the German Research Foundation (Deutsche Forschungsgemeinschaft or DFG) have collaborated on a joint training initiative through the NSERC CREATE and DFG International Research Training Groups (IRTG) programs. This innovative training platform has supported over 200 trainees from each country, from 10 Canadian and 10 German universities, collaborating to produce over 450 publications.
Major organizations in both countries, such as the German Federal Institute for Geosciences and Natural Resources (BGR) and the Geological Survey of Canada (GSC) have been cooperating closely for many years in the fields of marine and terrestrial environmental geology, polar geology and mineral deposits research. Similarly, cooperation in the field of aerospace and remote sensing has been just as long and fruitful, with the German Aerospace Centre (DLR) working closely with both the Canadian Space Agency (CSA) and the Canada Centre for Mapping and Earth Observation (CCMEO) of Natural Resources Canada.
New areas of cooperation continue to be pursued, including in material science using AI through the German-Canadian Materials Acceleration Centre (GC-MAC)– a project recently approved by the German Federal Ministry of Education and Research, Natural Resources Canada (NRCan) and the National Research Council (NRC). This Centre, to be co-located in both Germany and Canada, will serve as a joint hub for advanced energy materials development and collaborate with the Karlsruher Institut fuer Technologie (KIT), Forschungszentrum Jülich (FZJ), and the University of Toronto (UofT). Such collaborations will further strengthen bilateral S&T and energy policy relations between our countries, leverage collective resources, and support the low carbon transition.
Highlights of cooperation
Canada-Germany relation
Canada and Germany enjoy a close and friendly partnership, reflected in our active cooperation on the international stage as well as our healthy economic and investment relations. Canada and Germany are like-minded global partners with a shared commitment to bolstering multilateralism and the rules-based international order, including most recently through the Alliance for Multilateralism. Long-standing partners in the North Atlantic Treaty Organization (NATO), we cooperate closely on security and defence issues, and are also both members of the G7 and G20, the Organisation for Economic Co-operation and Development (OECD) and the World Trade Organization (WTO). In these, and other international organizations, we champion common values and interests in areas such as human rights, democracy and the rule of law, international peace and security, global trade, and the environment and combatting climate change.
The Embassy of Canada to Germany is situated in the heart of Berlin where the Berlin Wall used to divide the eastern and western parts of the city. Canada has consulates in the cities of Munich and Düsseldorf as well as an Honorary Consul in Stuttgart. Those consulates focus on assistance to Canadians as well as trade promotion and investment relations.
Germany is well represented in Canada. In addition to the embassy in Ottawa, Germany maintains consulates in Toronto, Montréal and Vancouver. The German Academic Exchange Service (DAAD) and Goethe Institut also maintain offices in Canada.
There is also cooperation between Canadian provinces and German federal states, such as Alberta with Saxony, Hamburg with Manitoba, Ontario with Baden-Württemberg, and Quebec with Bavaria, Saxony and Brandenburg. Ontario maintains an office in the Munich consulate, while Quebec maintains offices in both Berlin and Munich. For more information, visit the Canada-Germany website.
German-Canadian Materials Acceleration Centre
The newly launched German-Canadian Materials Acceleration Centre (GC-MAC) sets out to bring together top minds and research infrastructures in materials science and engineering from Germany and Canada to accelerate materials discovery and design for emerging energy technologies. Activities of the Centre strive to support every necessary pillar of the platform imagined by the Clean Energy Materials Innovation Challenge of Mission Innovation. This platform virtually connects high-performance computing, artificial intelligence-driven prediction and analytics, and smart robotics into self-driving laboratories for the autonomous and accelerated development of energy materials.
The German Federal Ministry of Education and Research (BMBF) as well as Natural Resources Canada and the National Research Council of Canada, and their extended networks of partners in government agencies and at universities, have been driving national research and development initiatives at the interface of energy materials, artificial intelligence, and technologies for the decarbonised energy age. In this realm, the GC-MAC program will target scientific and technological gaps of common interest and high impact; advocate for new partnerships and funding access; promote common methods, standards and collaborative actions; and train a new and much in-demand energy-materials
Ocean and Arctic Science
Canada and Germany are strategic partners in Arctic research, with each country offering specific strengths that support our growing collaboration. While Canada has the geography and a network of renowned scientific institutions with a long history of conducting Arctic research, and an established, efficient infrastructure that allows scientists to access, explore and study the land and water. Germany, has something that makes it one of the world's premier players in Arctic research: the Alfred Wegener Institute, Helmholtz Centre for Polar and Marine Research. Since it was established in 1980, the institute has grown from just a handful of employees to more than a thousand, many of whom have dedicated their careers to Arctic research.
Having these respective strengths in place allows Canada and Germany to cooperate on a broad range of research. These include key areas such as marine and terrestrial geology, the geological record of climate change (which helps predict how climate will develop in the Arctic), and Earth observation. In the latter category, the German Aerospace Center is currently working with the Canadian Space Agency, the Canada Centre for Mapping and Earth Observation, and various universities, with the aim of sharing radar data and using ground receiving stations in both countries.
50 Years of German-Canadian Cooperation in Space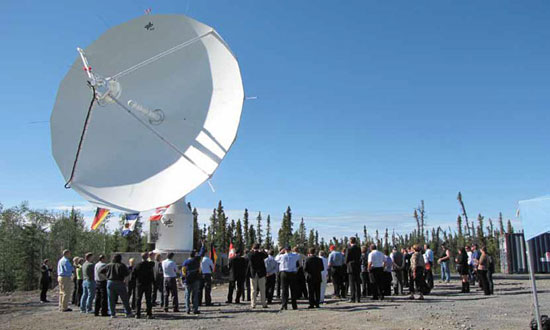 Inauguration of the DLR satellite dish on the Canadian satellite receiving station Inuvik in August 2010.
Canada and Germany have been working together closely for several decades in the broad area of aerospace research. In the field of aeronautics, both countries are collaborating in active rotorcraft research, field measurements, and obstacle detection by airborne weather radar. In space research, the diversity of cooperation is even broader, with both countries collaborating in ultralight inflatable space structures, planetary research, space robotics, satellite operations and earth observation.
It is in this latter area, earth observation, that Canadian – German cooperation is the most established. This cooperation dates back to the 1970s, during which time Canada and Germany collaborated on airborne radar systems and joint research in the areas of processors and data utilization that was crucial for the evolution of the technological capabilities of both countries. This cooperation extends to the present-day, as Canada and Germany continue to share data and engage in a variety of joint research projects, including the installation of a German-made DLR satellite dish at Canada's Inuvik Satellite Station in August 2010.
Canadian-German PEM fuel cell cooperation PEM-Ca-D
Diminishing fossil fuel resources, increasing energy demands, and the rising awareness of the environmental impact of the traditional energy sources have driven worldwide efforts in the area of energy research. In this realm, polymer electrolyte membrane fuel cells (PEMFCs) are being aggressively developed as promising alternative power sources for portable, vehicular, and stationary devices because of their high thermodynamic efficiencies and energy densities.
Water is the lifeblood of such cells; it is the primary chemical product of the reaction of hydrogen with oxygen and it is the operating fluid that electrolyte and electrode layers need in order to conduct protons and facilitate electrochemical reactions. Poor water management can reduce the power density by 30-50%, cause cell failure and compromise the lifetime of PEMFC.
Water management is therefore a fundamental challenge that is consistent across all PEMFC processes, materials and scales. The PEM-Ca-D research network on micro water management in PEMFCs, founded in 2008, is a comprehensive effort to address this challenge. It combines the strengths of scientists from 10 leading German and Canadian research institutes and universities in the areas of advanced materials fabrication and characterization, modern imaging and visualization, electrochemical diagnostics, and engineering. The objectives are to improve the design of materials and cells, and to optimize the engineering control of fuel cell operation. Collaboration between partner institutions is enhanced by the exchange of students and scientists.
Geological Cooperation north of the polar circle
The Arctic – with a frozen ocean twice as big as Australia, and surrounding the land masses of America, Asia and Europe – is still a huge "under-explored" part of our planet. In spite of the internet and the other advanced technologies that dominate the modern world, expeditions to the Arctic remain a significant challenge given the region's remote location and its distance from essential infrastructure. Because of the high costs and logistical challenges, polar research is increasingly difficult for single nations to undertake, and thus necessitates bilateral or multinational cooperation. An example of such collaboration is evident in the work being carried out by Canadian and German geoscientists in the remote reaches of the Canadian Arctic Archipelago.
Since 1998 the Geological Survey of Canada (GSC) and the Federal Institute for Geosciences and Natural Resources (BGR) have been conducting joint research on the geological history of the arctic region. This collaborative effort involves mapping the Arctic islands, investigating the complex geological history of the region, and assessing the potential economic value of the natural resources contained in this area. This joint work has included seven land and ship-based expeditions to Nares Strait, Ellesmere Island and Ellef Ringnes Island, where Canadian and German Scientists established field camps in some of the most remote parts of Canada. From here researchers were able to study rock exposures and collect samples for more detailed laboratory analysis. Through subsequent research meetings, the exchange of scientists, and the joint publication of research and geological mapping, both Canada and Germany have made major advances in understanding of the geological history of the Arctic. This successful cooperation is expected to continue with future expeditions planned to both Svalbard and Ellesmere Island.
Designing Oilseeds for Tomorrow's Markets
Canola (known in Europe as oilseed rape) contributes billions of dollars to the agroeconomies of Germany and Canada, two of the world's leading producers of this important crop. Canola provides an optimal-quality vegetable oil for both human nutrition and biofuel, and the meal remaining after oil extraction is a valuable animal feed. This being said, use of the canola is limited in certain segments of the livestock feeding industry due to the meal's excessive levels of certain undesired compounds. In 2005, researchers and commercial breeders in Canada and Germany joined forces in a bi-national collaboration project, "Designing Oilseeds for Tomorrow's Markets" (DOTM), with the goal of developing methods and resources to generate yellow seed, low sinapine ("YelLowSin") canola. Whereas the German industry is interested predominantly in winter-type oilseed rape varieties, Canada exclusively grows springsown canola. Cooperating therefore gave both countries the opportunity to share their complementary expertise, genomics platforms and plant materials without either side sacrificing their competitive advantage. Through this synergy, considerable progress was made towards development of tools and methods for the generation and selection of high-yielding YelLowSin breeding lines. The project has also acted as a catalyst to strengthen ties between the Canadian and German canola research communities, and a number of new joint research collaborations have since been established.
Scientific cooperation between Bavaria and Quebec: From bilateral to global
A FP7 project involving Bavaria-Quebec collaboration
Over the last 32 years the Bavarian State and the Province of Québec have established strong cooperation in research, science and technology in the areas of climatology, neurosciences, aeronautics and laser/photonics which are currently covered by specific cooperation agreements that have led to large-scale multilateral research projects in the FP7 over the last three years.
Other topics of common interest, like personalized medicine, medical engineering, forestry, energy, and new materials, are discussed on a bilateral basis at regular intervals. A joint institutional commission meets every two years and considers new proposals, and industry partners are welcome whenever possible. The two governments support this cooperation both in financial and organizational terms.
The Cooperation of Baden-Württemberg with Ontario
The Province of Ontario and the State of Baden-Württemberg have more than 30 successful years of academic partnership. Co-operation in student exchange, faculty exchange and joint research between Ontario and Baden-Württemberg is exemplified by the 59 bilateral agreements signed between their universities. Every year, this partnership enables up to 100 students from both Ontario and Baden-Württemberg to study abroad in the partner jurisdiction.
At the 20th anniversary celebration events in Stuttgart and Constance in 2010, Deputy Minister Deborah Newman of the Ontario Ministry of Training, Colleges and Universities and former Minister Dr Peter Frankenberg of the Baden-Württemberg Ministry of Science, Research, and the Arts, agreed to expand the student program to include resources for faculty and researcher exchanges. To support this new program, both partners announced the availability of funding for academics totalling €35,000 ($45,000) per year. As part of this exchange, faculty members from each jurisdiction will spend a research stay of 1-6 months at a partner university, during which time they will be supported by a grant from their respective government. It is expected that these exchanges will promote new partnerships, while also strengthening existing collaborations between Ontario and Baden-Württemberg.
Attosecond Technology – Observing Electrons Move
We perceive the world around us to move slowly — sometimes even coming to a halt. However, hidden from our eyes are atoms, molecules and electrons, moving blindingly fast. Due to their small mass, electrons — the glue that binds atoms to molecules and molecules into larger aggregates — move the fastest. It only takes a few hundred attoseconds (10-18 of a second) for an electron to transit a molecule. A major focus of a German-Canadian collaboration has been to develop methods that are precise enough to resolve and control the dynamics of electrons in atoms and molecules.
In the 1990's, Dr. Paul Corkum from the National Research Council of Canada (NRC) suggested that infrared laser light could be used to seize control over electrons and force them to emit attosecond light pulses. Meanwhile in Frankfurt, Germany, Prof. Reinhard Dörner and collaborators were developing the reaction microscope, the best detector for imaging electrons and ions in the world.
In 2000, Prof. Dörner and Dr. Corkum met for the first time by telephone. This meeting initiated an exceptionally prolific collaboration between the University of Frankfurt and the NRC that has not only resulted in a significant exchange of technology and knowledge, but also a number of students and researchers. This collaborative project began through the direct observation of how the electric field of an infrared laser pulse produces and controls attosecond electron bunches. Then, in a measurement performed by a young student from Frankfurt, the team discovered that the laser generated electrons can be used to simultaneously image the electronic structure and the positions of the nuclei within a molecule. A decade later, this German-Canadian collaboration continues to push the frontiers of science. Dr. André Staudte, currently an NRC staff scientist, was the first Frankfurt graduate student to do experiments in Ottawa. He uses NRC lasers and the Frankfurt reaction microscope to resolve attosecond electron dynamics.
The NINT-CeNS Winter School on Nanotechnology Convergence
In 2007, a group of PhD students and Professors of the Center for NanoScience (CeNS) at Ludwig-Maximilians-University of Munich were invited to the National Institute for Nanotechnology (NINT) in Edmonton, Alberta for a joint Winter School on Nanotechnology. During the one-week program, the German researchers were guests at the newly constructed NINT building and had the chance to explore and discuss the impact and potential of the convergence of disciplines in nanotechnology. Together with doctoral students from the University of Alberta, the German visitors followed the scientific program which comprised lectures of renowned speakers and hands-on experiments supervised by NINT researchers. To foster scientific discussions between the participants, a poster session as well as excursions and sight-seeing in the Edmonton area were organized by the hosts. In addition, the final "wrap-up" session allowed the students to present the results of the experimental work they had performed during the lab sessions. This joint Winter School gave the German and Canadian participants opportunities to interact with each other, to discuss their research projects and to exchange ideas about their respective home countries. The Winter School was financially supported by the BMBF and NINT.
Max Planck Society – University of British Columbia Centre for Quantum Materials
Quantum materials research has important potential applications in lossless power lines, computing and wireless communications, solar and fuel cells, and new medical devices for diagnosis and treatment.
In 2010, the University of British Columbia (UBC) partnered with Germany's Max Planck Society to establish the Max Planck-UBC Centre for Quantum Materials. Located at UBC and the Max Planck Institute for Solid State Research in Stuttgart, the Centre provides a platform for interdisciplinary exchange and cooperation between physicists, chemists, and materials scientists at Germany's foremost basic research institution and Canada's leading university in quantum materials research. The Centre's scientific focus is quantum phenomena such as magnetism and superconductivity in solid materials, which are central research topics pursued at UBC and at several Max Planck Institutes (MPIs) including the MPI for Solid State Research.
The partnership commits both institutions to joint research projects, increased scholarly exchanges and joint summer and winter schools for graduate students and postdoctoral fellows. A key component of the scientific program is to plan annual workshops, discuss and showcase collaborative projects to the international community. The Centre also funds research by selected undergraduate and graduate students and postdoctoral fellows. The Centre's scientific steering committee is headed by Professors George Sawatzky (UBC) and Bernhard Keimer (MPI for Solid State Research).
© Max Planck Society
Signature of the Memorandum of Understanding for the Max Planck-UBC Centre for Quantum Materials on October 4, 2010, in Munich. Left to right: UBC President Prof. Stephen Toope, MPI Director Prof. Bernhard Keimer, UBC Professor Prof. George Sawatzky, MPG President Prof. Peter Gruss, UBC Vice President Prof. John Hepburn.
MOUs related to the Canada-Germany 50th STI cooperation Anniversary
NRCan and German Ministry of Economic Affairs and Energy Energy Partnership: The Department of Natural Resources of Canada and the Federal Ministry for Economic Affairs and Energy of the Government of the Federal Republic of Germany entered into an energy partnership, establishing a formal collaboration in a broad range of shared energy priorities aimed at facilitating private sector engagement, and trade and investment opportunities. The objective of this Memorandum of Understanding (MOU) is to provide a general framework for the Participants to cooperate in the energy sector, using synergies between existing bilateral and multilateral dialogues on energy and climate issues to accelerate the transition to a safe, secure, reliable, affordable, and sustainable energy system in both Canada and Germany through people-to-people exchanges on best practices and knowledge, encouraging trade and investment, as well as joint research, development, and demonstration under the principles of mutual benefits, equality, and reciprocity.
NRC and DLR (German Aerospace Center): The National Research Council (NRC) and DLR signed a MOU to renew their formal relationship for an additional seven years to 2028 to preserve momentum in the NRC-DLR relationship. Longstanding partners in aerospace, the NRC and DLR have recently engaged in a series of workshops to extend the scope of collaboration to include clean technologies, quantum technologies, and service offerings among others.
NRC and BayFOR (Bavarian Research Alliance): The NRC and BayFOR signed a MOU to renew their formal relationship for an additional seven years to 2028. BayFOR is a key partner for the NRC Germany Office at the Canadian Consulate in Munich and an important multiplier for the development of Canada-Germany science, technology and innovation projects. Currently BayFOR and NRC continue to support one another in virtual events.
Mitacs and the Max Planck Society: Mitacs and the Max Planck Society signed a MOU to support researcher mobility between countries with the aim to facilitate the exchange of knowledge and recruitment of high caliber qualified students and fellows to strengthen international research collaborations between Canadian research institutions and Max Planck Institutes. The initiative will support up to 10 internships for PhD students and Postdoctoral fellows on each side per year for a period of three years.
NSERC and DFG to support training and mentoring experiences: The Natural Sciences and Engineering Council of Canada (NSERC) and the German Research Foundation (Deutsche Forschungsgemeinschaft or DFG) have renewed their MOU to support researcher mobility earlier this year. Since 2011, NSERC and DFG have provided ongoing support for a bilateral training program and exchange of students and postdoctoral fellows between Germany and Canada. To date, the partnership has resulted in six successful German-Canadian joint training initiatives, supporting over 200 Canadian trainees from 10 Canadian universities, collaborating with partners in Germany to produce over 450 publications.
Success stories
Call it a marriage made in science, technology and innovation heaven
And after 12 incredibly productive years, the research partnership between the University of Alberta and Germany's Helmholtz Association is still going strong.
"Together we have completed more than 40 projects in a wide range of areas, such as energy, the environment, infectious diseases and neurodegenerative disease—research that has had an impact on both Canada and Germany," says Walter Dixon, the interim vice-president, research and innovation, at the University of Alberta.
The relationship between the university and the association—a network of 18 independent research centres focused on solving grand challenges in areas including energy, the earth and the environment, and health—began in 2009, after a group from Helmholtz visited Alberta and met with scientists from the university.
During the visit, scientists from Helmholtz and the university recognized that Alberta and Germany had something in common: when it came to upgrading natural resources, such as the oil in Alberta's oil sands and Germany's lignite (a type of coal), they needed to create new technologies that would lower the cost, energy intensity and emissions associated with the then-current ones.
Members of the University of Alberta's Land Reclamation International Graduate School exploring the coal conveyor of the F60 Lignite Museum in Germany as part of an international field tour.
Recognizing that a strategic alliance could benefit both the association and the university—not to mention Canada and Germany—the 2 groups signed a 5-year memorandum of understanding that formed the Helmholtz-Alberta Initiative (HAI) to collaborate on research activities in science, technology and innovation.
With the help of $25 million in funding from the Government of Alberta and €6.25 million (about $9.5 million) from the Helmholtz Association, those activities began with research in 2 categories, both of which launched in 2009.
The first, which the HAI called Energy and Environment, combined fundamental and applied research in the topic that kick-started the partnership—bitumen and lignite upgrading—and also in carbon dioxide separation and gas purification, carbon capture and storage, geothermal energy, sustainable water management, and land reclamation.
The second, which the HAI called Terrestrial Ecosystem Resource Informatics, involved research on how satellite data and technology could be used in sensing solutions for mining operations, monitoring resource extraction and modelling climate and land-use or land-cover change.
The partnership later expanded into health, with a focus on infectious disease research (mainly therapeutics and vaccines for hepatitis B and hepatitis C), neurodegenerative disease research and an International Helmholtz Research School for Diabetes.
John Bell, an international research officer at the University of Alberta, notes that collaboration between the 2 groups made sense on a number of levels.
"The Helmholtz Association has an extensive network of research centres, an annual budget of $5 billion and a staff of 43,000," says Bell. "It was attractive to the university for its reputation for high-quality research and connections to industry."
And what made the university attractive to the Helmholtz Association?
"The university has many complementary strengths," Bell says, noting that it is has been a world leader in energy research for more than a hundred years and unites a consortium of world-renowned infectious disease researchers through its Li Ka Shing Institute of Virology. The university has a storied history of diabetes research that stretches back to the 1920s, when it played a major role in the discovery of insulin.
So what's next for the Helmholtz-Alberta Initiative?
Having already extended the partnership twice—in 2014 and 2020—the 2 organizations will continue collaborating in fields such as energy and the environment, infectious diseases, and diabetes.
But they have also already started working together on a brand-new set of challenges, including research on natural product therapeutics for COVID-19, the discovery and development of other COVID-19 treatments and the development of a joint training program in the field of geothermal energy.
"The past year and a half has illustrated how interconnected the world is and how much we need to take a shared approach in tackling global challenges," says Dixon. "This sharing of expertise and resources was key to the success of the HAI, and I am confident the partnership will only continue to deepen going forward, benefiting Canada, Germany and the world."
Helmholtz International BigBrain Analytics and Learning Laboratory
Brain mapping is a branch of neuroscience that combines brain imaging and advanced computational techniques to help understand the brain. Researchers combine data from thousands of individual brains in a "common coordinate space." (A more familiar common coordinate space is the one that uses longitude and latitude to map the Earth's surface.) This powerful approach reveals every point at which a given brain differs from others, enabling comparisons between groups and a deeper study of normal brain development, the aging brain and brain disorders like autism and Alzheimer's disease.
The common coordinate space in brain mapping comes from a 3-dimensional reference image, which is usually created from magnetic resonance imaging with a resolution of 1,000 microns (1 millimetre). In the early 2000s, Alan Evans, a world authority on brain imaging, and Katrin Amunts, a world-class neuroanatomist, created the BigBrain dataset with much higher resolution. Amunts' team at Germany's Forschungszentrum Jülich painstakingly cut a human brain into over 7,000 sections that were then digitized. At McGill University, Evans and his team processed these 2-dimensional digital sections, correcting for mechanical artifacts and missing data. The collaboration resulted in a 3-D map of the entire brain at 20-micron resolution in each of the 3 dimensions.
As a result, BigBrain is equivalent in size to 125,000 MRI volumes.
Even today, BigBrain remains the gold standard for whole-brain imaging. However, it is only a first step. Amunts and Evans are now using BigBrain as the foundation for a new project: the Helmholtz International BigBrain Analytics and Learning Laboratory (HIBALL).
HIBALL combines BigBrain's detailed model of the brain's anatomy with 3-D maps outlining the brain's density of neuroreceptors, the connections between its nerve cells and its electrical patterns. It uses artificial intelligence to simulate the brain's network architecture and decision-making operations. Such computer-simulated exploration offers new insight into how the brain works.
HIBALL is similar in spirit to other Canadian "big data" physics projects, like Canada's Sudbury Neutrino Observatory and Triumf particle accelerator. Its overarching goal is to make Canada a global hub for big-data neuroscience. It offers international scientists free big-data analytics, using the country's information technology infrastructure, to explore the brain. Together with the observatory and the particle accelerator, HIBALL presents a vision for Canada's future role within international research networks.
The synergy created with Germany's Helmholtz AI has broadened HIBALL's network. HIBALL is also strong partner for the European flagship Human Brain Project (HBP), which makes brain atlases available through the new European EBRAINS IT infrastructure. The partnership has created new connections to clinically oriented brain modelling and brain stimulation efforts.
And HIBALL has relevance far beyond neuroscience: developing ultra-high resolution models of the human brain creates big challenges for computing power and data handling, and as a result, HIBALL has linked researchers in many different fields and has educated a new generation of computationally advanced scientists.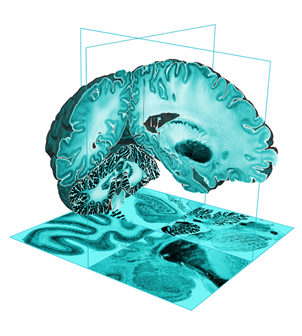 The BigBrain: A high-resolution 3D digital map of the human brain