Opening doors for intelligent vision company yields new customers in Taiwan
Taiwan's aging population makes it an ideal place for the intelligent vision products developed by AltumView Systems Inc., which includes a smart visual monitoring system that helps seniors live independently at home or in long‑term care facilities. But where to look for opportunities in that vast, competitive and far‑away market?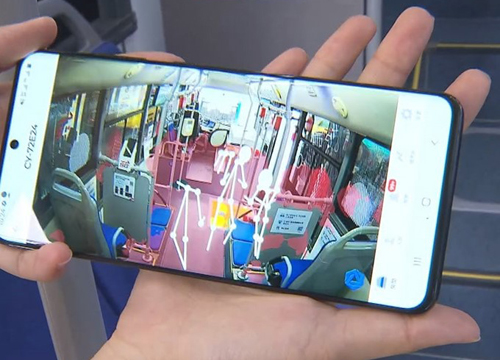 A device using the AltumView Systems smart visual monitoring system, which is being considered for Taipei's autonomous bus project, shows how people are portrayed as stick figures to preserve their privacy.
Photo: TVBS News
For John Wu, the company's co‑founder and chief operating officer, participating in the Canadian Technology Accelerator (CTA) program in Taipei run by Canada's Trade Commissioner Service (TCS) was an ideal introduction to potential customers and partners in the lucrative region.
"The CTA has brought us great opportunities," says Wu, whose start‑up was among the firms that took part in the first all‑virtual CTA Taipei program in April. It included a diverse cohort of firms in digital health, artificial intelligence and internet of things technology, which made their pitches and connected with potential Taiwanese partners online.
AltumView, based in Port Moody, BC, was started in 2016 by Wu and Jie Liang, its president and CEO. Today the company has 17 full‑time employees, with products that include video‑encoder technology that is used by a supplier of the U.S. Department of Transportation in remote civilian surveillance applications in harsh environments, Wu says. Its digital health senior‑care product, called the Cypress Visual Sensor, allows seniors to be monitored remotely, alerting caregivers to falls and analyzing their movements and patterns of daily living, all the while maintaining their privacy and dignity by portraying them only as stick‑figures.
"Senior care is a global challenge," says Wu, noting that the technology is especially relevant with the COVID‑19 pandemic because seniors are more isolated as a result of social‑distancing protocols.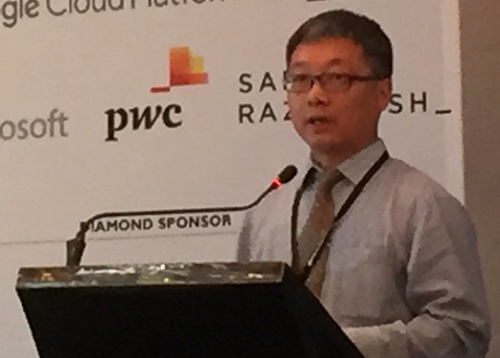 John Wu is co‑founder and chief operating officer of AltumView Systems.



Jie Liang is co‑founder, president and CEO of AltumView Systems.
AltumView has done some business and earned accolades in Korea, Japan and China, where "the senior‑care market is huge," Wu says, and it was Canadian champion of NTT DATA's 10th Open Innovation Contest.
The company heard about the Taipei CTA through Aron Kim, a trade commissioner who covers information and communications technologies (ICT) at the TCS Vancouver regional office. Its involvement in the program brought AltumView everything from advice on its digital pitch and "go‑to‑market"/q> strategy to connections with potential investors.
It met with Taiwan's AU Optronics Corporation, one of the world's largest producers of flat‑panel displays, which has expressed interest in integrating AltumView's systems into its platforms, Wu reports. "They like our technology."
The company's association with the Canadian government through the TCS offers an important credential, he says, and the dedication of TCS staff like Judy Chen in Taipei is critical. "We really rely on trade commissioners if we are going to get into these markets," Wu remarks.
Chen, coordinator of the Taipei CTA, says it's helpful that AltumView has a clear objective of tackling the aging Asian markets as its first priority in expanding internationally, "and it has come to Taiwan with a realistic goal to foster strategic partners." Entering the Taiwanese market with evidence of previous user‑cases, like the company's past successes in places such as Japan and China, is also a smart strategy, she says.
The Taipei CTA provided AltumView with services including access to market‑insight webinars, demonstration opportunities at virtual‑pitch events, curated business‑to‑business meetings, tailored guidance delivered by mentors, online workshops delivered by program partners and participation in key industry trade shows, she says.
The challenge for AltumView and other Canadian companies doing business with Taiwan during the global pandemic is the difficulty of pursuing in‑person meetings and negotiations, Chen says, which has delayed business decision‑making. The CTA hosts virtual events that promote AltumView to potential target clients and partners, she adds.
Wu says AltumView will continue to focus on select markets where it can form alliances with larger system integrators. For example, in Taiwan its technology is being considered for use in Taipei's autonomous bus project, where its stick‑figure solution would preserve privacy in surveillance applications.
He especially sees benefits of the technology in senior care, with a goal of improving the quality and reducing the cost of products like Cypress Visual Sensor for consumers.
"People are looking for new care services at home today, and we have the technology to provide them," Wu says. The company intends to work with the TCS in a number of Asian countries to expand its markets there, and it will apply for funding from the TCS CanExport SMEs program to do it.
"This is a new product, and we have to figure out a new way to introduce it to customers," says Wu, who looks forward to an end to the travel restrictions imposed by the pandemic so he can get out into the markets the company is targeting. "And I can't wait to meet in person with the TCS team in Taiwan," he adds.
Subscribe to: E-magazine and RSS Feed

Use #CanadExport