Trade Commissioner Service - Germany
Welcome to the Canadian Trade Commissioner Service in Germany. Our principal focus is on assisting Canadian firms looking for market opportunities in Germany; facilitating networking which may lead to the establishment of strategic alliances. Our team offers the full range of International Business Development programs in trade promotion, investment and science and technology. Click here for more information on our specialized services in investment and science and technology.
Germany is a natural choice for inclusion in the business plan of any Canadian firms interested in international partnerships and opportunities. It is one of the world's leading exporter, it hosts the world's largest trade fairs (please note that this is an external link sending you to another site) attracting businesses from all over the globe, it is a leading source of offshore investment, and it has a strong tradition of research and innovation.
Canada has signed a free trade agreement with the EU. The TCS in Germany can help Canadian companies to take advantage of the competitive edge offered by the Canada-European Union Comprehensive Economic and Trade Agreement (CETA). Germany is one of 28 gateways to the European Union (EU) – the world's second-largest market.
Contact the TCS in Germany to start your EU expansion.
Leading Opportunity Sectors
We serve Canadian clients in all sectors. Based on our knowledge of the market, the following sectors offer the greatest opportunities for Canadian companies:
Aerospace | Agriculture, Food and Beverages | Automotive | Cleantech | Consumer Products | Information and Communications Technologies | Life Sciences | Machinery & Equipment | Mining
Services from the Canadian Trade Commissioner Service are offered free of charge to Canadian companies and organizations.
Territory covered: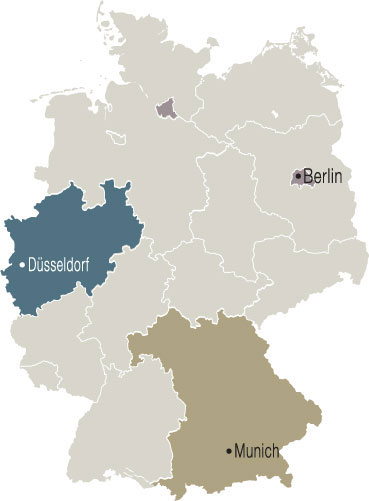 Our offices in Dusseldorf, Berlin and Munich cover their respective sectors across Germany.
Date Modified: