Trade Commissioner Service - Japan
Welcome to the offices of the Canadian Trade Commissioner Service in Japan. Japan is Canada's fourth biggest export market, and sixth largest source of investment in Canada. Japan is also a leading partner for science, research and development. The Canadian Commercial program comprises 4 points of service.
Leading Opportunity Sectors
We serve Canadian clients in all sectors. Based on our knowledge of the market, the following sectors offer the greatest opportunities for Canadian companies:
Aerospace | Agriculture, Food and Beverages | Agricultural Technology and Equipment | Arts and Cultural Industries | Automotive | Business and Financial Services | Chemicals and Plastics | Cleantech | Defence and Security | Education | Forest Products | Information and Communications Technologies | Infrastructure, Building Products and Related Services | Life Sciences | Machinery & Equipment | Mining | Oceans Industries | Oil and Gas
Territory covered: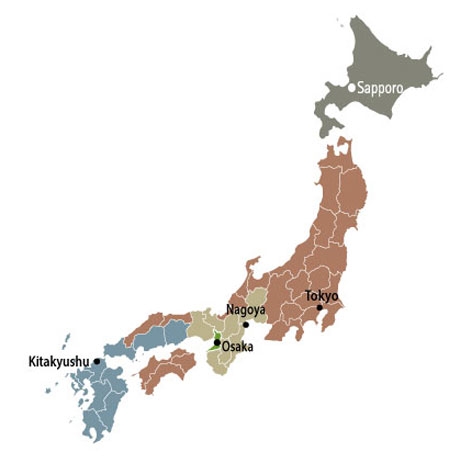 Tokyo: Tokyo and all prefectures and territories not covered by one of our regional offices, namely:
Kanto Region (Tokyo, Ibaraki, Tochigi, Gunma, Chiba, Kanagawa)
Tohoku Region (Miyagi, Yamagata, Fukushima)
Hokuriku Region (Niigata, Toyama, Ishikawa, Fukui)
Chubu Region (Yamanashi, Nagano)
Nagoya: The Tokai Region (Aichi, Gifu, Mie and Shizuoka), the Kansai Region (Hyogo, Kyoto, Nara, Okayama, Osaka, Shiga and Wakayama), and the Shikoku Region (Ehime, Kagawa, Kochi and Tokushima).
Osaka: Kyoto, Hyogo, Nara, Shiga and Wakayama (for select sectors)
Sapporo: Hokkaido and the northern Tohoku Region (Aomori, Iwate, Akita)
Kitakyushu: Southwestern Japan including the Kyushu Region (Fukuoka, Kagoshima, Kumamoto, Miyazaki, Nagasaki, Oita and Saga), the Chugoku Region (Hiroshima, Okayama, Shimane, Tottori and Yamaguchi), and Okinawa.
Date Modified: