Trade Commissioner Service - U.S.A
The United States is our largest trading partner by far. This year, 73 percent of our exports of goods and services will be destined to the United States.
Although doing business there can be a complex undertaking, the U.S. market offers some of the greatest opportunities in the world. Contact the Canadian Trade Commissioner Service (TCS) and benefit from our international business development professionals.
Leading Opportunity Sectors
We serve Canadian clients in all sectors. Based on our knowledge of the market, the following sectors offer the greatest opportunities for Canadian companies:
Aerospace | Agriculture, Food and Beverages | Automotive | Cleantech | Defence and Security | Education | Information and Communications Technologies | Infrastructure, Building Products and Related Services | Life Sciences | Oceans Industries | Oil and Gas
The TCS has multiple trade offices across the United States. Take advantage of them!
Territory covered: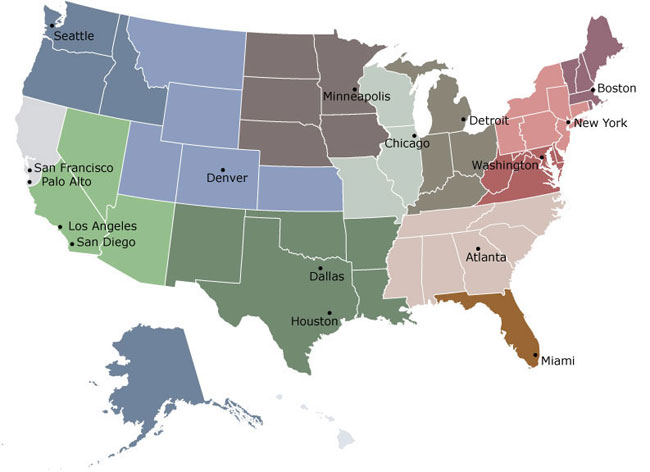 Territories covered:
Atlanta: Alabama, Georgia, Mississippi, North Carolina, South Carolina, Tennessee
Boston: Maine, Massachusetts, New Hampshire, Rhode Island, Vermont
Chicago: Illinois, Missouri, Wisconsin
Dallas/Houston: Arkansas, Louisiana, New Mexico, Oklahoma, Texas
Denver: Colorado, Kansas, Montana, Wyoming, Utah
Detroit: Michigan, Ohio, Indiana, Kentucky
Los Angeles/San Diego: Southern California, Nevada, Arizona
Miami: Florida, Puerto Rico, Virgin Islands (U.S.)
Minneapolis: Minnesota, Iowa, Nebraska, North Dakota, South Dakota
New York: Connecticut, Delaware, New Jersey, New York State, Pennsylvania
San Francisco/Palo Alto: Northern California, Hawaii and Guam
Seattle: Alaska, Idaho, Oregon, Washington
Washington: District of Columbia, Virginia, West Virginia, Maryland
Date Modified: