How Canadian medical imaging companies are thriving with help from the global network of trade commissioners
Digital technologies continue to drive advances across the life sciences sector, particularly in the area of medical imaging. Recent advances in imaging software and hardware, many developed by Canadian firms, are improving the ability of physicians to identify, diagnose and treat illness, increasing the efficiency of healthcare systems worldwide. Key to this ability is machine learning and artificial intelligence (AI).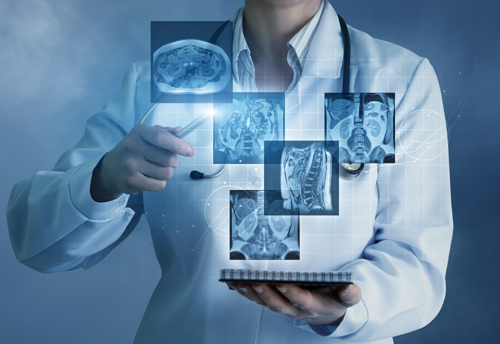 Two companies that exemplify Canada's international leadership in this digital health sub‑sector are MetaOptima and Circle CVI. They have both found success in a growing number of international markets thanks to innovations inspired by multi‑disciplinary expertise and help from Canada's Trade Commissioner Service (TCS).
Digital dermatology solutions find quick success in Oceania region
MetaOptima developed a solution that helps overcome a central challenge of dermatology: many skin diseases and conditions look similar, making it difficult and time‑consuming to diagnose them accurately. To improve diagnostic decision‑making, the company developed DermEngine™, AI‑powered software that enables dermatologists to consult a database programmed with large numbers of images and their corresponding diagnoses.
Based in Vancouver, British Columbia, MetaOptima was founded by Maryam Sadeghi and Majid Razmara, two Iranians who came to Canada for post‑graduate studies in computer science. They are now Canadian citizens and serve as the company's CEO and CTO, respectively. While conducting some of her PhD research at the British Columbia Cancer Agency, Sadeghi recognized potential opportunities to improve healthcare by applying advanced informatics.

Maryam Sadeghi, co‑founder and CEO of MetaOptima
"Many aspects of how diagnostic images are interpreted, stored and shared are paper‑based," Sadeghi says. "I began to see that digital technologies could not only improve the diagnostic abilities of physicians, but also make healthcare systems operate more efficiently."
The company's initial focus was melanoma, a common skin cancer.
"Digital technologies can help with the diagnosis and treatment of hundreds of skin diseases and conditions," says Sadeghi. "Melanoma is just the beginning."
To secure markets abroad, the company began working with Canada's Trade Commissioner Service and quickly found success in Australia, where skin cancer is particularly prevalent.
"The TCS has been incredibly supportive," says Sadeghi. "They introduced us to several potential customers and partners in Australia and New Zealand, and supported our participation in a key conference."
MetaOptima quickly secured customers across both countries and its dermatology solutions now benefit hundreds of physicians and an estimated one million patients worldwide. The company also has customers in the U.S., Italy and South America, and hopes to enter the U.K. during 2021.
"With the TCS, you're never alone and you always have access to a local office," says Sadeghi. "They've hosted meetings for us with prospective clients and provided valuable intelligence on new markets."
The revenues from international sales and private investors help to fund MetaOptima's next innovation: DermDrone, an autonomous device that records three‑dimensional images of a patient's body.
Cardiac imaging software leader looks globally from the start
Circle Cardiovascular Imaging (Circle CVI) follows a similar approach to improve the ability of cardiologists to glean diagnostic information from images of the heart. Based in Calgary, Alberta, Circle CVI relies on its multi‑disciplinary expertise to develop innovative imaging software. The company's executive team includes not only physicians, but also experts in engineering, software development, robotics and machine learning.

Pascal Labrecque, director of business operations of Circle CVI
"It's not easy to see a patient's heart, given its location," says Pascal Labrecque, Circle CVI's director of business operations. "That can make it difficult to diagnose various heart defects and diseases. The best option is magnetic resonance imaging—MRI— but the devices are expensive and it can take more than 90 minutes to complete a cardiac MRI scan, analysis and report."
The company's flagship software, cvi42, swiftly analyzes scan results and generates exceptionally sophisticated reports. The result: more patients diagnosed more accurately and more quickly. Circle CVI offers similar software for CT (computed tomography) scans.
From the outset, Circle CVI targeted markets around the world. In fact, one of the company's founders emigrated from Germany to access Canada's rich digital health ecosystem.
"We began working with Canada's Trade Commissioner Service right from the beginning," says Labrecque. "Trade commissioners are amazing and are keen to use their networks. In most cases, they provided us with a list of contacts only a week after we identified a potential market."
Most of Circle CVI's clients are hospitals, healthcare authorities, and cardiology and radiology networks. Not surprisingly, the company landed clients in Germany almost immediately. Now it has sales in more than 50 countries, with the U.S. and China accounting for the lion's share. The company's reputation as a global leader in cardiac imaging got a boost in 2019: of the world's 10‑best hospitals identified by Newsweek magazine, all use the cvi42 platform.
"Canada is a hotbed for the development of medical imaging technologies," says Labrecque. "We work directly with the manufacturers of imaging devices to improve their efficacy. To gain acceptance in healthcare worldwide, AI must be seen to support physicians and not replace them."
TCS Support
The Trade Commissioner Service helps Canadian businesses grow by connecting them with its funding and support programs, international opportunities, and its network of trade commissioners in more than 160 cities worldwide.
Grow your innovative business in international markets with:
Canadian Technology Accelerators — Access opportunities in global tech hubs for an existing and validated product in cleantech, life sciences, and information and communications technologies (ICT).
CanExport Innovation — Apply for funding to pursue research and development (R&D) agreements with international partners and investors.
Canada's network of trade commissioners — Connect with our network of trade commissioners in more than 160 cities worldwide, including six regional offices across Canada, for help on your international business journey.
Subscribe to: E-magazine and RSS Feed

Use #CanadExport